It's bizarre, but not surprising, to see Elon Musk's fans parroting out his talking points concerning the bid of Tesla Motors (NASDAQ:TSLA) for SolarCity (SCTY) while largely ignoring the fact this deal is one where Musk is buying and supporting Musk.
Even Musk calling the deal a "no-brainer" is one of the most nonsensical things I've ever heard a company CEO say. Can you imagine competitors sitting around in their board rooms wringing their hands while thinking of ways they could acquire SolarCity before Tesla got hold of it? Me neither.
From that point of view, calling it a no-brainer makes sense. It takes no brains to attempt merge these two companies together, then citing an illusory "vertical integration" that will result in a better company in the years ahead. The idea of there being synergies within these companies is a joke at best. Yet, I'm hearing a lot of fans repeating the nonsense as if it's Gospel.
If this deal is approved and closed, it will cause Tesla to falter as it scrambles to raise capital to meet its aforementioned timetable for increasing the annual production pace to a million vehicles by 2020. That means even more dilution and loss of value for shareholders.
What that suggests is a lot of money will be made by shorting Tesla, as the company will have to continue to issue more shares to meet its capital needs.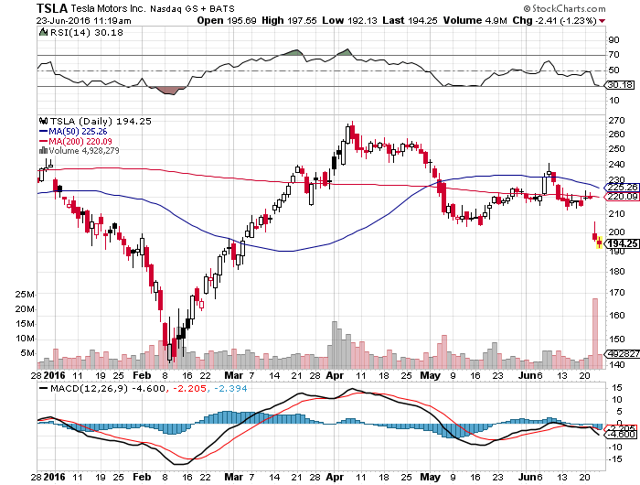 Source: StockCharts.com
Musk's ego and capital at stake
I don't think this deal should be considered an investment in any way, rather it should be looked upon as a bailout of the weak SolarCity. Even though Musk has recused himself from making a decision on or voting his shares for the deal, there is no doubt where he stands, what he wants, and how he will benefit from the proposed merger. That will have a lot of sway with the vote.
Musk is the largest shareholder of SolarCity, which means he will definitely benefit the most from the illogical deal if it goes forward and is approved. That, along with his wounded ego over the highly probable failure of SolarCity if there is no intervention, is the real catalyst behind this deal. If Musk considered a company like SolarCity as having legitimate synergies with Tesla, there would have been a number of better companies to choose from. That alone confirms my thesis this is about Musk bailing out Musk.
This isn't the first time Musk has had to bail out SCTY. Over the last couple of years, he has acquired $214 million in solar bonds sold by SCTY, using capital from Space X (SPACE). I wonder where the synergies and vertical integration was between a space company and solar company? I would say the same as there is between a solar and electric car company: nothing.
These steps were no doubt taken to encourage other investors to feel comfortable in buying up the solar bonds as well.
A major concern is whether or not SolarCity is so weak it can't raise capital without help from outside sources like Space X.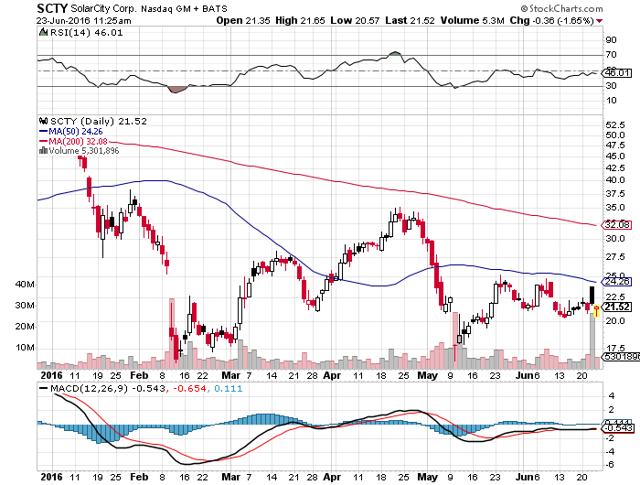 Source: StockCharts.com
Both companies crashing
No matter what creative accounting measures have been taken, it can't hide the cash the two companies are burning through.
Earnings reports from 2013 to 2015 for both companies show operating cash flow combined has dropped from a positive $440 million in 2013 to a negative $(275) million in 2014, and negative $(1.3) billion in 2015.
SolarCity is the worst performer of the two, with positive cash flow of $175 million in 2013, negative $(218) million in 2014, and negative $(790) million in 2015.
As for capital expenditures and costs associated with solar systems, it has continued to get worse from 2013 to 2015. Together, the companies managed to spend $1 billion in 2013, $2.2 billion in 2014, and $3.4 billion in 2015.
SolarCity's contribution to that was $726 million in 2013, $1.2 billion in 2014, and $1.8 billion in 2015. From 2014 to 2015, capital expenditures at Tesla soared from $970 million to $1.6 billion.
In 201, SolarCity added over $800 million more in long-term debt.
For four years, Tesla has issued a minimum of $1 billion in equity, including the May offering of $1.4 billion in 2016. With the negative free cash flows shown above, there is no doubt the companies would have to continue to issue equity or raise capital from debt.
Also important is Musk has used the shares in these companies to secure a loan of $475 million in order to buy up more shares in TSLA and SCTY. Buying diluted shares with money secured by more diluted shares is a path to potential collapse. This merger, if it happens, would make that scenario increasingly probable.
Why it would be such a bad deal
As the numbers above confirm, these two companies are hemorrhaging cash, which would be magnified by a merger.
There is also how much the companies have to spend to generate a $1 in sales. Tesla almost looks like a blue-chip company when compared with SCTY in that regard. It costs Tesla about 50 cents to generate a dollar. SCTY on the other hand, has to spend approximately $6 to generate $1 in sales. That's one of the reasons it lost $283 million in the first quarter of 2016.
Not only that, but it also has intense and meaningful competition that makes it difficult for the company to scale and differentiate. The solar sector in general is also facing a reduction in tax credits from some states, which will make it more costly to produce products.
Also making it questionable as to whether or not the equity of SCTY has any value, is its bonds, which have the equivalent of a junk bond yield of 20 percent. This suggests Tesla could be vastly overpaying for the company, along with the associated problems it faces.
With a combined cash burn of both companies over 4 billion in 2015, and an increased debt load that would come with SCTY, it's hard to see what benefit a merger between the companies would have for Tesla's shareholders.
Conclusion
Elon Musk has reduced the time period he wants to do a lot of things, including colonizing Mars and the 1 million cars he wants by 2020. As for the cars, it now produces less than 10 percent of that goal, pointing to the enormous capital needed to even give the company a chance at meeting that goal.
The goal for the cars will cost somewhere between $8 and $9 billion if it is even going to have a shot at happening. It won't happen by 2020, but it would probably build the facilities that would eventually lead to it becoming a reality further out.
Again, that means raising an enormous amount of capital via equity or debt. Either way, when combined with the already fiscally challenged companies, it will be a heavy burden for the new entity to bear.
Since the vertical integration assertion can't be taken seriously, I see this as an attempt by Musk to salvage his reputation and legacy. I don't see anything else behind this than saving SolarCity from eventually having to declare bankruptcy. The reason why is it would definitely take some of the infallibility some attribute to Musk and cause a lot of people to start looking under the hood of his projects, and not be dazzled by his charismatic personality.
That, to me, is what is really at stake here, as the numbers reveal this is a deal that makes no sense whatsoever.
Those shorting Tesla should do very well in the months ahead, especially if by some odd chance shareholders actually vote to approve the merger.
Disclosure: I/we have no positions in any stocks mentioned, and no plans to initiate any positions within the next 72 hours.
I wrote this article myself, and it expresses my own opinions. I am not receiving compensation for it (other than from Seeking Alpha). I have no business relationship with any company whose stock is mentioned in this article.