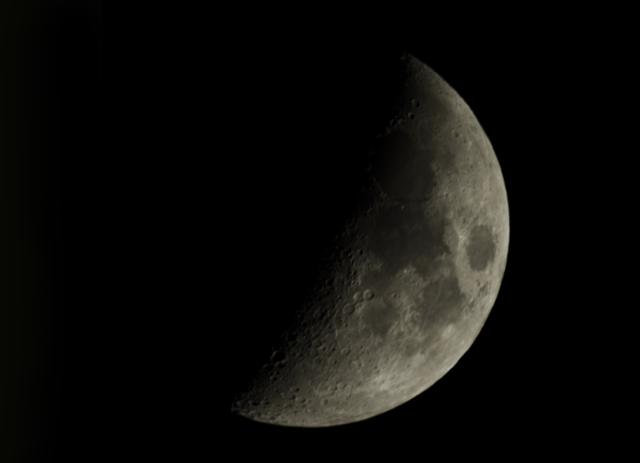 Alphabet's moonshot factory, X, is trying to solve huge problems with breakthrough technologies and seemingly radical solutions to make the world a better place. While investors can obviously participate by owning Alphabet, the projects they are working on could be forward looking investment ideas as well.
X's ambitious semisecret projects include a self-driving car, Wi-Fi for the world, a more efficient wind turbine, and automated aircraft, to name a few. What we know is limited with respect to their other projects, but these industries are ripe for disruption. The first mover with sweeping innovation will likely gain traction and become the leader in its respective space. Below are some of X's projects that might become game changers.
Project Wing
Drones are not just the newest toy for cameramen and aviation fans. X plans on delivering everything from consumer goods to emergency medical supplies via this technology, unmanned. Completely automated delivery of goods is expected to be a billion dollar market in the near future, despite the first legal drone delivery in the U.S. having been done just one year ago. The company was surprisingly not X, Amazon, or a large U.S. multinational firm. Flirtey, an Australian startup, was actually the first company to get the green light from the Federal Aviation Administration (FAA). Flirtey's first legal drone mission delivered medical supplies to a health care clinic in rural Virginia, a historical moment for the drone community and its investors.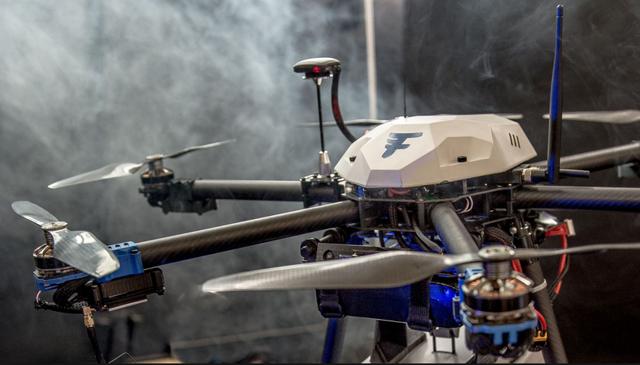 Flirtey's Drone
The National Transportation Systems Center, part of the U.S. Department of Transportation, expects the U.S. commercial drone market to be a $5 billion market annually by 2035. To the contrary, Oliver Wyman, an esteemed international consulting firm, forecasts that the commercial global market will be "several times that size." Defense applications are expected to trump the commercial market by many multiples no matter whose estimates are correct. The Teal Group, an aerospace and defense market intelligence firm, expects the defense segment of the global aerial drone market to be worth $12 Billion by 2021, far above the commercial market.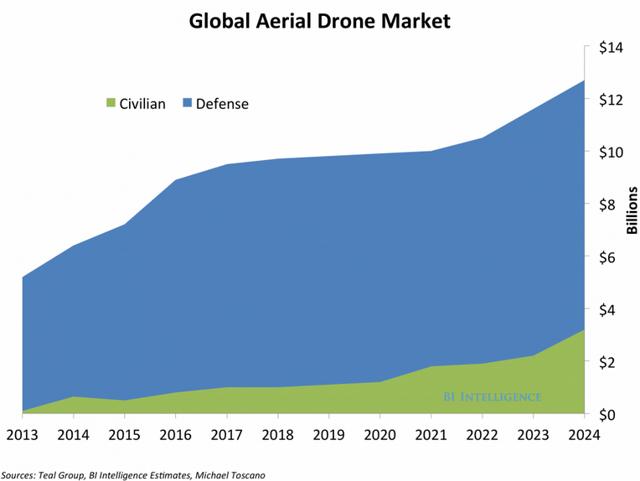 X, Amazon, and Flirtey are not the only companies vying for a slice of this pie. Many other publicly traded entities are in the drone space too, both for commercial and defense applications. Ambarella (NASDAQ:AMBA), GoPro (NASDAQ:GPRO), InvenSense (NYSE:INVN), Boeing (NYSE:BA), Northrop Grumman (NYSE:NOC), Lockheed Martin (NYSE:LMT) and IXYS Corp. (NASDAQ:IXYS) to name a few, all have exposure to the drone market from either a hardware or software angle. Industries that could use this technology include real estate, agriculture, defense, commerce, and media.
A similar project by X, Project Loon, also revolves around airspace.
Project Loon
As opposed to delivering goods, intelligence or medical supplies, Project Loon will be delivering Wi-Fi to the world. Not from drones, however, but from unmanned balloons. According to X's website, "two-thirds of the world's population does not yet have internet access." Project Loon aims to fix this issue with a fleet of balloons hovering around the world. High-tech balloons will hopefully be traveling on the edge of space, disseminating LTE data to each other, then down 20 km and 80 km across. These balloons will bring billions of people online, connecting the most rural and remote areas to modern resources. The project will also help to fill coverage gaps after a natural disaster, should information technology infrastructure be knocked out.
Project Loon will occupy the stratosphere with its balloons, about two times as high as the typical airplane. Navigation will be done with the wind, leveraging advanced forecasting algorithms.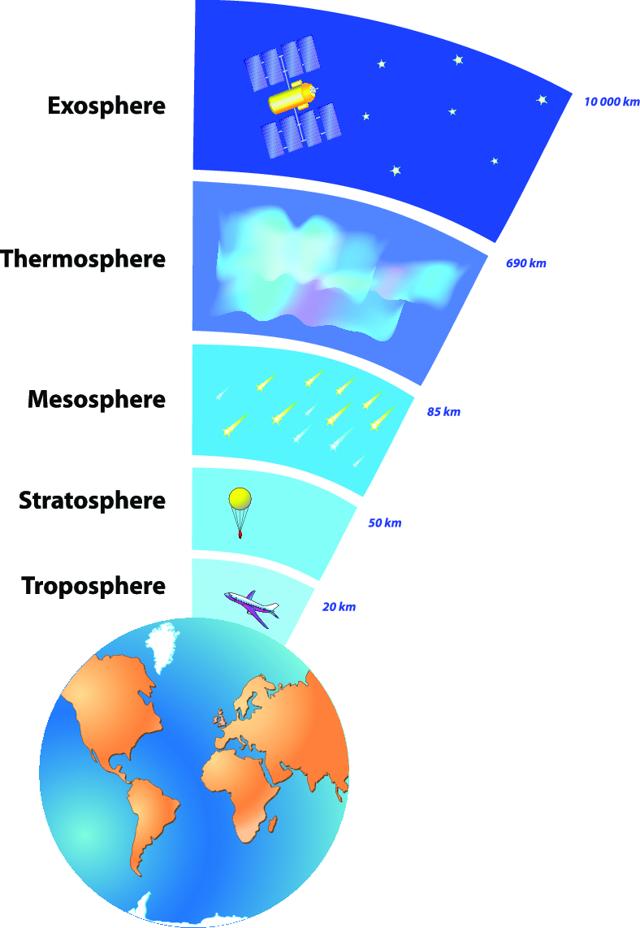 Additionally, X will leverage monocrystalline solar cells to power each balloon. Companies like First Solar (NASDAQ:FSLR) and Yingli (NYSE:YGE) use this technology. On the communications side, publicly traded companies like Telefonica (NYSE:TEF) and Australia's Telstra (OTCPK:TLSYY), have been named as key sponsors for the project. This project might be high up in isolated space, but that doesn't mean there isn't competition. CNET recently found out that SpaceX (SPACE) and Facebook (NASDAQ:FB) are working on a similar endeavor. Facebook announced that their engineering team is working on an unmanned aerial vehicle that sends Internet down to users. The SpaceX team is also apparently planning to build a fleet of internet satellites to do the same.
Back on earth, the very definition of travel is being redefined.
Self-Driving Car Project
The self-driving car is perhaps the most widely reported on project that Alphabet is working on. Started during the great recession of 2009, the autonomous vehicle project's goal is to "help prevent traffic accidents, free up people's time, and reduce carbon emissions by fundamentally changing car use." The company cites a World Health Organization statistic that over 1.2 million lives are lost every year due to car accidents. By October of 2010, Google's (before the name change) self-driving cars logged over 140,000 miles, a "first in robotics research" according to a company blog post. For context, as of the May 2016 "Self-Driving Car Project Status Report", project vehicles have driven over 1.6 million miles completely autonomously within their 4 testing locations since the start of the project-the equivalent of driving from New York to Silicon Valley 559 times.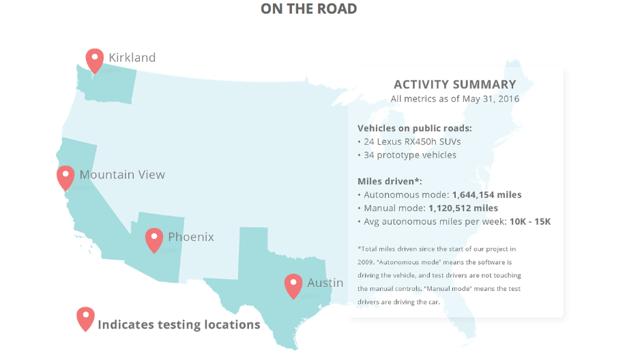 May 2016 Self-Driving Car Project Status Report Map
A milestone in the Self-Driving Car Project was the acquisition of 510 Systems in 2011 for an undisclosed amount. Reports indicate that the purchase really accelerated the firm's efforts, prototypes, and ultimately the end-product.
The firm's efforts have not gone unnoticed, however. Many other high tech companies have jumped into the self-driving car market. Uber (UBER) CEO, Travis Kalanick, last year said he would buy 500,000 autonomous vehicles from Tesla (NASDAQ:TSLA) in 2020; however, the ride-sharing company never got a call back from Tesla's Elon Musk. In response to the highly publicized comments, analysts inquired about the story during a Tesla conference call last year, but Elon Musk didn't want to comment. He simply said, "I don't think I should answer I," referencing the analyst's question. Perhaps Tesla has plans for an autonomous ride sharing fleet leveraging its own vehicles.
A few months ago, perhaps in response to this news, Uber has reportedly bought 100,000 units of self-driving Mercedes Benz S-Class vehicles. The specific technological parameters are unknown at this time, but sources value this deal at roughly $11 Billion. The same sources indicated that the delivery date is expected to be in 2020. The bottom line is, both automakers like Mercedes-Benz (a division of Daimler AG) and Tesla, to tech companies like Uber and Alphabet, hope to grab share in this new market-not to mention Apple's (NASDAQ:AAPL) "Project Titan" that is still under wraps.
According to Alphabet's acquisition history, there are a number of other projects being worked on now. Recent purchases include Gecko Design (who brings hardware / wearable tech design capabilities to the table - Fitbit (NYSE:FIT) was a client), Jetpac (which focuses on artificial intelligence image recognition), and Boston Dynamics (robotics, as depicted below…although, reportedly about to be sold again) among many other companies across sectors and industries.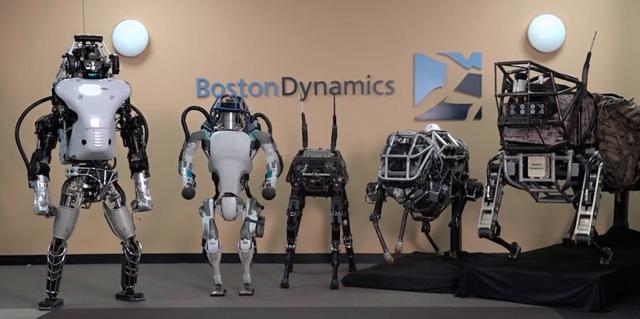 Overall, a number of X's later stage projects revolve around automation of objects that move. Autonomous services, from cars to drones, seem to be at the core of the next big wave. Another recurring theme is sustainability/improvement of the environmental impact of existing industries. This wave of technology could make a big impact on the world, so keep an eye on these companies… especially Alphabet.
Fariba Ronnasi
CEO, Elite Wealth Management
Full Disclosures: http://elitewm.com/disclosures/
This article is not intended as investment advice. Elite Wealth Management or its subsidiaries may hold long or short positions in the companies mentioned through stocks, options or other securities.
Disclosure: I/we have no positions in any stocks mentioned, and no plans to initiate any positions within the next 72 hours.
I wrote this article myself, and it expresses my own opinions. I am not receiving compensation for it. I have no business relationship with any company whose stock is mentioned in this article.