At the end of January, I had written in an article that investors should not be ruling out a turnaround for railroad company Union Pacific (NYSE:UNP) despite a weak start to the year for commodities. Almost five months since the article, shares of Union Pacific have shot up impressively by 25%, driven by strength in the automotive and construction markets, along with operational efficiencies.
The railroad market is witnessing a recovery
In fact, the overall sentiment of the railroad market has improved this year. This is evident from the Dow Jones U.S. Railroad Index, which has increased over 9% this year as shown in the chart below: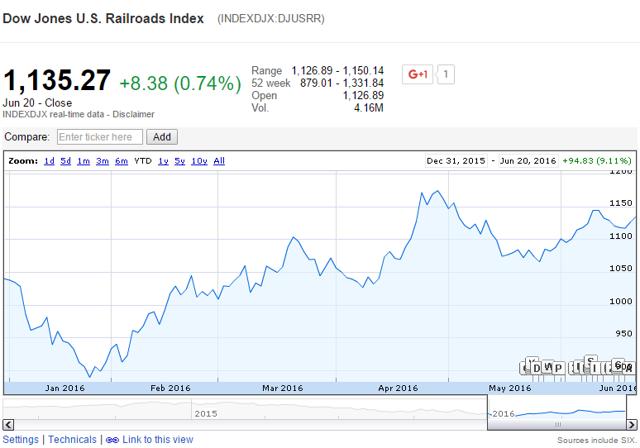 Source: Google Finance
Thus, driven by an improvement in the end market, Union Pacific shares have received an impressive boost. More importantly, recent data out of the railroad sector is also on the positive side. Earlier this month, it was reported that stockpiles of both coal and other commodities such as grains have dropped, which will eventually lead to an increase in carloads.
For instance, the CSX (NYSE:CSX) CFO is of the opinion that farmers will start loading more grains onto railcars due to improving prices for soybeans and corn. Additionally, coal inventories are currently at 87 days in the northern part of the U.S. and at 113 days in the southern part. This is a stark decline from inventories of 105 days and 180 days in these two areas just a couple of weeks ago.
Due to these low stockpiles, coal and grain freights will increase going forward. This is good news for Union Pacific investors since agricultural products and coal account for almost a third of Union Pacific's freight revenue mix. As shown in the chart below, both these segments have been struggling of late due to low carloads, but as the recent developments in the end-market indicate, a comeback in both these areas cannot be ruled out.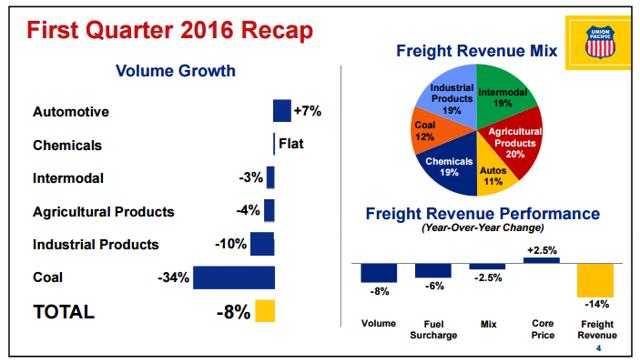 Source: Union Pacific
Therefore, lower volumes in the coal and agricultural business have played a key role in dragging down its freight revenue. However, as there are positives emerging in both these markets, Union Pacific will continue to see an improvement in its financials going forward
The auto market remains a tailwind
As the chart above shows, the auto market accounts for 11% of Union Pacific's freight revenue and has proven to be the only bright spot in the company's portfolio this year. More importantly, I believe that the auto segment will continue to drive Union Pacific's performance going forward as sales of vehicles and related after-market parts in the U.S. increase.
According to the Wall Street Journal, new cars and light truck volumes in the U.S. hit 1.5 million units in the month of April, up about 3.6% as compared to the same month last year. With this record breaking growth in volumes for the month of April, the annual average sales of the new cars and light trucks reached 17.4 million vehicles as compared to the annual pace of 16.6 million in March.
The strength in the U.S. auto market continued in May with monthly sales increasing from April to 1.54 million units. The good news is that the increase in auto sales in the U.S. so far this year is actually translating into an increase in carloads. For instance, the industry recorded an increase of 5.2%, or 4,690 carloads, in the total volumes of motor vehicles and parts for the first-quarter of 2015 on an annual basis.
As a result of the increase in carloads during the previous quarter in the auto segment, Union Pacific saw an increase of 7% in volumes. Given that auto sales have strengthened so far in the second quarter, carloads in this industry will continue to increase going forward and positively impact Union Pacific's volumes. The following chart shows that average weekly carloads in the motor vehicles segment are trending higher than last year: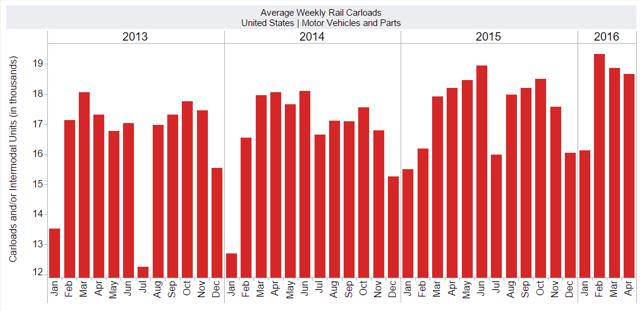 Source: AAR
Going forward, this positive trend will continue as new vehicle sales in the U.S. are expected to increase for the seventh straight year in 2016. As per LMC Automotive, new vehicle sales in the U.S. will reach 17.7 million this year, up about 1.3% as compared to the record of 17.47 million units in 2015. This growth in new vehicle sales is due to high incentives across the industry that rose 14% to average $3,052 this year through April from 2015 levels.
Thus, this strong growth of new vehicles in the U.S. should accelerate volumes for the finished vehicles as they are transported to dealerships along with auto parts, supporting Union Pacific's auto revenue going forward.
Conclusion
Union Pacific is now witnessing a recovery in its end-markets and this is a trend that will continue in the future as the discussion above indicates. Thus, it will be prudent for investors to remain invested in Union Pacific shares even after robust gains so far this year since more upside is possible due to better freight volumes.
Disclosure: I/we have no positions in any stocks mentioned, and no plans to initiate any positions within the next 72 hours.
I wrote this article myself, and it expresses my own opinions. I am not receiving compensation for it (other than from Seeking Alpha). I have no business relationship with any company whose stock is mentioned in this article.