MACROECONOMIC NEWS
ARGENTINA's Agriculture Ministry will announce today (Thursday) an agreement with seed company Monsanto (NYSE:MON) over the inspection of shipments of genetically modified soybeans. Ministry sources told Reuters that the agreement would involve the national seed institute in the inspections.
BRAZIL's Supreme Court agreed to add more criminal charges to those already pending against suspended House Speaker Eduardo Cunha in connection with a corruption investigation centered on Pebrobras (NYSE:PBR). The court ruled there is sufficient evidence against Mr. Cunha, who allegedly took more than R$5 million ($1.5 million) in bribes from a lobbyist and h id it in Swiss bank accounts.
BRAZIL's Interim President Michel Temer said that the government may start talks with states to renegotiate their debts with Brazilian development bank BNDES. Temer may invite governors to discuss their debts with BNDES soon. Priority would be given to those that borrowed to build infrastructure for the 2014 soccer World Cup. Temer's comments follow the government's recent R$50 billion ($15 billion) offer to cash-strapped states in emergency debt relief over three years. The move seeks to shore up public services.
BRAZIL' s lower house approved a bill allowing for up to 100% of foreign ownership in airlines. The bill is pending approval from the Senate. GOL (NYSE:GOL) and Avianca (NYSE:AVH) rallied during Wednesday's trading session (9.0% and 5.2%, respectively) following the news.
BRAZIL's State-controlled Banco do Brasil is planning to book additional loan-loss provisions of $192 million due to a decision by phone carrier Oi SA (NYSE:OIBR) to seek bankruptcy protection this week. Should a bankruptcy court approve the petition, Banco do Brasil would have to raise provisions on outstanding loans to Oi to R$1.2 billion.
CHILE's Central Bank's survey showed that economists lowered their exchange rate forecast to CLP$693 by yearend (vs. the previous CLP$695.5). They left inflation expectations practically unchanged at 3.1% for the next twelve months. Analysts expect policymakers to keep the MPR stable during the next six months at 3.5%.They also think that the central bank will hike rates by 25 bps to 3.75% in the next 12 months.
LATAM ETFs (June 22): Latin America (NYSEARCA:ILF) 0.20%, Argentina (NYSEARCA:ARGT) 0.50%, Brazil (NYSEARCA:EWZ) -0.54%, Chile (BATS:ECH) 0.02%, Colombia (NYSEARCA:GXG) 1.87%, Mexico (NYSEARCA:EWW) 1.14%, Peru (NYSEARCA:EPU) 0.09%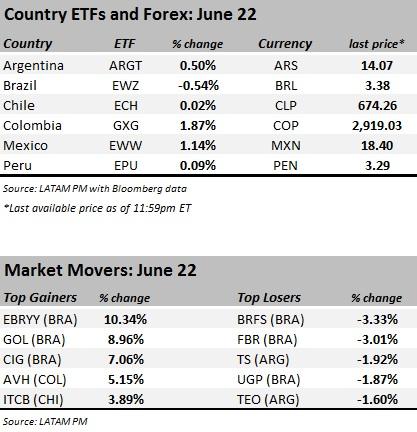 CORPORATE HIGHLIGHTS
BRAZIL's Utilities Index rallied 2.1% on Wednesday. Former CPFL CEO Wilson Ferreira Jr. was invited to take charge of ELETROBRAS (+8.5%) which is in a difficult financial situation and recently had its ADRs delisted from the NYSE due to investigations of suspected corruption in the construction of power plants. Meanwhile, Italian Enel is interested in acquiring AES Eletropaulo, which led to a cumulative increase of 17.2% for the stock in 2 days.
BRAZIL's Anatel ruled on Oi's assets use. The National Telecommunications Agency banned the alienation and burden of any of Oi's assets (including subsidiaries and affiliates) without prior authorization. According to Eliseu Padilha, Chief Minister of the Civil House, the government has discarded providing financial aid.
BRAZIL's BRF (NYSE:BRFS) completed the take-over of Al Khan Foodstuff. In April, BRF had shown interest in taking full control of the Oman-based frozen food distributor. After possessing a 40% already, BRF now acquired the remaining 60% of AKF shares for US$38.4 million. BRFS closed Wednesday's trading session 3.3% down.
MEXICO's Regulator IFT granted access to multiprogramming for TLEVISA's (NYSE:TV) affiliates. The telecom and broadcasting regulator approved 35 requests for access to multiprogramming for local TV's affiliates. There is no fee payable to access multiprogramming. Most broadcasters already use the technology in certain cities. Multiprogramming is a benefit of digital TV technology, which allows the broadcasting of different content streams within the same channel, increasing the actual number of digital channels on it. TV closed Wednesday's trading session 1.3% up.CHILE Goldman Sachs has started coverage of Itau Corpbanca (NYSE:ITCB) with a Buy rating and a price target of $14 (or 18% upside), on growth potential and synergy benefits. Itau Corpbanca is the fifth-largest bank in Chile by assets, and the fifth-largest in Colombia. Goldman expects merger synergies and know-how brought by Itau Unibanco (NYSE:ITUB) to lift profitability over the next 3 years. Goldman expects ROA to increase by 40bp from the 2013-2015 average. It expects 2016 EPS of $0.48 on revenue of $1.59 billion. ITCB closed +3.9% on Wednesday, following the report's release.
MEXICO BTIG initiated coverage of telecom giant America Movil (NYSE:AMX) with a Neutral rating, following the bankruptcy of Oi. AMX is down 13% YTD. Peers Oi, TIM (NYSE:TSU) and Telefonica Brasil (NYSE:VIV) are down 43%, 40%, and up 35%, respectively. BTIG questioned how AMX will be able to balance share purchases and dividends with its increasing debt burden. AMX closed Wednesday's trading session 0.8% up.
MEXICO After Wednesday's closing bell, Moody's assigned Baa1 global and Aa1.mx local scale ratings and Positive Outlook to the airports operator Grupo Aeroportuario del Pacifico's GAP (NYSE:PAC) proposed notes for an amount up to MXN1.5 billion senior unsecured floating rate certificados bursatiles due 2021. In 2015, GAP handled a total of 30 million passengers, increasing passenger traffic levels by 22.7% YoY. PAC closed yesterday 1.3% down.
Disclosure: I/we have no positions in any stocks mentioned, and no plans to initiate any positions within the next 72 hours.
I wrote this article myself, and it expresses my own opinions. I am not receiving compensation for it (other than from Seeking Alpha). I have no business relationship with any company whose stock is mentioned in this article.
Editor's Note: This article covers one or more stocks trading at less than $1 per share and/or with less than a $100 million market cap. Please be aware of the risks associated with these stocks.