On June 21, Lennar Corporation (NYSE:LEN and LEN.B), one of the leading homebuilders in the U.S. announced its second quarter results, which significantly surpassed consensus estimates. The surprisingly positive performance underscored a persistent trend of gradual improvement in the firm's underlying fundamentals in recent quarters.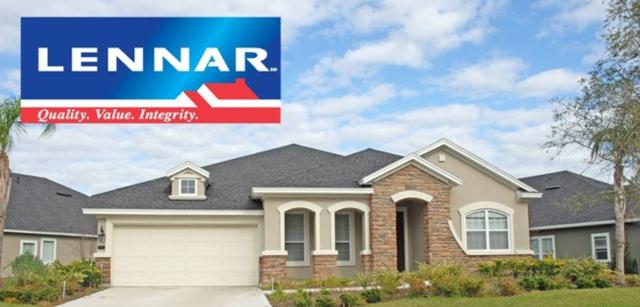 Total revenue reached $2.7 billion, which was 15 percent higher from the same period a year ago. We can see that the company's revenues have been consistently increasing in the last few years. In fact, the pace of improvement has demonstrated a notable acceleration since 2013.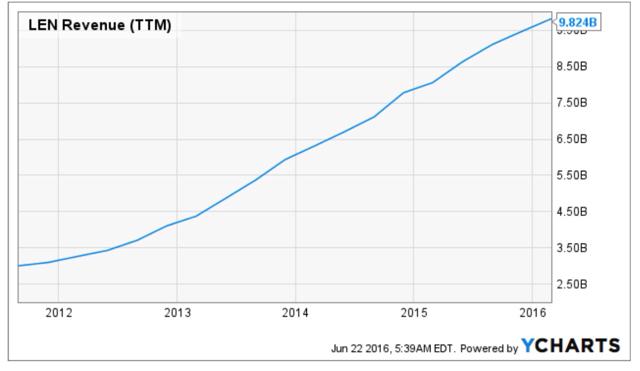 Lennar's second quarter net earnings were $218.5 million, or $0.95 per share, up from $183.0 million, or $0.79 per share, the prior year, and well above median forecasts. Meanwhile, operating earnings came in at $342.7 million, which represented a solid 17 percent increase. This is in line with the broader picture of improving profitability, especially since 2013, and provides additional evidence regarding the successful and efficient implementation of the firm's strategy, which was made possible by the sound functioning of Lennar's core homebuilding business.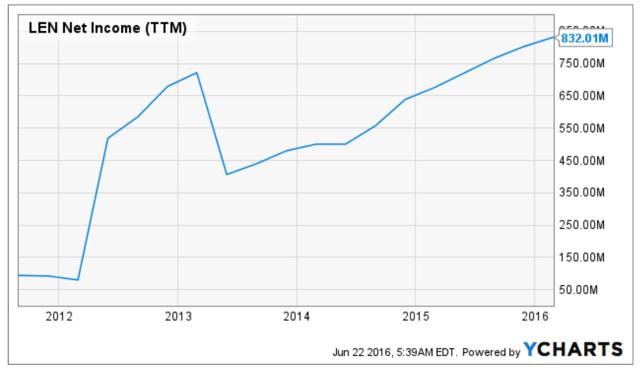 The company has benefited from its increased focus on digital marketing, which drastically contributed in the reduction of SG&A expenses as a percentage of home sales revenues to 9.3 percent, the lowest second quarter percentage in the firm's history. Similarly, substantial strengthening was achieved in the operating margin on home sales which reached an industry-leading 13.9 percent, while new orders increased 10 percent to 7,962 homes on a year-over-year basis. This underscores the enhanced ability of Lennar to effectively maximize profit generation, and represents an important success of the company's management team.
The four pillars anchoring Lennar's refined business plan include the focus on operational efficiencies, the pursuit of moderate growth, the systematic decrease of existing leverage, and the gradual reversion to a pure-play homebuilder. Apart from the effectiveness with which Lennar's has pursued these critical strategic objectives, the surprisingly strong results were also supported by the ongoing recovery in the homebuilding market, which has been sustained by historically low interest rates, improving consumer confidence and increasingly tight inventory levels.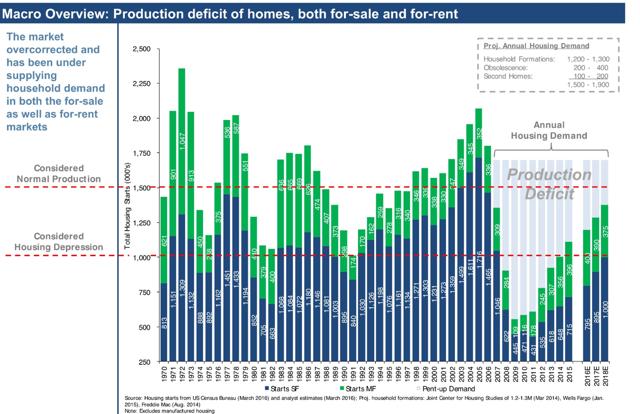 In light of these developments, it becomes clear that Lennar's current valuation, which is especially attractive compared with that of its major rivals as well as the broad market, represents a true investment opportunity.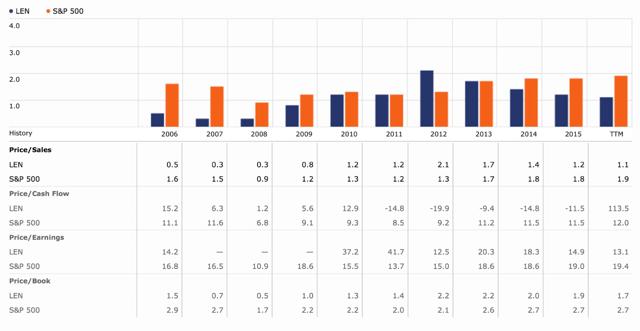 In recent years, the company has delivered exceptional investment returns, convincingly outperforming its peers and the S&P 500. It is, however, interesting that price action has been relatively disappointing in the last few months, which for investors is likely a blessing in disguise, as Lennar's excellent business performance should reverse this short-term downtrend.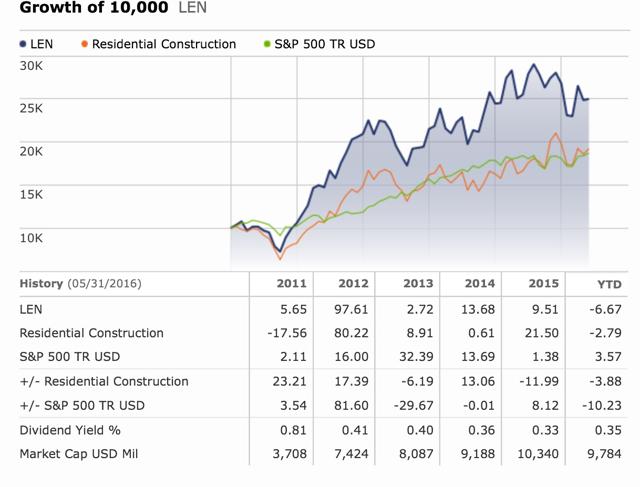 As a result, the fact that it has remained undervalued despite the consistently improving fundamentals, likely signals further price gains ahead. Lennar's management has demonstrated that it has clear vision and ambitious goals, whose pursuit will continue to be supported by the ongoing recovery in the housing market.
Disclosure: I/we have no positions in any stocks mentioned, and no plans to initiate any positions within the next 72 hours.
I wrote this article myself, and it expresses my own opinions. I am not receiving compensation for it (other than from Seeking Alpha). I have no business relationship with any company whose stock is mentioned in this article.