I have taken a small position Kinder Morgan (NYSE:KMI) to my Roth IRA after doing some additional research of my own. Previously here back in February of this year where I was currently cautious on entering the stock and wanted to wait for this year's first two quarter's calls to see some signs of either improvement or steadiness in the stock. I cited concerns of a shrinking backlog, pricing assumptions being accurate, and the 5.6x net debt to EBITDA ratio. However, given some factors that have played out I decided to take a small position in the stock.
Since my February writing, Kinder Morgan has seen a nice gain of 18.5%. While that certainly doesn't make the company stable, and I would like to retouch on my three areas of concern with Kinder Morgan and why I decided to take a position before the second quarter call.
Pricing Assumptions
If you recall, Kinder Morgan maid the assumption that oil would be $38 per barrel and gas would be $2.50 per MMBTU. While it's not always bad to be an optimist - it didn't help the company in the first quarter, though now we see the spot price of WTI has risen to $49.40.

(YCharts)
Natural gas has also reached $2.74

(YCharts)
While these prices were not at these levels for the first quarter they are now well ahead of the assumptions KMI cited. It may be too little too late for the second quarter, but they should allow KMI to catch up in third and fourth quarters -(assuming they remain flat or gain) - and maybe even make up for the first half of the year.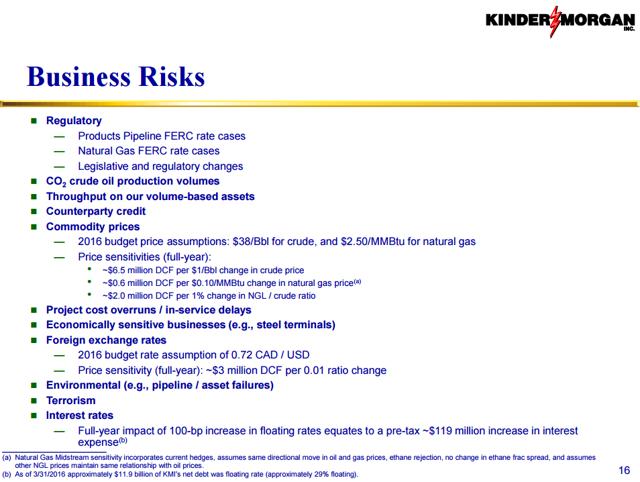 Shrinking Backlog
KMI cut its capital backlog by another $4.1 billion, from which the majority was two large projects, Northeast District "NED" and Palmetto. CEO, Steve Kean, noted that the $3.1 billion committed to NED was axed due to the inability to get customer commitments, specifically electric customers to make the project feasible. Additionally, it would have only yielded less than 6% after tax and the decision was made that the cash for the project could be put to better use elsewhere. Palmetto was halted due to regulatory issues stemming from KMI being unable to get permits it needed for the project as well as eminent domain. There has been a moratorium for the environmental permits needed until sometime in 2017 - so that project has been halted as well.
While it is frustrating to see the backlog shrink - the reasons make sense and I am happy to see management acting appropriately by determining in the instance of NED that there is better use for the capital. Additionally, the shrinking backlog does not come as a shock to me as investors were warned earlier in the year that instances such as NED and Palmetto were a probable situation for the company heading into 2016.
Net Debt to EBITDA
Not much has changed here as management has still cited that it expects to meet it's 2016 "goal" of reducing net debt to EBITDA from 5.6x to 5.5x. This is still a larger concern of mine; but given the prior example with NED and the company realizing it has better use for capital such as paying down debt, KMI is managing its cash flow and capex in a responsible matter.
The Long Term View
Kinder Morgan is the king of natural gas transportation, moving 38% of natural gas in the United States. Couple that with the projections for the demand of natural gas to rise in both United States and Mexico, this makes Kinder Morgan a long term play with great potential. In addition to the rising demand for natural gas, the company also has a large storage capacity, allowing them to have sufficient supplies during times of fluctuating demand.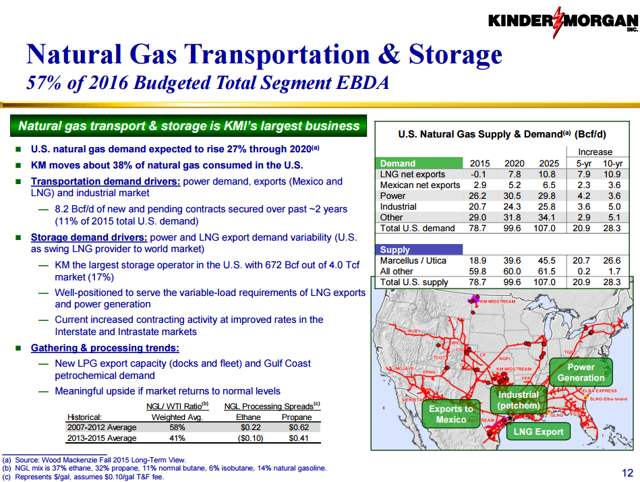 Conclusion
So while the net debt to EBITDA still remains a concern of mine, I am confident (enough to take a small position) in management's ability to effectively manage the debt levels and responsibly deploy capital. It is a good sign to see that Kinder Morgan's pricing assumptions are being met by the market now, and are ahead enough to perhaps get it back on track for the year. Lastly, the shrinking backlog is a smaller concern and a necessary evil in the near term under current market conditions.
Disclosure: I am/we are long KMI, SE.
I wrote this article myself, and it expresses my own opinions. I am not receiving compensation for it (other than from Seeking Alpha). I have no business relationship with any company whose stock is mentioned in this article.