A few weeks ago I wrote the article How to Pay 0% Tax in Retirement. I got a lot of positive feedback and a constructive (and civil) conversation was started in the comments. Many people asked me for more details on how I plan to retire by 40. Rather then go into the specifics of my budget, I will use a ratio that applies to everyone and then outline the strategies required to achieve financial freedom.
Individuals I talk to seem to be looking for a one size fits all early retirement number. Is it $1.5 million? Is it $2 million? There is no magic number. Everyone's situation is going to be different, but there is a simple way to determine your number. Take your annual expenses and multiply it by 25. That's the amount you need to cover your cost of living assuming a 4% withdraw rate in retirement and no reduction in principal. With $40,000 in yearly expenses you would need $1 million to cover your cost of living at 4%. If you can achieve a 5% yield, you only need to multiply your expenses by 20.
Now that you have a target number, you can determine how many years it will take to get there. Financial publications like to show the power of compound interest and investing from a young age. For example, it is often sited that $5,500 a year will make you a millionaire by 65. This is true and everyone should strive to save early, however, it rarely happens in practice. Most don't think about retirement until their 30s or even later. So what about those who didn't contribute to a retirement account at 20? All is not lost. The number of years you have until financial freedom is a function of your savings rate.
The graph below shows the number of years it will take before you are financially independent at each savings rate starting with a net worth of $0. This assumes a 5% return on investment and 4% withdraw rate.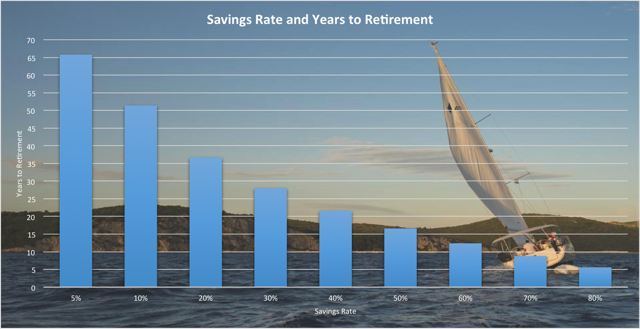 The average American saves approximately 5% of their income; at this rate it will take 65 years to be financially independent without Social Security. At a 10% saving rate, retirement is 51 years away, a difference of 14 years. At 30%, freedom is 27 years away, another 15-year change. At a 60% savings rate, you are just 12 years from retirement!
At the beginning of this article I gave the example of someone with $40,000 in annual expenses needing $1 million to retire at 4% interest. Using the same assumption, a working couple making a combined $100,000 in net income could live comfortably on $40,000 while saving the remaining $60,000. This $60,000 or 60% saving rate would allow them to reach financial independence ($1 million) in just 12 years! Even less if they had any savings to start with.
Note that the higher your saving rate, the less reliant you are on investment returns and compound interest in reaching financial freedom, giving you more control over your financial future. Compound interest may be the most powerful force in the universe, but it takes time and most people don't start saving until it's too late to receive the maximum benefit from it. If you are in your 20s and plan on working until 65, then compound interest is your best friend. If you want to retire in 12 years starting from $0, compound interest is going to play a much smaller role. However, a sustainable yield on your investment is going to be paramount.
My retirement planning assumptions are based on a 4% investment yield. To achieve a 4% or higher return in retirement, I will rely on dividend stocks, REITs and MLPs. My holdings mainly include low cost funds VDIGX and VHDYX. Select stocks including CVS, T, TGT, MSFT and REITs/MLPs such as HASI, VTR, OHI and EPD. Let's look at a mini example portfolio with some of my favorites.
Above are 6 equities I find attractive and generally risk-averse. I own all of these except TGT at the moment. Even in this low interest environment, there are a number opportunities for adequate yield without over reaching. With $1 million, this portfolio would generate $46,000 per year (please don't put $1 million in just 6 assets). A notable outlier here is CVS with just a 1.8% current yield. I like CVS for its dividend growth, which management has stated will increase at a rate of 18% through 2018. For more information on creating a dividend portfolio, see the "Dividend" section of Seeking Alpha. There are a number of great authors covering dividend portfolio construction who have helped me greatly over the years.
Tax optimization is important to my strategy, as this is one of the few components of investing I have full control over. Some general rules I will be following are
1. I will be maxing out my 401(k) contributions, $18,000 tax deferred each year. I plan on having a much lower tax rate in retirement so 401(k) contributions make sense over a Roth. Excess funds will go into a Roth IRA and then a taxable account.
2. After retirement I will convert $20,700 each year from my 401(k) to a Roth IRA. This will be my only "ordinary" income and will not be taxed because of the standard deduction. See details on this strategy here.
3. REITs will be kept primarily in tax-deferred accounts. REIT dividends are taxed at ordinary income so it is best to shelter them from taxes in a Roth, IRA or 401(k).
4. A majority of MLP distributions are considered return of capital and are tax differed. Therefore it is best to keep them in taxable accounts.
5. Capital gains and dividend income from traditional stocks work well in taxable accounts. Remember you don't pay capital gains unless you sell. Both capital gains and qualified dividends are taxed at the favorable capital gains tax rate. You can make up to $75,000 in cap gains/dividends and pay 0% tax (married filling jointly) if you have no other ordinary income.
6. Tax Loss Harvesting, when I have losses on my Vanguard S&P500 or Dividend Funds, I will sell them and acquire shares from an equal fund at another company. This locks in the loss and generates a tax deduction but does not affect my long-term investment plan.
I plan on paying little to no tax on my investment gains in retirement; I further outline my 0% tax strategy in the article linked in the first paragraph of this article.
Conclusion
The number of years you have until retirement is a function of your savings rate. A 60% savings rate will cover your expenses in 12 years with a 5% return on investment and 4% withdraw rate. Even in a low interest rate environment, a sustainable 4% yield is not hard to find. Tax conscious portfolios can save you thousands in unnecessary expenses.
There is no secret to early retirement; everyone who has done it will tell you the same thing "stay disciplined and live below your means." To reach financial independence before 40, I am targeting a 60% savings rate, meaning just over 12 more years of work. This means driving an older vehicle, living in modest housing and churning credit cards in order to travel for close to free.
I know not everyone is in a situation to save this percentage of his or her income. But if you take anything from this article, note the impact a small change in saving rate has on the number of years until retirement. A 15% increase in savings rate from 5% to 20% will get you to financial independence 30 years sooner! For many this would simply mean eating out less and cutting cable TV or driving a more modest vehicle.
Disclosure: I am/we are long HASI, OHI, EPD, CVS, TD, STAG, VTR.
I wrote this article myself, and it expresses my own opinions. I am not receiving compensation for it (other than from Seeking Alpha). I have no business relationship with any company whose stock is mentioned in this article.