Earlier today, Michael Kors (NYSE:KORS) announced a partnership with Formula one race team McLaren-Honda (NYSE:HMC). Over the past few months, KORS has been pushing to make itself a luxury retail store that sells high end fashion. Kors has already begun to accomplish this task by partially removing their brand from wholesale department stores to preserve margins and drive traffic through their stores. The F1 partnership should continue to drive that exclusivity into the future, and it will further enhance brand image across Europe and Asia where F1 racing is extremely popular. This particular partnership is especially beneficial since McLaren-Honda is the second most popular F1 racing team.
KORS has risen to popularity behind selling "Jet Set" fashion, or the clothes that the wealthy wear around in private jets as they bounce from city to city. There is a certain sense of wealth surrounding F1 that makes it seem like its participants, and major fans, would be inclined to buy "Jet Set" fashion. The favorite teams are luxury car dealers like Ferrari and McLaren. The VIP clubs cost in excess of $1,000 per day, with some costing upwards of $2,000 per day, all just for tickets. F1 Grand Prix races are held all over the world, on essentially every weekend, so the dedicated in-person fan will take multiple international trips per year.
The F1 partnership will allow KORS to more deeply penetrate this market, increasing its international audience and putting the KORS brand in front of hundreds of millions of potential buyers. The F1 partnership coupled with reduced promotional activity illustrates the company's commitment to retaining a luxury brand image. This will inevitably generate tailwinds for margins.
Additionally, it will help with continued European market expansion. Last year, the company increased Europe store count by 33, upped square footage by 40%, and grew retail sales by 24%. Appealing to the largely European F1 following will get them more attention.
We also see the partnership as yielding topline synergies with KORS' Men's segment. Building out the Men's business is a focus of the company. Last year, the company opened 2 Men's standalone stores and added Men's offerings in 9 existing stores in North America, Europe, and Asia. The company expects to accelerate this rollout, planning to open 150 Men's shop-in-shops globally this fiscal year. KORS recognize the Men's side of things as a $1 billion opportunity. F1 is the most male watched sport in the world, with right around 75% of its 400 million audience being male. By comparison, only 55% of the NFL audience is male. Therefore, the F1 partnership puts the company in front of its targeted audience.
The partnership will not only expand brand recognition among those who attend F1 events by flying from city to city, but also to those people who watch F1 at home on paid television. It is my belief that F1 has a high income fan base and that KORS' capability to recognize and target them will drive sales to their $1B guidance Men's department. The company generated revenue of $4.7B MRFY, so an additional $1 billion could be added to the topline.
There is, however, a significant amount of data showing that F1 is decreasing in viewing. I feel that viewing has decreased not because of decreased popularity, but rather because of the exclusivity of the broadcast of races to paid channels. By 2018, all races except the British Grand Prix will be on paid channels. This only further the exclusivity of the F1 audience, and more narrowly targets KORS' key consumer. F1 moving towards pay TV is actually parallel to KORS attempt to move away from Wholesale. It is a perfect marriage of two brands attempting to be as exclusive as possible.
These synergies do not seem baked into the stock's valuation. While there is a lot of pessimism baked into mall retail, I do not believe KORS should be dragged down with this given its attempts to target an international, wealthy audience and maintain brand image and exclusivity. This strategy of targeting shoppers who wouldn't normally shop on Amazon will provide a moat for the company that many others don't have.
At 11x trailing earnings, the stock is trading at a dramatic discount the market P/E of 24x. While earnings growth is projected at a pedestrian 4.8% per year versus market-wide earnings growth projections for 7.45% per year, this means earnings are expected to grow at 64% the rate of the market while the P/E multiple is 46% that of the market's P/E. From a PEG standpoint, I could reasonably see this stock trading at a P/E equal to 64% of the market P/E, implying a trailing P/E of roughly 15x. That would imply a share price north of $65.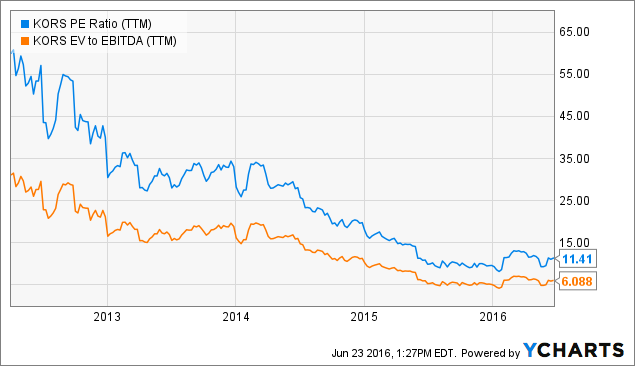 KORS PE Ratio (TTM) data by YCharts
In sum, the partnership with McLaren-Honda will prove to be a strong move looking forward. There are lots synergies between the partnership and KORS' strategic buildouts. The company widens its moat against e-commerce competition and should experience strong international brand exposure and sales growth. I think that this growth is not yet baked into the valuation of KORS, which is generally thought of as yet another mall retail store in spite of its quarterly earnings beat history.
Disclosure: I/we have no positions in any stocks mentioned, but may initiate a long position in KORS over the next 72 hours.
I wrote this article myself, and it expresses my own opinions. I am not receiving compensation for it (other than from Seeking Alpha). I have no business relationship with any company whose stock is mentioned in this article.