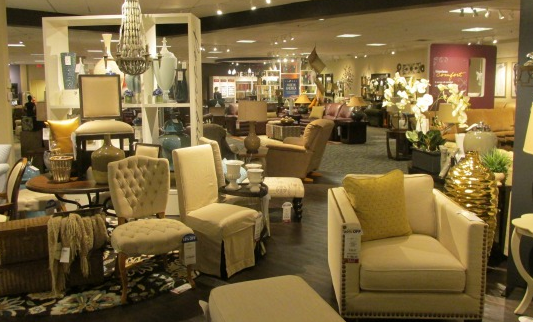 La-Z-Bo (NYSE:LZB) has traded largely sideways in the past couple of years but of late, the stock has recovered nicely from a very sharp selloff at the beginning of the year. The company has been busy remodeling its store base as well as acquiring stores from dealers in a bid to grow the system. And if results for Q4 are any indication, it is working. LZB has seen a huge rally in the past few months but has it come too far, too fast?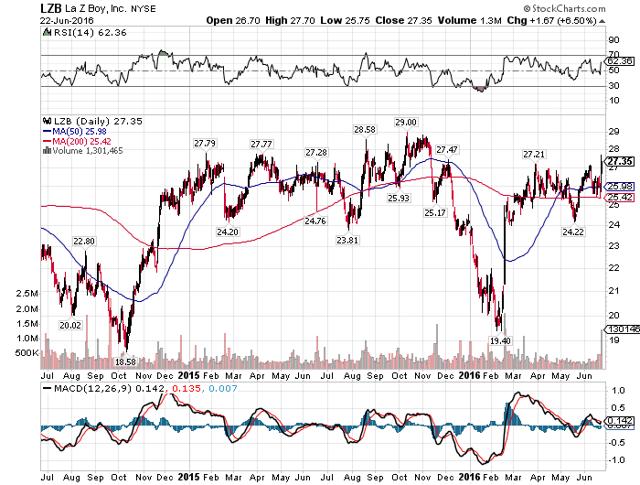 LZB saw its total sales fly higher by better than 11% in Q4 but to be fair, the vast majority of the increase was due to an extra operating week in the quarter. That added 8% to the total so without it, revenue grew just over three percent. On the bright side, however, comp sales were up 2.2%, making up the majority of the sales increase that wasn't due to the extra week. That's a strong comp number and given that LZB is fairly mature and isn't interested in opening lots of new stores, the focus will be on comp sales as the primary source of revenue growth. LZB is still acquiring stores from dealers but that is a rather slow, expensive process. Comps performed well throughout the entire fiscal year, however, so LZB certainly seems to be on the right track.
In addition to nice comp sales growth, LZB posted operating margin expansion for Q4 and the full year as well. The company's wholesale segments saw higher operating margins and the story was the same with the retail business as gross margins flew higher, leading to more favorable operating margins during Q4. Gross margins were a lot higher in Q4 but so were SG&A costs, partially offsetting gains. But overall, consolidated operating margins performed very strongly, gaining about 30bps to 8.2% during the quarter. LZB has been busy working on efficiencies in terms of fixed costs and the gains are being leveraged by higher sales levels. The work is paying off and it is doing wonders for LZB's profitability levels and given current profit levels, there is still some room to run.
LZB's fiscal 2017 will be a 52-week year once again so when comparing this coming year to last year, that adjustment must be made. That has analysts a little more cautious on revenue growth this year than they otherwise would be, forecasting ~3% in top line gains. But margin gains are expected to continue to accrue and LZB's rather small buyback program should help as well, sending earnings growth higher in the 12% range. That's terrific growth for a mature company and with analysts looking for $1.75 this year, LZB's current PE is 15.6. That's very reasonable but remember that furniture stocks sometimes carry a lower PE than you'd otherwise think because their business is so very cyclical. Still, that seems reasonable to me considering the growth the company is getting on the top line in addition to its margin improvements.
This is what analysts think LZB will do for the next few years in terms of EPS growth and as you can see, expectations are rather high.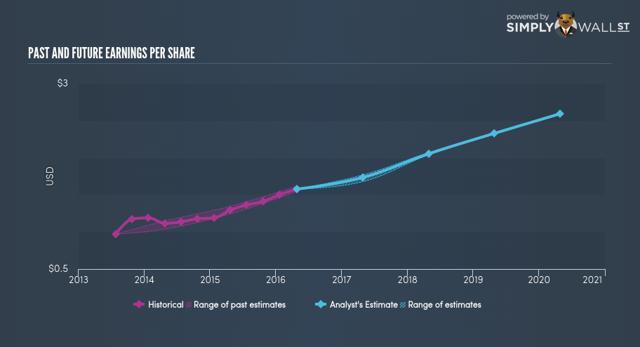 Source: Simply Wall St.
This is what mid-teens earnings growth looks like and while it looks very bullish, I'd caution that building in expectations like this can be difficult for a company to execute upon. In particular, we know LZB's revenue growth is going to be rather pedestrian so most of this growth will need to come from margin gains. LZB is well on its way and in the high single digits, it certainly has some room to run with operating margins. But these expectations are very high so that's the only word of caution I'd throw out there.
The good news is that LZB's balance sheet is pristine and that it creates a lot of cash from operations, meaning it has latitude to buy back shares and increase its dividend. LZB pays out a small amount of its earnings in dividends and the current yield is less than the S&P 500. But LZB could make a concerted effort to grow the yield in the coming years once it is done remodeling and acquiring stores, both of which are very expensive propositions. At any rate, LZB's balance sheet allows it to be very flexible with the way it spends its money and any of those outcomes are good for shareholders.
LZB's Q4 and indeed the whole of the fiscal year were strong. However, some caution is warranted. The furniture retailing business is notoriously cyclical and indeed, during the great recession LZB saw its profit levels go negative. If we have another downturn that will happen again and while I'm not forecasting such an event, extrapolating earnings growth out for years at a very steady rate simply isn't realistic for a company that does what LZB does. Over the short term, that doesn't necessarily matter but for the long term, one thing I'm sure of is that LZB's EPS growth will not be a nice, neat straight line.
That being said, at 15.6 times this year's earnings, LZB isn't particularly expensive. It is still going to grow EPS in the double digits for the foreseeable future but after the rally from $19, I think the multiple expansion has already taken place. That means upside is going to be limited from here so despite the fact that I like LZB's fundamentals and in particular, its operating margin expansion, I'm going to pass. The stock has accrued gains from the company's recent success so I think upside is very limited.
Disclosure: I/we have no positions in any stocks mentioned, and no plans to initiate any positions within the next 72 hours.
I wrote this article myself, and it expresses my own opinions. I am not receiving compensation for it (other than from Seeking Alpha). I have no business relationship with any company whose stock is mentioned in this article.