Every month, the German ZEW institute publishes a survey which is leading for both countries and industries. The ZEW institute surveys about 350 financial professionals in different industries to get their views on the current and future situation of their industries and countries.
In this article, I want to give you an overview of all countries by using a few handy graphs that display the current and future situation very well.
The graphs below show both the current situation and the expectations of almost all major developed economies.

Germany and the US have by far the best current situation. 56.5% of all experts are positive about the situation in Germany and 36.9% feel the same in the US. Only 5.5% are positive about the Eurozone and almost nobody is positive about Japan. France and Italy have by far the highest negative percentages. This shows once again that Germany is the country that keeps the Eurozone alive. The chart below displays the ratio spread between German and Italian stocks. The ratio just hit a new high.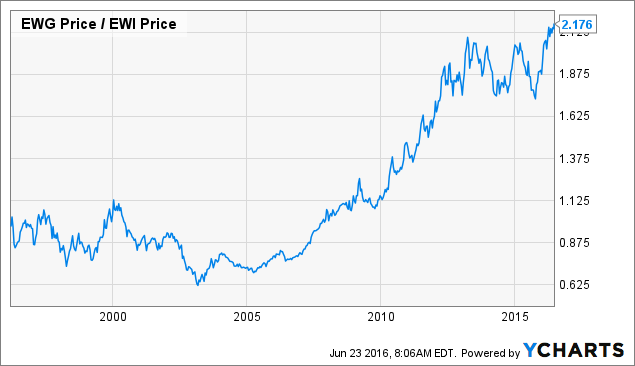 Fundamental Chart data by YCharts
When looking at economic expectations, I see two interesting things. Experts remain negative about Japan. Only one in ten experts is positive about the future while one-quarter of experts is negative about the United Kingdom. However, these surveys were conducted while the BREXIT odds were still very high. This might have had some significant impact on the expert's views.
The graph below shows the change of balance. The balance is, in fact, the amount of positive experts minus the amount of negative experts. The change shows the difference between the previous survey.
The situation in France jumped 5.6 points. By far the best score. Germany, USA, and Italy had moderate growth while the Eurozone, Japan, and the UK decreased. I am really surprised that France is outperforming the Eurozone when it comes to balance change.

Last but not least, I want to show you a graph that displays the UK ZEW sentiment. Sentiment started decreasing after it became clear that there is going to be a referendum. Industrial production, however, kept increasing. This could be the pre-referendum fear effect.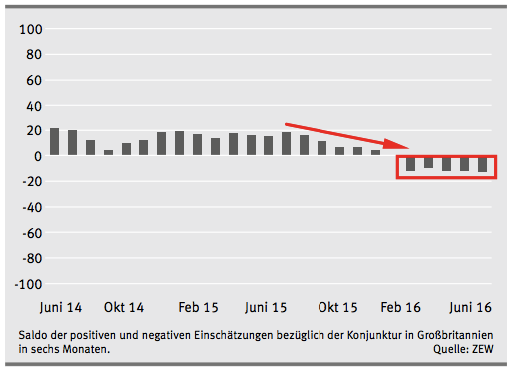 Keep in mind that this ZEW survey is not the most important indicator out there. Although it is leading, it should only be used to support PMI, Ifo, and regional survey data.
Disclosure: I/we have no positions in any stocks mentioned, and no plans to initiate any positions within the next 72 hours.
I wrote this article myself, and it expresses my own opinions. I am not receiving compensation for it (other than from Seeking Alpha). I have no business relationship with any company whose stock is mentioned in this article.