Finish Line (NASDAQ:FINL) is slated to release earnings this Friday, June 24, before markets open. Since mid-day Wednesday, we have seen share prices fall nearly 7%, giving investors a chance to buy in at a low price before earnings. Right now, FINL is trading at ~9x EBITDA. If you adjust EBITDA to exclude store closure expenses which are expected to last only over the next 4 years, then the stock is trading at 5.2x EBITDA. Between Fy11 and Fy15 (without the store closure expenses), the company was netting at average of $150 million in EBITDA. That means the stock is currently trading at 4.3x that normalized EBITDA. This is incredibly cheap for a company that consistently grows sales and posts positive comps, so I think the company has upside in the long-term.
I also see upside in the near-term from an earnings beat. Quantcast shows a significant spike in online traffic in the month of April, and this makes qualitative sense. The NBA Playoffs started on April 16, and they ended on June 17 in what was the most-watched NBA game in ABC history. Last year, we saw strong basketball interest flow over into a Q1 beat, and I think we see a similar thing unfold this year.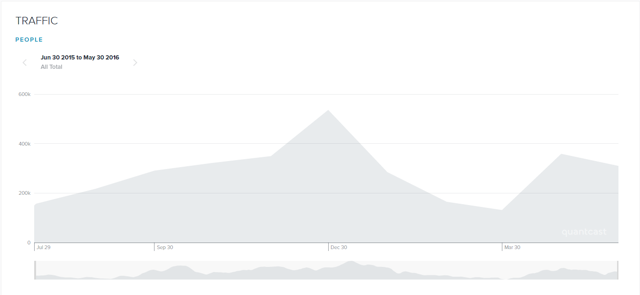 More specifically, retro sneaker styles have been coming back into style. A specific beneficiary of this trend will be Air Jordans, as we have overlapping tailwinds with strong basketball interest and a return of retro popularity. Also, the Curry 2.5 launched at the end of the May, and with the Golden State Warriors making another deep playoff run, I think June sales are off to a solid start and we should expect strong guidance from the company.
Moving on to the fundamental parts of Finish Line, the company is segmented into three parts: Finish Line stores, Jack Rabbit, and Macy's (NYSE:M).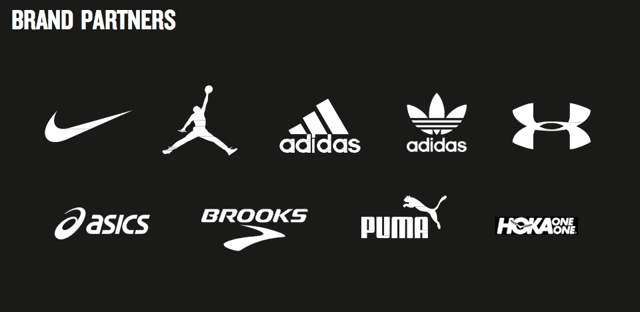 Looking at Jack Rabbit, I think there is a tremendous growth opportunity. Jack Rabbit currently generates ~$100M in revenue from 70 stores. Although it runs an operating loss, FINL believes it can grow sales to $200M+, which will lead to a high-single digit operating margin.
On the Macy's side, it is easy to say that FINL underperformed in this segment due to weak MRQ results from the department store. Scanning through the transcript, though, reveals that Macy's actually said activewear performed quite well during the quarter. The company is guiding for 11% Macy's-related revenue growth this year with $350M+ upside as the ultimate goal. Again, management things they can net a high-single digit profit margin on these sales. Both Jack Rabbit and Macy's should add significant profits to the bottom-line over the next several years.
Lastly, FINL is reorganizing its real estate. The company plans to close 150 stores over the next 4 years, but these stores represent approximately 12% of total volume and generate average annual sales of ~$1M, or less than half the company average. Knocking down these underperforming stores will help comps and be accretive to the bottom-line.
For the past 6 Q1s, the company has comped positive in the range of ~2.5% to ~8%, while growing sales per square foot in the range of ~5% to ~7.5%. Given the quarter tailwinds mentioned earlier and management's guide for 3-5% comps for this year, there is no reason comps and sales per square foot growth should not fall in the historical range. I model for comps and sales per square foot growth below the historical trailing 5-year average, and still arrive at a revenue estimate ($453M) above the consensus estimate ($449M). I also account for a sharp decrease in square footage associated with the aforementioned store closures.

I think the company will top Q1 estimates. I also think the company will guide higher. These expectations coupled with an attractive valuation make the stock look like a compelling buy. I will be buying the dip here.
Disclosure: I/we have no positions in any stocks mentioned, but may initiate a long position in FINL over the next 72 hours.
I wrote this article myself, and it expresses my own opinions. I am not receiving compensation for it (other than from Seeking Alpha). I have no business relationship with any company whose stock is mentioned in this article.