Shares of Fitbit (NYSE:FIT) have remained under pressure since reporting strong Q1 2016 results, but issuing guidance that failed to meet analyst earnings estimates for the 2nd quarter. And on June 22nd, shares were battered yet again as Pacific Crest analysts issued downbeat notes regarding demand for Fitbit products. With these negative Pacific Crest comments in focus, Fitbit's CEO James Park appeared in a segment on CNBC's Mad Money. Host Jim Cramer aimed to deliver a rationale for why shares of FIT are trading at such a low multiple for a growth company with a dominant market share in the wearables category. The CEO aimed to please, offering that the company has long-term growth and transformation ahead. One could say that Pacific Crest and Fitbit's CEO battled each other yesterday, but the stock price and investors took the brunt of the blows. In this article, I will offer a detailed analysis of Pacific Crest's reporting on Fitbit and the seeming response by Fitbit's CEO on Mad Money.
Firstly, I am long shares of FIT as I do believe the current trading price undervalues the company at this stage of its business cycle and with the backdrop of expected revenue and earnings slated for 2016 and early 2017. Having said that, I am not absent the understanding that revenues are expected to continue to decelerate in 2017 greatly and most investors are investing for the future and not the present. As such, my participation with FIT shares is and has been fleeting and for trading purposes only. As with any hardware company, which Fitbit is, the name of the game is market saturation and/or sell-in. Simply put, get as many devices out there as possible and let the chips fall where they may for investors. And that is exactly what Fitbit is doing as evidenced by the YOY increased distribution/sell-in growth. I am not in support of the company's decision to saturate the global market with Fitbit devices as quickly as they are and seemingly without shareholder consideration, as the company spends massively on product deployment and R&D.
At the heart of the June 22nd FIT sell-off was Pacific Crest's reporting of "demand issues" and user base issues for Fitbit products. With those issues in focus, Pacific Crest lowered certain of their estimates for Fitbit's business.
Pacific Crest lowered its estimates on the basis of high user attrition rates coupled with mounting demand deceleration concerns and limited opportunities for sensor differentiation.
As the first to articulate and publish concerns about Fitbit's high attrition rate, I can determine the value of this metric in forecasting future demand for Fitbit products. The attrition rate for any hardware/gadget device that offers longstanding growth and consumer engagement should be no greater than 20 percent. Fitbit has an attrition rate between 42 and 48% depending on quarterly user base tracking disseminated by Fitbit. For the sake of comparison, cell phones have less than a 5% attrition rate, determined by usefulness and necessity. Obviously cell phones are a necessity in the eyes of the consumer and fitness trackers are more of a novelty. Regardless of the benefits, nobody actually needs a fitness tracker and it is simply a nice addition to have for related health & wellness purposes. Now let's take a look at Pacific Crest's lowered estimates.
The sell-side firm foresees the unlikelihood of a reacceleration, consequently lowering its estimates for the third quarter of fiscal year 2016 (3QFY16) from $0.20 to $0.16. Revenue forecasts for 3QFY16 have also been lowered to $482 million from $514.9, well below consensus estimates of $505 million, thus reinforcing the firm's pessimistic sentiments. On the contrary, on the back of new products launches in the fourth quarter and subsequently more appropriate average selling prices (NASDAQ:ASPS), the firm raised its 4QFY16 EPS and revenue projections. Furthermore, the deceleration is projected to continue through the second half of this year, causing the firm to lower its 2017 revenue and EPS estimates, adjusting year-over-year (YoY) growth estimates to 15%, as opposed to 18%.
Demand deceleration is also noted in many of my articles that have urged investors to recognize the characteristics of hardware vendors like Fitbit and even Apple Inc. (NASDAQ:AAPL). Again, it all goes back to sell-in, which contributes to the greatest growth in the business of any hardware vendor. Once sell-in finds itself closer to a saturation point, sell-through results usually pale in comparison and lead to revenue flattening and eventually declining as they recently have done for Apple and its flagship iPhone products. Without something to reaccelerate revenue growth akin to a new hit product, gross margins come under pressure and lead to declines in profit. Within the demand deceleration and 2017 revenue revision by Pacific Crest, the firm is recognizing these factors.
Pacific Crest ran checks across eight box retailer locations in the United States. Analyst Brad Erickson emphasis that while Charge HR exhibited a relatively steady demand in the dads and grads sector (products targeting fathers and fresh graduates), Alta and Blaze volumes "ticked down" compared to the level witnessed in prior months. Interestingly enough, inventory levels also indicate a general decrease in demand, increasing to over 14 days from nine, last month.
I laud Pacific Crest for their dedication to channel sales and inventory data as it defines most consumer packaged goods company future sales outlook. Having said that, a complete sales channel view was not taken into consideration for the reporting by Pacific Crest, as I will explain. A few weeks back I authored an article titled "Fitbit's Moat Has Proven Defensible Through The First Mover Advantage". Within the article I put forth the notion that competition is of little concern for Fitbit given its large lead in market share as well as brand power. In addition to that subject matter, I again articulated concerns for Fitbit market saturation with the following statement:
If you want to know for sure when Fitbit is on the cusp of saturation and sales declining, just keep an eye out for a "Today's Special Value" deal on HSN or QVC.
On June 7th, Fitbit and HSN (HSN) partnered for a "Today's Special Value", bundled Alta promotion. The promotion ran all day long and sold out with 22,000 bundles sold. I had always been of the expert opinion that should such a promotion with such a partner come into Fitbit's playbook, investors should recognize this as Fitbit nearing saturation in North America. Some of the issues regarding a promotion through HSN in this case are that there are generally no profits from this type of sales channel. Given Fitbit's roughly 50% GM performance through most sales channels and selling 22,000 units through HSN, this participation likely boosted sales by just over $1mm while generating little to no profit. That's the first big issue with this selling and distribution activity. Another issue with this selling and distribution activity by Fitbit is that it pulls sales away from other sales channels like brick & mortar retail stores.
Most reporting firms don't even follow promotional sales on HSN or QVC. As these firms perform their channel checks, they are not with consideration to the likes of HSN or QVC and as such don't offer a clear picture of demand. Considering Fitbit has fewer than 22,000 points of retail distribution in North America, it is likely that at least 1 unit/door was pulled out of brick & mortar sales during the Pacific Crest channel check period and as sales proliferated through HSN's Today's Special Value for the newer Alta fitness tracker. Logically, this can also be deduced as the Pacific Crest analyst noted the Charge HR exhibited normal demand and was not part of the HSN promotion. So while the 22,000 units sold seems like a relatively large benefit to Fitbit, it comes with a good deal of problems including the need to comp this number come the following year. In 2017 this number will be very difficult to comp within a market that reaches saturation and demand that is curtailed further.
Moreover, this is why investing in a hardware-centric company can be so very daunting for investors. Unfortunately, not all analysts have all the sales data and all the information to paint an accurate demand picture. Do you need all the data? No, but it helps with the efficacy of the research. So is it fair to say that demand is being curtailed as Pacific Crest has offered? Yes it is, but that should be the expectation as North America is the most mature market for Fitbit and their reported sales trend clearly identifies sales growth is decelerating. It is very likely that North American sales for Fitbit products slip into negative territory in 2017.
Just like with the decision to promotionally sell Fitbit products through HSN recently, I believe Fitbit is not demonstrating investor consideration with how it continues to accept and fill order flow. Essentially, I believe Fitbit is filling inventory channels that need not to be filled based on sell-through rate. In early June, Capital Ladder Advisory Group (for whom I'm affiliated) raised concern regarding inventory fill for one particular U.S. retail partner for Fitbit. Using my Twitter (NYSE:TWTR) account I offered the following for investor consideration:

Target (NYSE:TGT) was/is the retail partner for which Capital Ladder raised caution as we recognized inventory levels of Fitbit products spiked for late-May reporting. As the firm researched the matter more closely by visiting Target locations around the nation, we found that at least 686 locations have dual Fitbit end-cap promotions. The photograph on the lower left-hand side is of an end-cap in place for 3 months now within the Sporting Goods department of the store. The photograph on the right-hand side is the newly implemented sales planner designated to promote the new Blaze and Alta products while offering a feature placement for the newly reduced price of the Flex fitness tracker. The Flex is expected to be update and released this fall.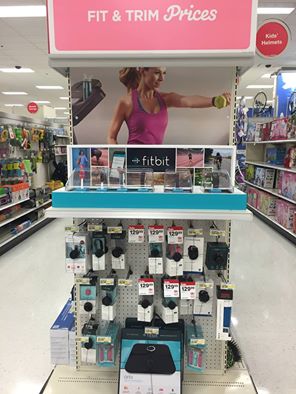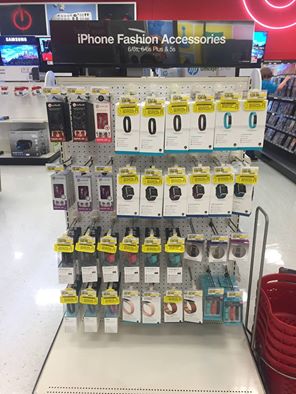 With these two feature sales planners at Target, the retailer has now three locations within the store selling Fitbit products, including the "home" location within electronics & entertainment. This is worrisome as the retailer's sell-through rate suggests the current level of inventory will carry them through October and beyond the typical September ordering cycle. Most retailers have a planned order issued in September to vendors in order to allow for an October delivery date to the retailer and ahead of the November-December holiday selling period. If we combine the HSN Today's Special Value promotion and the inventory build at Target, I believe there is a case to be made that Fitbit has pulled sales forward to some degree that facilitated the lowered Q3 and 2017 estimates by Pacific Crest. Recall from Pacific Crest's notes: "Interestingly enough, inventory levels also indicate a general decrease in demand, increasing to over 14 days from nine, last month". True channel demand is hard to define when the channel has seen such unnecessary order fulfillment with no real demand increase to speak about. I don't believe that this order fulfilling and selling activity by Fitbit is an optimal sales strategy long-term and will prove to be a very difficult comp in the following year.
I don't disagree with the general research and longer-term outlook offered by Pacific Crest. Rather, the near-term thesis on demand bears greater, detailed information to draw more near-term conclusions. Additionally, the totality of the research is defined by North American sales and not with respect to Fitbit's international sales activities.
The international opportunity is where we pick-up commentary from Fitbit's CEO on Mad Money.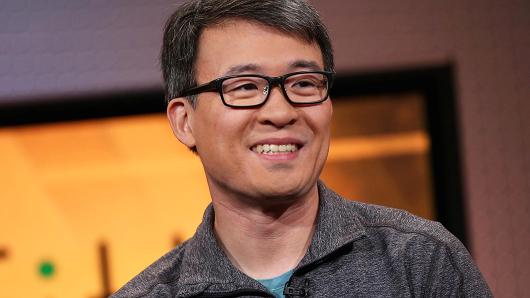 Mr. Park expressed that Fitbit still has a long runway for sales growth internationally and North America is still growing.
Park added that currently, international sales only account for approximately 20 percent of revenue. Fitbit's peers currently average 50 percent or more, thus there is opportunity for global expansion for Fitbit.
The CEO doesn't offer any commentary surrounding the extreme deceleration in growth, as the Mad Money host doesn't ask about this issue, purposefully. North America is the largest consumer market in the world and with respect to finding the next leg of growth internationally, this will not likely offset further sales deceleration in North America come 2017. In short, if international sales grab more total sales dollars in the future, it will come as North America experiences sales declines.
In addition to international growth opportunities offered by Mr. Park, the CEO discusses the company's product relevancy in the health & wellness clinical world with respect to group health. Again, I can admire the company's participation with corporate wellness programs, even as these wellness programs will and have already been found to have illegitimate efficacy.
A big new survey of benefits from the Society for Human Resource Management found that employers are cooling toward certain wellness benefits. Originally designed to cut employers' health costs, benefits like on-site flu shots, 24-hour nurse hot lines, health coaching and insurance-premium discounts for weight loss all have declined over the past year, the study found.
As such, we will likely see these programs reduced in the coming years. Where Mr. Park offers commentary in stark contrast to my offered statements and the study by SHRM, this aspect of the business will likely take a step further back in the future. With respect to Fitbit's group health/corporate wellness promotions and sales participation I will simply suggest that GoPro (NASDAQ:GPRO) was supposed to develop into a larger media play with rich content. Smoke and mirrors, smoke and mirrors!
Just like with the more bearish sentiment offered by Pacific Crest demanding further details and scrutiny I believe that Mr. Park's bullish sentiment demands details and scrutiny. If you found the additional details and insights within this article worthy please feel free to follow my publications in real-time on Seeking Alpha and Twitter. I remain long FIT shares having recently lowered my cost average with a buy at $12.45 and a sale at $13.55 as tweeted in real time.
Disclosure: I am/we are long $FIT.
I wrote this article myself, and it expresses my own opinions. I am not receiving compensation for it (other than from Seeking Alpha). I have no business relationship with any company whose stock is mentioned in this article.
Additional disclosure: I am no longer holding TWTR shares having achieved my price target objective and profited from this trade outlined in a prior article.