It might not be the most widely known stock, but International Flavors & Fragrances (NYSE:IFF) is definitely one that we think investors should be keeping a close eye on. As the name implies, International Flavors & Fragrances provides flavors and fragrances for an incredibly diverse range of end products. It offers flavor compounds to the food and beverage industries, as well as fragrances for everything from perfumes to soaps and household cleaning products. Although the stock has rallied by over 11% in the last three months following a strong quarter, we still feel there is more to come thanks partly to its Vision 2020 strategy.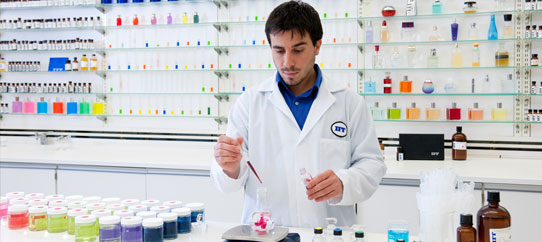 In our opinion International Flavors & Fragrances will see strong growth over the next few years due to providing a vital and always in-demand service to the industries it serves. After all, with consumers having so much choice, it is the subtle differences in flavors or fragrances that can have a huge effect on consumer preference. Flavors and fragrances have been estimated to typically make up just 1% to 5% of product costs. With the costs of using its services reasonably low in comparison to total product costs, we think it makes a lot of sense for companies to continue to outsource to International Flavors and Fragrances rather than take things in-house.
We see the rise of healthier lifestyles and the health and wellness boom in particular as something that International Flavors & Fragrances will benefit from, and a key part of why we invested in the company this year. As much as we love them, healthy foods often get called flavorless or bland. Well this is where a company like IFF steps in with its range of solutions that helps makes foods and beverages healthier and tastier. This is a win-win situation for the product manufacturer and the consumer.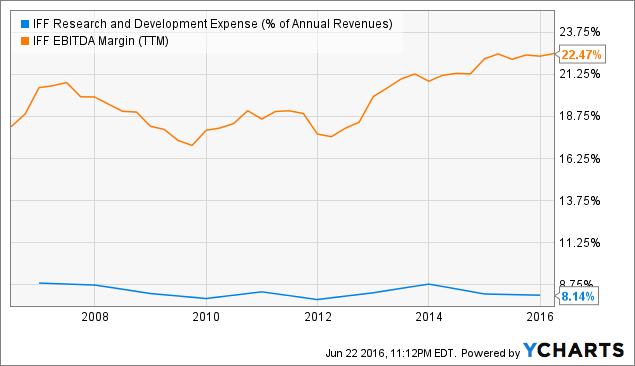 As you might expect the company does spend a lot of money on R&D to be able to come up with its flavor and fragrance compounds, but expenses do remain consistent which is something we do like. Companies which spend erratically on R&D can be hard to forecast for, but International Flavors is thankfully quite easy to model. As you will see above, the company has become far more profitable in the last year than at any time in the last ten years. This is the result of volume leverage, benefits of cost and productivity initiatives, and mix benefit resulting from the inclusion of recent acquisitions. In our opinion, this all paints a very positive picture for the future.
As we mentioned at the top, the company is focused on its Vision 2020 strategy. The strategy has four pillars: win where we compete; innovate first; become their customers' partner of choice; and strengthen and expand the portfolio. We believe the company is doing well with this, evidenced in its most recent quarter which saw a 7 cents beat on EPS, and importantly management stated on its earnings call that it believes that it is on track to achieve what it set out, which should put it in a position to reward shareholders in the future.
International Flavors is not by any means a growth stock. Steady, stable and consistent growth with a growing dividend is what it represents to us. Which is why we see it as a great addition to almost any portfolio. Whilst some may fear that it is getting expensive at 25x earnings, we actually believe that it has been undervalued in comparison to its peers for some time and is now catching up.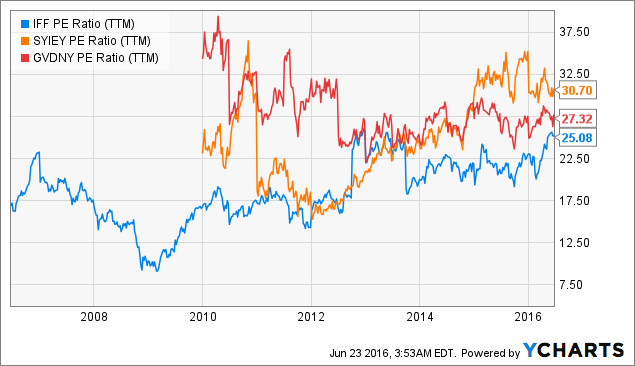 As you can see above, its European peers Givaudan (OTCPK:GVDNY) and Symrise (OTCPK:SYIEY) are still trading on higher multiples than International Flavors leading us to believe that 25x earnings is more than fair. Ultimately, we feel the market may be willing to pay upwards of 27x earnings, however we have based our valuation on a 25x earnings multiple.
This year we expect a continued strong performance thanks to the growth in health and wellness and its Vision 2020 strategy, and have forecast full year earnings per share of $5.45, up from $5.25 last year. Based on this and a price-to-earnings ratio of 25 we have a target price of $136.25 providing upside of 7.4% for investors.
Overall, we feel International Flavors is positioned perfectly to grow on the strong demand for flavors and fragrances across the world and the health and wellness boom. It may not be the most well-known stock, but it certainly is a great one to buy and hold.
Disclosure: I am/we are long IFF.
I wrote this article myself, and it expresses my own opinions. I am not receiving compensation for it (other than from Seeking Alpha). I have no business relationship with any company whose stock is mentioned in this article.