Latest Updates on Cloud Peak
A few months ago, I wrote a report arguing that shares of Cloud Peak Energy (NYSE:CLD) were significantly undervalued and in which I recommended investment in the company. This note is intended to comment on two events that have occurred since my original report was written: Cloud Peak's Q1 report and a surge in natural gas prices.
Q1 Report
Cloud Peak's Q1 results were very poor. Some of the lowlights:
Adjusted EBITDA of -$1.3 million vs $39.4 million in Q1 2015
Net Loss of $36.4 million vs a loss of $4.7 million in Q1 2015
Gross Margin per ton of coal sold down over 50% yoy to $1.50
Coal shipments down 34% yoy to just 13 million tons
The numbers were about as bad as they could have been, the results of both ugly industry conditions for coal and an extremely mild winter. A frustrated-sounding CEO Colin Marshall's statement was as follows: "Unfortunately, just when we did not need it, we have experienced one of the mildest winters on record. PRB coal shipments were down around 34 percent as our utility customers had full stockpiles, burned low price natural gas, and slowed shipments well below their contracted rates. Our sites did a very good job of controlling costs during the quarter, which is difficult to do in such a high-fixed cost business. While the second quarter is also expected to be slow, we do expect shipments to pick up significantly in the second half of the year as summer cooling demand increases coal burn."
The poor report led to a significant selloff in Cloud Peak's stock, halting a major rally that it had been enjoying: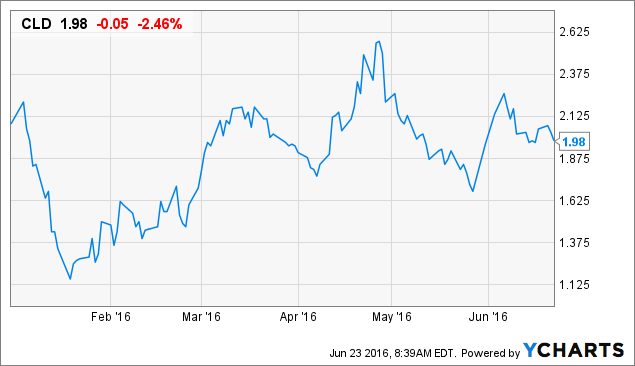 The fact that Marshall is admitting that Q2 might be "slow" as well is a sign that the next quarterly report might be just as bad as Q1 and CLD shares could be in for another selloff. Historically, the second quarter has been the worst of the year for Cloud Peak in terms of earnings (the first quarter has been second worst). The company next reports on July 27.
Looking at the bigger picture, Cloud Peak can handle a quarter or two of bad performance, but they need a pick-up in the end of the year in order to maintain their financial covenants. Those covenants are as follows according to the company's credit agreement:
a. Interest Ratio (EBITDA to consolidated net cash interest expense) greater than or equal to 1.50 to 1.
b. Leverage Ratio (senior secured funded debt less unrestricted cash and marketable securities [net secured debt] to EBITDA) less than or equal to 4.00 to 1.
The more dangerous of these two is the leverage ratio covenant. Cloud Peak stated that "If the trailing twelve month EBITDA plus our unrestricted cash less our capital leases were to fall below $125 million in the future, our borrowing capacity would begin to be reduced pursuant to the Leverage Ratio covenant based on our net secured debt position at that time." Cloud Peak has no capital leases and a current cash balance of $79 million-therefore trailing twelve month adjusted EBITDA needs to stay above $46 million. Investors should watch the EBITDA number closely over the next couple quarters, because if Cloud Peak violates their covenants, precious liquidity can be taken away. Their quarterly adjusted EBITDA numbers over the past year are as follows:
| | |
| --- | --- |
| Q2 2015 | $10.6 million |
| Q3 2015 | $39.0 million |
| Q4 2015 | $34.7 million |
| Q1 2016 | -$1.3 million |
Evidenced by the above table, the only way Cloud Peak is in danger of violating the leverage covenant is with a full year of awful numbers. With an expectation of a stronger back half of 2016, this does not appear to be probable.
In summary, while Q1 was poor and Q2 could be bad as well, Cloud Peak does not have any immediate liquidity risks and appears to still be well-positioned if the coal business improves from the miserable state it has been in.
Natural Gas Price Rally
When I wrote my original Cloud Peak report in March, the Henry Hub Natural Gas spot price was at $1.79. Since then, gas prices have risen significantly: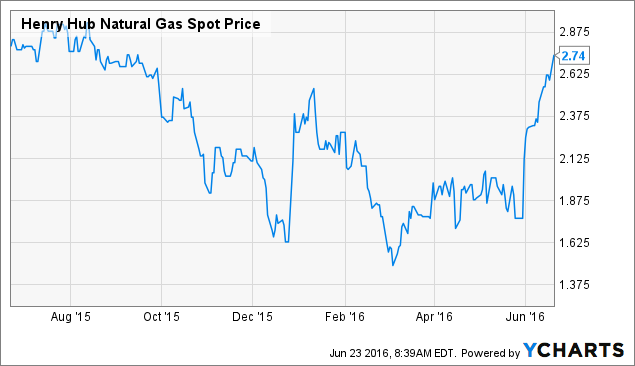 Henry Hub Natural Gas Spot Price data by YCharts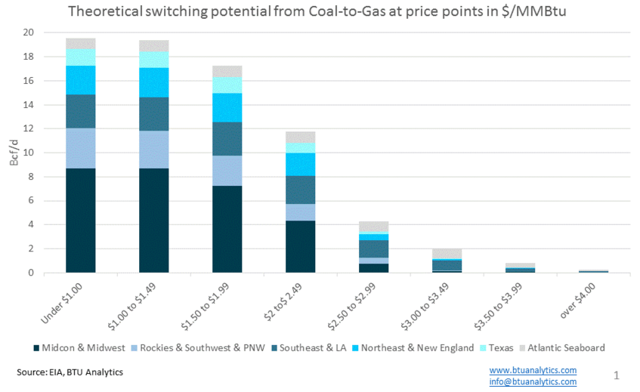 BTU Analytics estimated in December 2015 that $2.50 was the key price level for natural gas; below that point utilities would have an economic incentive to switch fuels from coal to natural gas. Supporting this, coal companies suffered lower demand from electricity generators after the slide in gas prices in 2015 to below $2: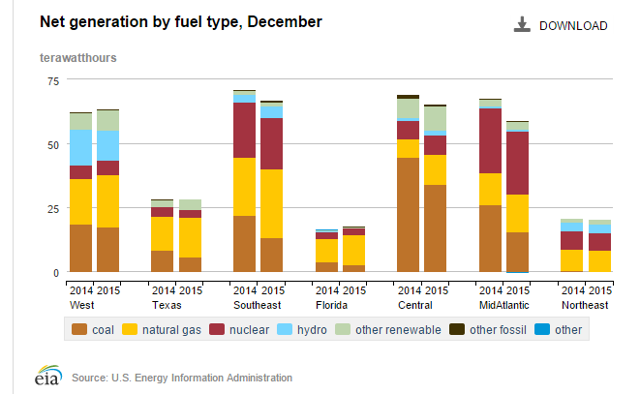 With natural gas now at $2.74, electricity generators will do no more switching to gas from coal for economic reasons. Regulation could force some additional switching; see my previous report for a complete analysis of coal's regulatory environment.
The question for investors after the rise in natural gas is how much switching BACK from gas to coal will occur from utility companies. Utilities that have the ability to marginally burn the cheaper of the two fuels will now increasingly select coal, especially if gas prices continue to rise. Given how quickly these companies were able to switch from coal to gas, logic would suggest they just as easily could shift back.
The exception to this is coal plants that have shut down for good. 95 plants shut down in 2015, retiring a combined capacity of 13,556 megawatts, and 41 more are scheduled to close in 2016, taking off another 5,327 megawatts. Closing a total of 18,883 megawatts worth of coal-powered production sounds like a lot, but consider that in 2014 coal electricity generation was 1.58 billion Megawatthours. Plenty of coal plants are still operating, and they will be burning more coal the higher natural gas prices get.
Additionally, if natural gas prices retain their current levels or push higher, increased demand for coal will lead to coal prices rising out of their depressed states. Cloud Peak earned a margin of $2.82 per ton of coal sold in 2014 compared to only $1.50 in the first quarter of 2016-natural gas rising and pushing coal prices up should make Cloud Peak much more profitable in coming quarters. As I argued in my original report, the fall in natural gas prices was the number one catalyst to Cloud Peak's decline- the gas price coming back up is an extremely bullish sign and indicates that the coal business will improve significantly. It may take a couple quarters for the effects to show, as utilities will take some time to see if extremely volatile gas prices can hold their levels, but much better times for Cloud Peak are in store if natural gas continues on the upward path it's been on.
Conclusion
My buy thesis still holds for Cloud Peak. While Q1's results were miserable, rising natural gas prices are an extremely good sign for the company as they make coal as a fuel source a more economic choice for utilities. Q2 has a chance of being another ugly quarter, but by the second half of 2016 the rise in gas prices should lead to some improvement in the coal business. Furthermore, 2015 was one of the mildest winters on record; if 2016 is any colder it will substantially help Cloud Peak to sell more coal. The stock is trading for under a third of what it is worth and is one of my top investment ideas in today's market: buy it, and double down if Q2 earnings are poor and the stock sells off.
Disclosure: I am/we are long CLD.
I wrote this article myself, and it expresses my own opinions. I am not receiving compensation for it (other than from Seeking Alpha). I have no business relationship with any company whose stock is mentioned in this article.