The quick service restaurant industry is about as competitive as an industry gets, but a recent impressive run of strong comps shows the unique Sonic Corp. (NASDAQ:SONC) is a strong candidate for an investment in our opinion. It seems American consumers simply can't get enough of Sonic Drive-In's roller skate carhops, burgers, hot dogs, and ice-cream, and are frequenting its restaurants in their droves.

The company was recently ranked fifth in the hamburger category of the 2016 Harris poll on brand equity. This is more a popularity contest than anything, but we feel it is great to see the Sonic Drive-In brand jump ahead of the likes of McDonald's (NYSE:MCD) and Yum Brands' (NYSE:YUM) Burger King. If the brand is connecting well with consumers today, then it bodes well for its future growth in our opinion.
The brand's strong appeal could well be the reason why Sonic's same-store sales grew by 6.5% in the most recent quarter, leading management to raise full year earnings growth guidance to a huge 20% to 25%. This outstanding performance is far from a one-off as well. As shown below, Sonic has generated positive same-store sales growth in 14 of the last 16 fiscal years, whilst growing sales by an average of 6.2% per year during this time.

Source: Company Presentation
But due to facing strong year-over-year comps and unfavorable weather, the third quarter may not be as outstanding as the market was hoping. In May management warned that whilst earnings growth of 20% to 25% is still on track, same store sales in the quarter may fall below the full-year target of 4% to 6%. The sell-off that followed this announcement took us by surprise and was the reason we invested in the company. The stock has dropped by over 9% since the announcement and we feel this is an unjustified sell-off. After all, this is a stock trading at 21 times trailing earnings and reiterating its 20% to 25% earnings per share growth. In our opinion, Sonic Corp would have to turn in a pretty disastrous quarter for the stock to go any lower from here. But as that announcement was less than two weeks from the end of the quarter, we feel at that point management had a fair understanding of how the quarter would turn out. Because of this we think now is an extremely opportune time to invest in Sonic Corp, with substantial upside potential in the next 12 months.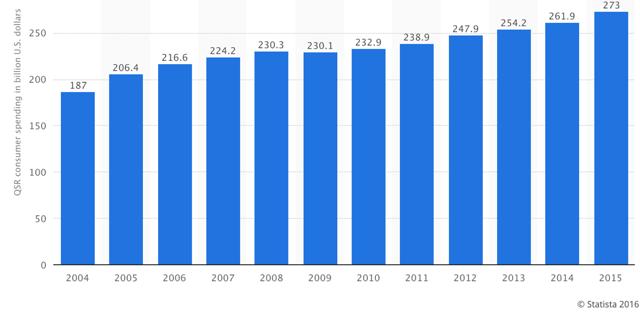 Source: Statista
As well as the brand appearing to be increasingly popular, as demonstrated by the Harris poll and its strong comps, the industry as a whole is in a really good place right now. As you can see on the chart above from Statista, consumer spending on quick service restaurant has been growing a good pace for over a decade. We expect this trend to continue for the foreseeable future, especially considering the eating habits of millennials which favor quick service food.
The big question will be why Sonic and not McDonald's? Well McDonald's has certainly been producing the goods of late. Its all-day breakfast was a big win for the company, as will the McPick 2 be also. But despite this, Sonic has still been producing stronger and stronger results. For some it could be the uniqueness of the restaurants and its niche status that they find appealing, or perhaps it is the fact the company has a very diverse menu. It is the breadth of menu, from sandwiches and sides to drinks and desserts, that management believes keeps Sonic relevant to customers today. And we completely agree.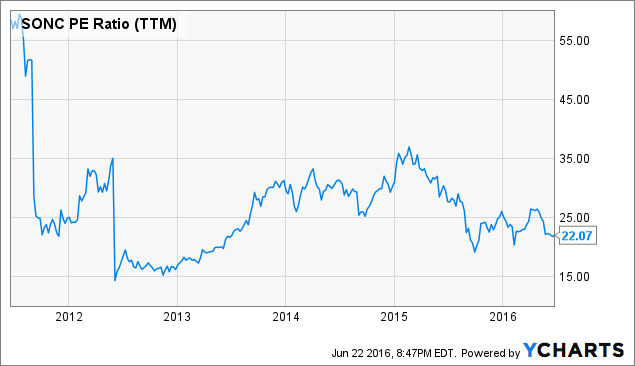 We believe the stock is trading at a level which makes for a great entry price for investors today. As the chart above reveals, 25 times earnings seems about fair considering the trading range of its stock over the last five years.
We are very bullish on Sonic and expect it to deliver on the upper end of its guidance of 25% earnings growth this year. This would mean full year earnings per share of $1.37, which at 25 times earnings give us a target price of $34.25. If it does reach this level it would mean a return in the region of 16%. We feel confident that there is a lot of growth ahead for Sonic Corp and that an investment at the current price will provide strong returns over the next few years.
Disclosure: I am/we are long SONC.
I wrote this article myself, and it expresses my own opinions. I am not receiving compensation for it (other than from Seeking Alpha). I have no business relationship with any company whose stock is mentioned in this article.