Real estate investment trusts (REITs) have been staging a quiet rally in 2016, with a +6.13% YTD total return for the Vanguard REIT ETF (NYSEARCA:VNQ) compared to +3.48% for the broader U.S. market (NYSEARCA:SPY).
The bifurcation in REIT valuations as described in my Jan. 19, 2016 article "KBWY: 5.7% Yield From This Small/Mid-Cap REIT ETF", with small and mid-cap REITs being much cheaper than their large cap brethren, has abated (h/t Dane Bowler) somewhat in recent months.
KBWY outperforms
In my previous article, the KBW Premium Yield Equity REIT Portfolio ETF (NASDAQ:KBWY) is an ETF that uses a dividend yield-weighted methodology to invest in the small/mid-cap space of the U.S. REIT universe. In that article, I wrote that:
...the woeful recent performance of KBWY vs. both VNQ and the broader market has created a more attractive entry point for this small/mid-cap REIT ETF.
How has KBWY performed since that article? While I wasn't able to pick the exact bottom, its performance since publication (+26.35%) has still been gratifying, trumping both the large cap REIT ETF, VNQ (+14.41%) and large cap U.S. stocks, SPY (+11.81%).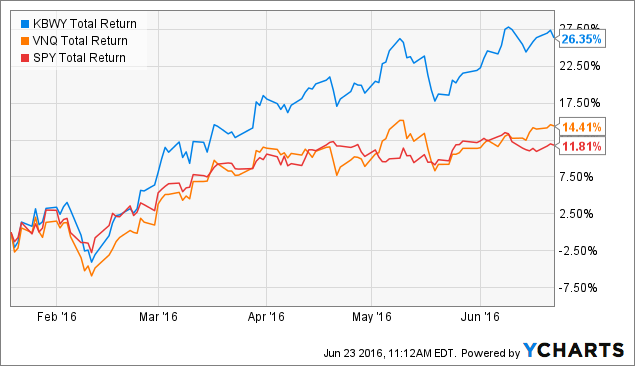 KBWY Total Return Price data by YCharts
The outperformance of KBWY can easily be explained by looking at the performance of the top 10 holdings of the fund since Jan. 19, 2016. As can be seen from the graph below, all except one of the top 10 holdings, Sabra Health Care REIT (NASDAQ:SBRA) (+9.09%), has outperformed VNQ (+14.41%) over this time period. The Government Properties Income Trust (NYSE:GOV) leads the pack at +59.84%, followed by the Whitestone REIT (NYSEMKT:WSR) at +49.91% and the Senior Housing Properties Trust (NYSE:SNH) at +35.78%.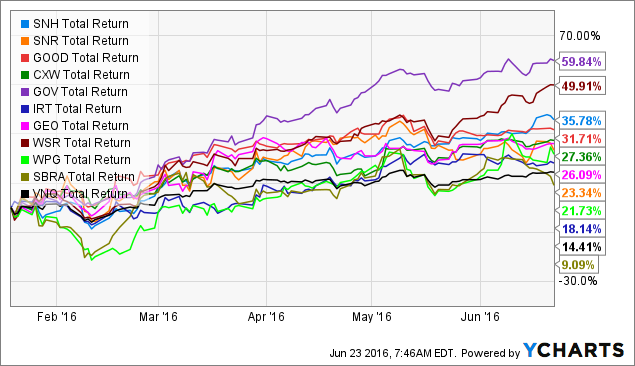 SNH Total Return Price data by YCharts
The index has been rebalanced twice since my last article, and thus today's top 10 holdings are a little different, as shown in the following table:
| | | | |
| --- | --- | --- | --- |
| Stock | Ticker | % Holdings | % Yield |
| CBL & Associates Properties Inc | CBL | 4.90 | 10.87 |
| WP Glimcher Inc | WPG | 4.57 | 9.18 |
| Ashford Hospitality Trust Inc | AHT | 4.53 | 8.81 |
| New Senior Investment Group Inc | SNR | 4.36 | 10.12 |
| Government Properties Income Trust | GOV | 4.04 | 8.36 |
| Whitestone REIT | WSR | 4.02 | 7.58 |
| Independence Realty Trust Inc | IRT | 3.93 | 9.50 |
| Community Healthcare Trust Inc | CHCT | 3.93 | 7.42 |
| Gladstone Commercial Corp | GOOD | 3.92 | 8.92 |
| Senior Housing Properties Trust | SNH | 3.89 | 7.87 |
| Total top 10 | | 42.09 | |
We can see that January's top holding, SNH, has now fallen to 10th place, probably as a result of its massive price appreciation during this time, leading to a proportionate reduction in yield and hence a lower weighting in the index. Instead, in first place is CBL & Associates , which currently has a 4.90% weighting. CBL has struggled recently due to concerns with stagnating malls as well as an FBI probe (h/t Brad Thomas), making it a deep value play with a 10.87% yield. The second highest yield in the current top 10 is SNR (10.12%), followed by WPG (9.18%).
Valuation
With the recent outperformance of small and mid-cap REITs, one might expect them to have become less cheap compared to the large cap counterparts. However, the following data shows that KBWY still much cheaper than VNQ across several metrics (source: Morningstar). While this gap may never fully close, due to large cap REITs being perceived as higher quality compared to smaller firms, the significant disparity still suggests that there may be exploitable pockets of value remaining in the small and mid cap REIT universe. For investors uncomfortable with picking individual companies, KBWY still remains a good choice for achieving instant diversification at reasonably low expense (0.35% expense ratio).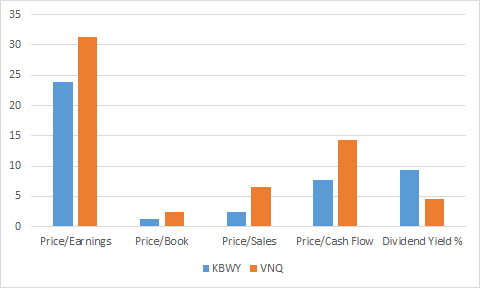 Of course, price/earnings is not the best metric to use for the earning capability of REITs, which should instead be properly evaluated using price/from operations (P/FFO). Unfortunately, Morningstar does not provide aggregate P/FFO data for ETFs. Therefore, I instead compiled P/FFO [ttm] data for the top 5 holdings in both KBWY and VNQ (source: REIT Investor).
| | | | |
| --- | --- | --- | --- |
| KBWY | P/FFO | VNQ | P/FFO |
| CBL | 3.97 | Simon Property Group, Inc. (NYSE:SPG) | 20.46 |
| WPG | 6.25 | Public Storage (NYSE:PSA) | 26.87 |
| AHT | 3.84 | Equity Residential (NYSE:EQR) | 19.20 |
| SNR | 8.84 | Equinix, Inc. (NASDAQ:EQIX) | 41.58 |
| GOV | 8.60 | Prologis (NYSE:PLD) | 21.34 |
| Average | 6.30 | Average | 25.89 |
The above data shows that there still remains a massive discrepancy in P/FFO between the top 5 holdings of KBWY and VNQ, with the average P/FFO for VNQ being over four times (!) greater than that for KBWY. Is a dollar earned by the large cap REITs really worth the same as four dollars earned by their small cap counterparts? The above data is also presented in graphical form.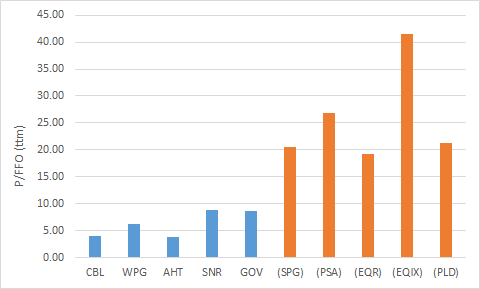 Summary statistics
Summary statistics for KBWY and its benchmark VNQ are presented in the table below (source: Morningstar). Compared to January of this year, both KBWY and VNQ have increased about 50% in assets (and this cannot be fully accounted for by price appreciation). KBWY has increased from about $95M to $152M, while VNQ has enlarged from about $21B to $33B.
| | | |
| --- | --- | --- |
| | KBWY | VNQ |
| Yield [ttm] | 5.83% | 4.13% |
| Expense ratio | 0.35% | 0.15% |
| Inception | Dec. 2010 | Jul. 2002 |
| Assets | $152M | $33B |
| Avg Vol. | 19K | 4.1M |
| No. holdings | 28 | 150 |
| Annual turnover | 25% | 11% |
| Morningstar star rating | ** | **** |
Interestingly, both KBWY and VNQ have seen their Morningstar star ratings increase by 1 since January; from 1 to 2 for KBWY, and from 3 to 4 for VNQ. This is most likely due to their relatively superior performance over the past several months, which suggests that star ratings, for ETFs at least, are too backward looking to be useful.
Distributions
KBWY pays monthly dividends, which could be attractive for income investors compared to the quarterly dividends of VNQ. KBWY has a ttm yield of 5.83%. The monthly distribution amounts for the past 3 years are shown below.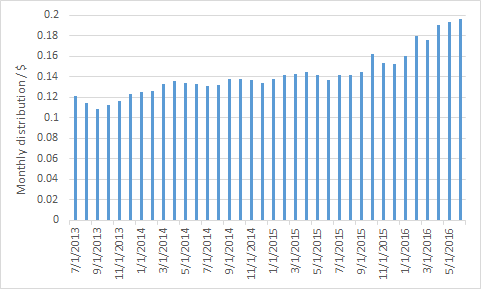 The above graph shows that distributions have been in a steadily rising trend over the past three years. The last year has seen a marked increase in dividends, and the 1-year dividend growth rate [DGR] is a healthy 20%.
Summary
KBWY has done well recently as small and mid-cap REITs have outperformed. Obviously, today's date is a less attractive entry point compared to when my first article on KBWY was published (+26% since Jan. 2016). However, there remains a significant valuation gap between small and large cap REITs, suggesting that there is still further room for KBWY to run vis-a-vis the benchmark VNQ. The 5.8% yield and 20% DGR means that you can get paid decently every month while you wait.
Author's note
I have just recently launched the Cambridge Income Laboratory, a Seeking Alpha marketplace offering focused on high yield ETFs and CEFs. If you have found my articles useful in the past, please consider subscribing to this newsletter to receive my best trade ideas (including ETF/CEF arbitrage) in advance, request ETF/CEF analysis, and receive alerts on possible fund misbehavior (e.g. alleged "frontrunning").
Disclosure: I am/we are long KBWY.
I wrote this article myself, and it expresses my own opinions. I am not receiving compensation for it (other than from Seeking Alpha). I have no business relationship with any company whose stock is mentioned in this article.