Education Reform
The higher education industry is yet another in need of reformation due to technology. Competition to recruit and retain high-quality students has intensified as institutions face enormous pressure to demonstrate their value proposition particularly in launching careers of the graduates. Post-recession trends paint a somber future as the debt-aware new generation of learners begins seeking cost-efficient ways to become more employable at a rate quicker than Federal reforms are being implemented onto the American education system.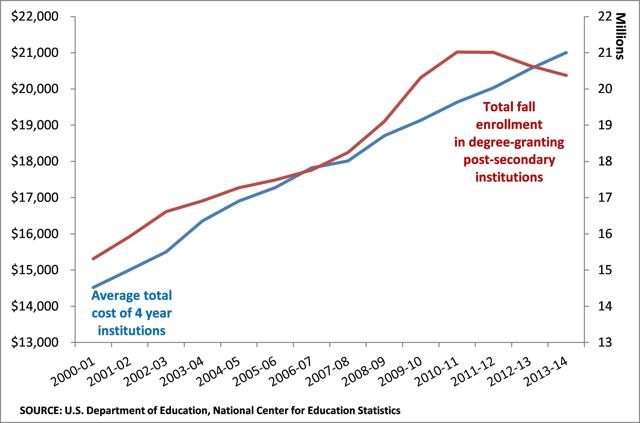 The growing influence of MOOCs (Khan Academy, Coursera, Udacity), and other edtech platforms and strategies has industry leaders and job recruiters both changing their stance towards the "traditional students" while providing further negative headwinds to the margins of institutions. 2015 saw education M&A activity rise to nearly $18 billion as the entire industry continues to consolidate and restructure. Higher-ed media and tech was the largest growing segment, which is further indication of how efficient these companies are at providing solutions to the cost efficiency, adaptive learning and access to the high-quality problems of today.
The Story of BPI
Bridgepoint Education (NYSE:BPI) has come a long way from the Warburg Pincus seed money received in 2003. The transformation of an underperforming Catholic college into the third largest degree granting university in the nation by fall 2012 churning $176 million in annual profits is a feat any institution in the for-profit market would be proud of. A series of unfortunate events over the most recent years has seen a slide in enrollment, profitability, shares and even the closure of its once aspiring Clinton campus.
For online for-profit institutions that are publicly-traded, thus legally beholden to put the interest of shareholders before that of their students, the business model was doomed for failure as quantity in enrollment has been given precedence to quality in the learning experience for their students. At their height in 2012, Bridgepoint's two universities (Ashford University and the University of the Rockies) together encompassed over 77,000 students with only the University of Phoenix, another online campus, and Ivy Tech Community College enrolling more.
This remarkable growth threw a red flag in the eyes of Iowa Senator Tom Harkin who brought light to some indecent practices of for-profit institutions in his July 2012 report. For-profit universities like Ashford University have since been legally disciplined and attained a reputation for their predatory lending and recruiting practices, abysmal retention rates and substandard education saddling their students with debts they cannot pay and employment opportunities they cannot fulfill. In fact, a 2014 study led by economist Rajeev Darolia found no evidence that a for-profit graduate attracts greater interest than that of those who attend public community colleges or no colleges at all. The Obama administration's continuous battle against for-profit colleges has further strained the profitability with rulings such as the "gainful employment" regulations thwarting growth.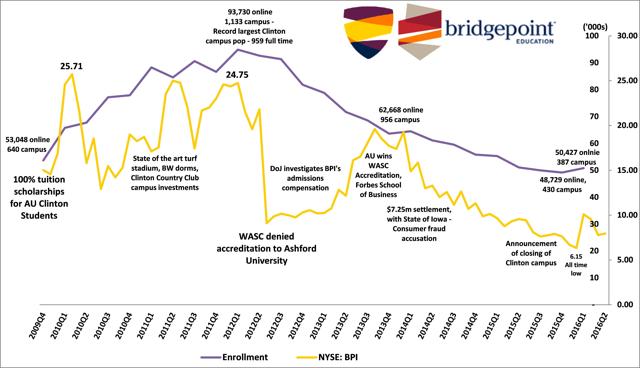 During a period of unnatural growth rates, Bridgepoint doubled down on Ashford University's Clinton campus. Unaware of the turning tide of traditional higher education institutions, over $15 million was invested between 2005 and 2010 alone. This included a $4.6 million "National Football League quality" artificial green turf stadium (to which no football team suited up and played), a Best Western Inn used as dormitories, a 129-acre Clinton Country Club, a tennis center as well as general renovations of the campus. All of which were involved in a $1.6 million fire sale to Clinton Catalyst LLC this past December.
The introduction of partial to full-tuition scholarships in late 2009 was a further push for enrollment numbers and saw over three quarters of the campus being financially supported by Ashford by 2011 - a time where the campus population peaked. This somewhat unsustainable business model began to collapse in July 2012 when WASC nixed the institution's accreditation bid. WASC highlighted concerns of the school's academic rigor, inadequate resources for educational purposes (with more than 30% going towards recruitment and 50 full-time faculties for an online division of over 90,000 students) and substandard student retention and degree completion rates.
Despite the financial incentives on offer and a green light from WASC in 2013, Bridgepoint's long-term smart value proposition remains tarnished in the eyes of many students, investors and even within the executives as insider trading activity shows.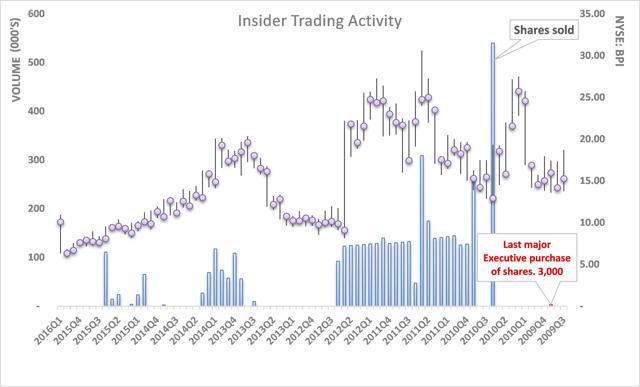 Higher Ed Upside, For-Profit Downside
The tech-driven shake-up within the higher education space potentially has online universities and colleges better positioned than the traditional brick-and-mortar institutions to transition and capture the long-term upside within the industry. There are more Bachelor's, Master's, and post-doctorate graduates than ever before, which shows that the target market is still there. Georgetown University research in fact showed that by 2020, 65% of jobs will require post-secondary education and training. It is the job of institutions however to adapt and efficiently accommodate the changing demands of today's students.
In a model where enrollment drives organic growth and numbers have begun to decay (in some cases by 50,500 in one year alone), while further negative headwinds are provided by governing departments at the state and federal level, the likelihood of for-profits capturing the potential upside of higher ed's transformation and returning to the attractive investments they once were have become rather subdued.
Despite its continuously relatively low student-faculty ratios and affordability, a shift in operating cost structure to allocate more of its revenue on instructions rather than marketing, and an exit from a rather unsuccessful long-term investment into the Clinton campus, Bridgepoint Education remains a poor value choice relative to its direct peers. Restructuring within the industry has caused efficiency and profitability issues for the majority of the for-profit players and even more so with Bridgepoint with an ROE well below competition, and operating, EBITDA, net margins on a constant five-year decline. In fact, as these margins turned negative between FY2014 and FY2015, executive compensation jumped 43%.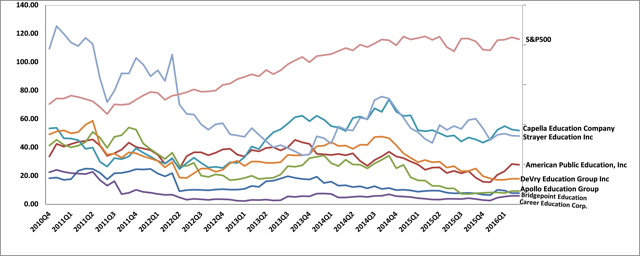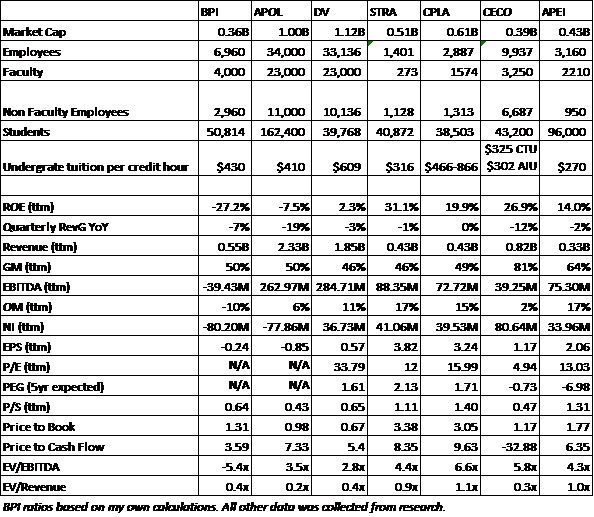 Forward Positioning
I see a 30-40% downside in BPI at the current price of $7.59. Further attention must be taken on sensitivity of the enrollment figures to future regulatory and legal proceedings especially in the aftermath of the closure of Clinton campus. For example, should the estimated 5,000 veterans lose access to their GI Bill benefits in the coming weeks and perhaps withdraw, I see an even greater attraction to my short position. Should Bridgepoint once again fail to meet the satisfactory levels of WASC in a future Mid-Cycle Review, I see a possibility of even more than 48% of its student population disappearing in the aftershock. However, should the 2015Q4/2016Q1 increase of 3% in enrollment continue into the fall semester figures, a "bottom" case that the company may have in fact weathered its storm can begin to be made as students may begin to view BPI as an attractive academic investment. Until then, I stand firm on my bearish views towards Bridgepoint Education.
Disclosure: I/we have no positions in any stocks mentioned, and no plans to initiate any positions within the next 72 hours.
I wrote this article myself, and it expresses my own opinions. I am not receiving compensation for it (other than from Seeking Alpha). I have no business relationship with any company whose stock is mentioned in this article.