Air Methods (NASDAQ:AIRM) was founded in 1980 and has been dedicated to air medical transport. In addition, Air Methods receives a small portion of its revenue from helicopter tourism operations. The company operates in 48 states and has 300 bases of operations. Also, Air Methods, has a fleet of hundreds of helicopters and they even have several airplanes. Despite positive recent news from the company, the stock is down by 14.73% so far in 2016. However, the stock is poised for above average returns in my opinion over the long term due to its unique position in the healthcare sector. Additionally, Air Methods has acquired several air medical companies since 1997.
Business Segments
Air Methods currently has three primary business segments and the three segments of their business are Air Medical Services, Tourism, and United Rotorcraft. As shown in the graphic below, Air Medical Services comprises the bulk of the company's revenue at 86%. Also, the company operates a small tourism segment. Their third segment, United Rotorcraft, only accounts for 2% of the company's revenue. In the company's Q1 2016 Earnings Presentation, the company announced that revenue in the Air Medical Services (NYSEMKT:AMS) Division grew at a rate of 14% year over year. Meanwhile, the Tourism Division decreased at a rate of 4% year over year. Within the company's AMS Division, they receive 72% of their income through patient transport.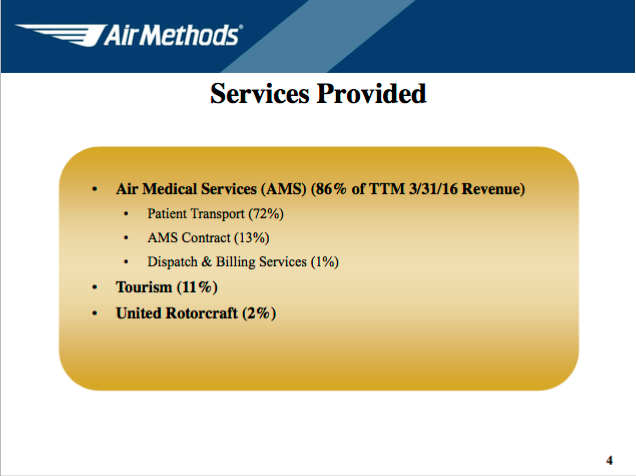 Competitors
One of the key advantages in my opinion that this company is that they really the dominant player in the air medical services industry. The only company that is a publicly traded competitor of Air Methods is PHI (NASDAQ:PHIIK). However, Air Methods is a much better buy in my opinion than PHI for several reasons. First of all, Air Methods has a TTM P/E ratio of 12.58 and PHI has a TTM P/E of 39.24. In addition, Air Methods is a much larger company. Air Methods reported a net income of $115.31 million versus PHI's net income of $7.63 million.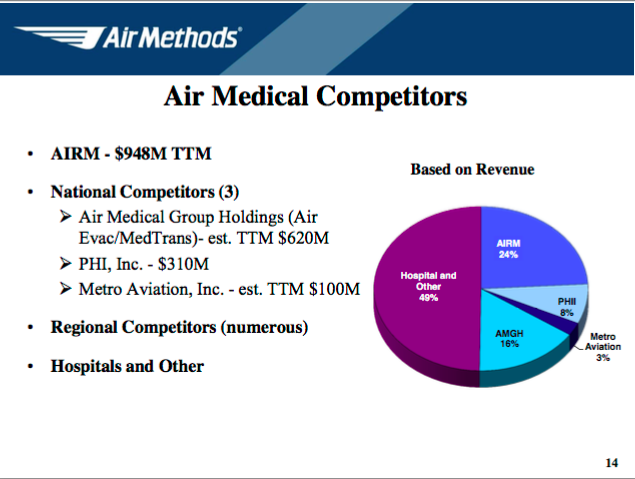 Company Management
In my opinion, one of the key drivers of a company's long term success is a company's management. Air Methods certainly has a driven management with years of industry experience.
First off, the company announced June 1, 2016 that Peter Csapo would joining Air Method's as the company's new CFO. Mr. Csapo was previously the CFO at Accretive Health, which is a leading provider of revenue cycle service and physician advisory services to healthcare providers. In addition, Mr. Csapo was previously the CFO McKesson Health Solutions, which is a division of McKesson.
Aaron Todd, the company's director and CEO, has years of experience at Air Methods. Mr. Todd has served on the company's board of directors since July 2002. Also, he became Air Method's CEO in July 2003. In addition, Mr. Todd joined the company in 1995 as the CFO.
Key Statistics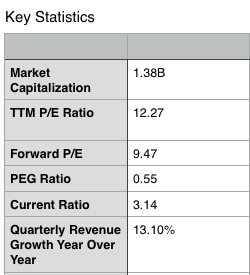 Table created by author; data from Yahoo Finance.
With an average TTM P/E Ratio of 12.27, Air Methods looks extremely attractive compared to the Healthcare sector average P/E ratio of 47.34. Also, the company appears to be cheaply valued because of its PEG Ratio of .55 and an undervalued company typically has a PEG ratio between 0 and 1. With a current ratio of 3.14, the company appears to be in good shape in regards to its debt. A current ratio of below 1 tends to indicate that the company is in poor financial shape.
Growth Drivers
Additional base locations will continue to be a driver of the company's growth. The company has grown from 209 air bases in 2015 to 229 air bases as of 3/31/16 and the 229 air bases are counted as being apart of the patient revenue transport revenue. In addition, 84 bases are counted as being apart of AMS contract revenue, which are long term contracts with hospitals. The 229 air bases and the other 84 give the company a little more than 300 air bases across 48 states. Aaron D. Todd, CEO and Director of Air Methods stated in the company's Q1 2016 Earnings Conference Call that, "in addition, we are in active discussions with hospital-based customers for the conversion of 13 additional base locations." In addition, low gas prices could be a potential driver of growth for Air Methods. With some predicting low oil prices are here to stay for a few years, Air Methods could greatly benefit if oil prices unexpectedly stay low. Also, government regulations have a significant impact on the company's business. If there are no new government regulations within the next few years then the company would certainly benefit.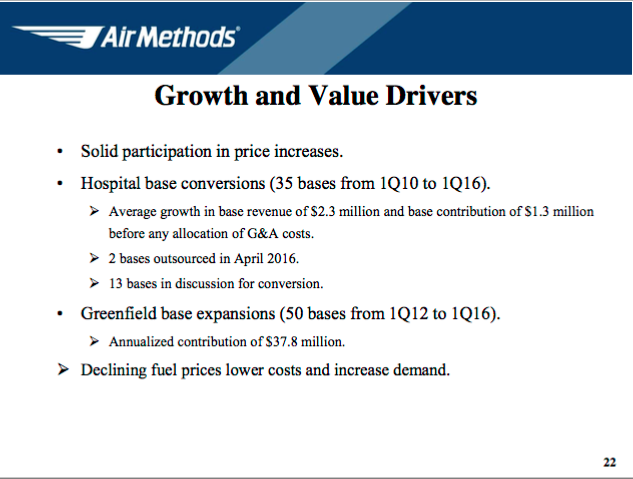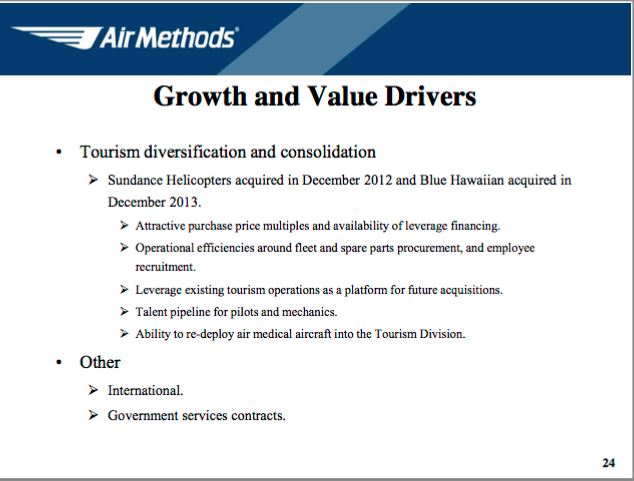 Potential Risks
As with all stocks, investors should always be on the look out for potential risks with a particular stock that they are considering investing in. First off, weather conditions can add a degree of uncertainty to Air Method's earnings. The company stated in its 2015 annual report th
Almost all patient transport revenue and approximately 20% of AMS contract revenue are dependent upon flight volume. Approximately 15% of AMS operating costs incurred during 2015 also varied with the number of hours flown. Poor visibility, high winds, and heavy precipitation can affect the safe operation of aircraft and result in a reduced number of flight hours due to the inability to fly during these conditions."
One of the big announcement from Air Method's recently has been the company's acquisition of Tri-State Careflight. However, the company did mention in its 2015 10-K from December 31, 2015 that a failure to integrate could adversely affect Air Methods.
Additionally, new government regulations in the future could certainly hinder Air Methods' growth. If the company fails to meet specific compliance standards, then this could result in significant fines against the organization. The company specifically stated in its 10-K from December 31, 2015 that:
Both federal and state government agencies continue heightened and coordinated civil and criminal enforcement efforts against the health care industry by conducting audits, evaluations, and investigations and, when appropriate, imposing civil monetary penalties, assessments, and administrative sanctions. From time to time, we, like others in the health care industry, may receive notices from federal and state regulatory agencies alleging that we failed to comply with applicable standards. These notices may require us to take corrective action and may impose civil monetary penalties and/or other operating restrictions. Although we have policies and procedures in place to facilitate compliance in all material respects with the regulations affecting the health care industry, if a determination is made that we were in material violation of such regulations, our financial condition, results of operations, or cash flows could be materially adversely affected.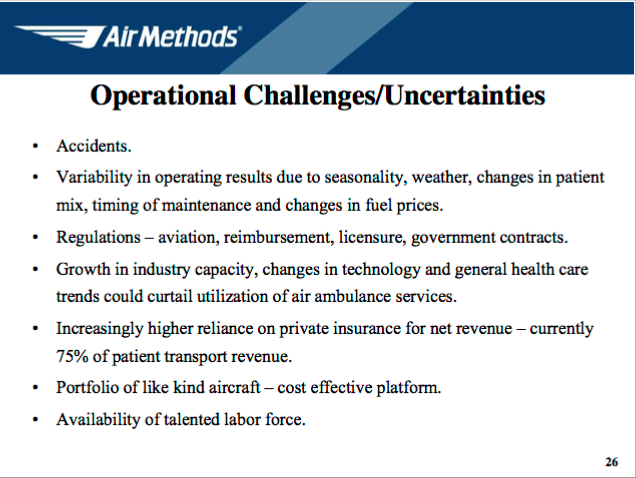 Conclusion
Overall, Air Methods is a healthcare services company that deserves to be on investors' radars. I find the company's low PEG ratio of 0.55 to be particularly attractive and its low P/E ratio to be attractive in a sector where sky high valuations are common. The stock is somewhat recession proof, but new government regulations do remain a concern. The small tourism segment was recently launched, but has yet to truly thrive. However, air medical transportation continues to be the company's dominant source of revenue and is continuing to grow at relatively quick rates. Lastly, the company is much larger than any of its publicly traded competitors.
Disclosure: I/we have no positions in any stocks mentioned, and no plans to initiate any positions within the next 72 hours.
I wrote this article myself, and it expresses my own opinions. I am not receiving compensation for it (other than from Seeking Alpha). I have no business relationship with any company whose stock is mentioned in this article.