Venezuela
PIRA, an energy consultant firm, is coming out with a non-consensus call for Venezuela's oil production to fall to 1.9 million b/d later this year.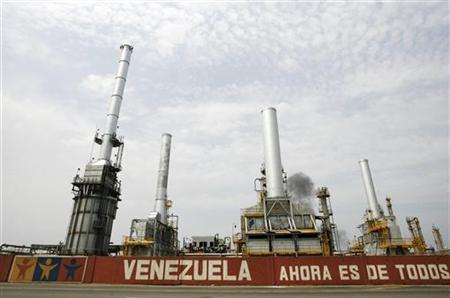 Source: Stock photo.
This is in sharp contrast to what Venezuela is estimating and what sell-side analysts have modeled into their forecasts. Consensus forecasts pin Venezuela oil production around 2.3 million b/d and are forecasting a decline to just 2.2 million b/d. We highlighted in this write-up that Venezuela's oil production was really at 2 million b/d, and not the 2.37 million b/d it claims.
A big part of the reason why we think Venezuela is over-inflating its oil production is because it wants a better oil for loan deal with China. We think the Chinese know that Venezuela is over-inflating its figures, and current news reports point to a potential renegotiation of the terms. We applaud PIRA for sticking its neck out while the consensus remains confused. PIRA's expertise in the oil and gas industry gives weight to its calls, and we follow them extremely closely.
Nigeria Exports the Same?
There are currently conflicting reports out of Nigeria. We have the NDA reporting multiple attacks on Nigeria's oil infrastructure, but export figures show no slowdown. What gives?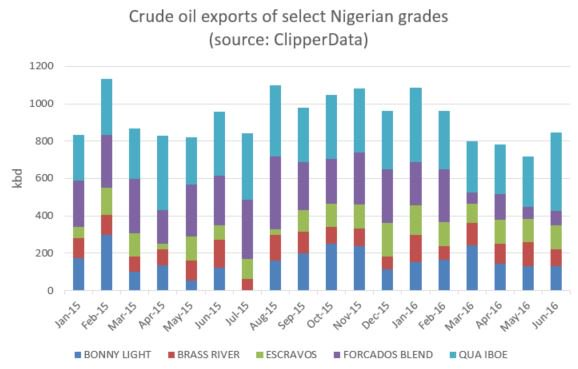 Source: ClipperData
Traders we've spoken to have pointed to disruptions in Nigeria's oil (NYSEARCA:USO) production, but from what we are seeing in the export figures there appears to be no slowdown at all. We think the current conflicting reports on export figures and production figures we're hearing creates additional uncertainty surround this issue. Is the NDA really blowing up pipelines? Or was this all orchestrated for OPEC in exchange for the "president seat"?
Export figures could come from storage, so will the outages finally hit Nigeria's export in the coming months? We will see.
As always, we hope you enjoyed our "oil markets daily." If you want to read more of our articles, please be sure to hit the "follow" button above. We also have a premium service tailored to investors looking to how we are thinking about positioning and real time trade alerts. You can view our delayed one-month portfolio update here. We hope to see you join the HFI community.
Disclosure: I/we have no positions in any stocks mentioned, and no plans to initiate any positions within the next 72 hours.
I wrote this article myself, and it expresses my own opinions. I am not receiving compensation for it (other than from Seeking Alpha). I have no business relationship with any company whose stock is mentioned in this article.