DSR Quick Stats
5 Year Revenue Growth: 1.17%
5 Year EPS Growth: 16.46%
5 Year Dividend Growth: 7.01%
Current Dividend Yield: 3.66%
What Makes Emerson Electric (NYSE:EMR) a Good Business?
Emerson Electric Company is a Fortune 500 industrial technology company based in Missouri. The company was founded over 120 years ago and provides a very large array of technology products and services. The company has recently simplified its business activities into 2 sectors: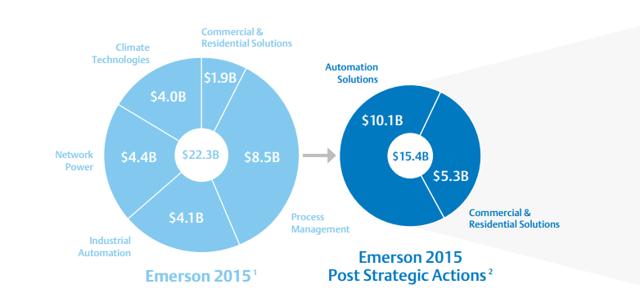 Source: EMR 2015 annual report
This makes the business easier to understand from a revenue perspective, but I would rather see all the small sub-segments of the business in order to completely understand what is going on under the hood.
The company's focus is to simplify and upgrade its product line in order to follow this clever line from its annual report:
"Leaving the world better than we found it".
EMR is also developing growth vectors in China and India with its expertise in building a cold-chain infrastructure in order to keep food fresh. In India, $10 billion worth of food is wasted because they don't have the proper ways to store food.
Finally, EMR is present around the world and keeps about 50% of its revenue in the U.S.A.: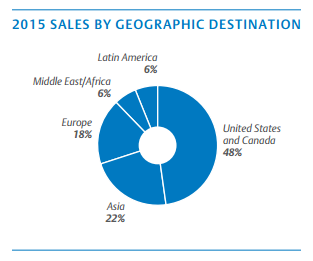 Source: EMR 2015 annual report
Ratios
Price to Earnings: 18.26
Price to Free Cash Flow: 15.69
Price to Book: 4.47
Return on Equity: 23.60%
Revenue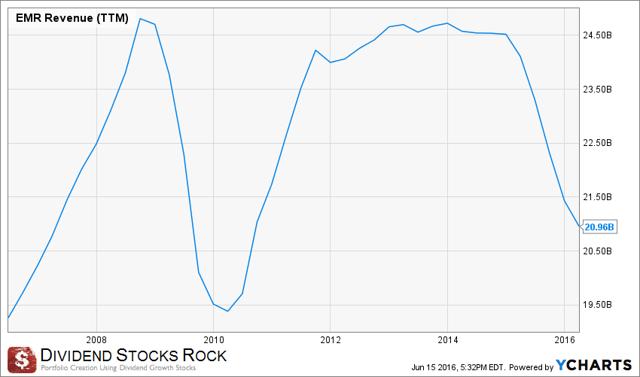 Revenue Graph from Ycharts
Since a big part of EMR's business is linked to the oil & gas industry, we can see an important drop in its revenue over the past 2 years. The currency headwinds also didn't help the company to show any kind of growth. We are almost back to 2010's level. I guess we can call this a cyclical business!
How EMR fares vs My 7 Principles of Investing
We all have our methods for analyzing a company. Over the years of trading, I've been through several stock research methodologies from various sources. This is how I came up with my 7 investing principles of dividend investing. Let's take a closer look at them.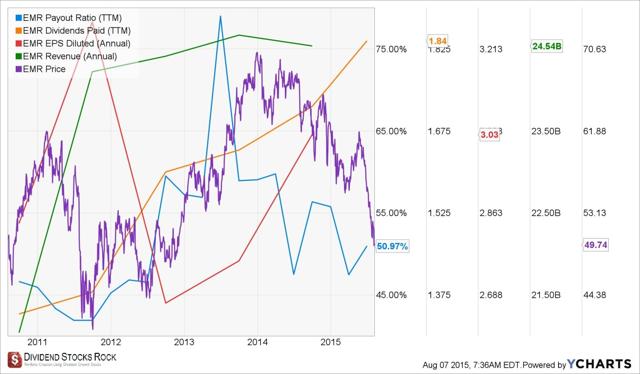 Source: Ycharts
Principle #1: High Dividend Yield Doesn't Equal High Returns
My first investment principle goes against many income seeking investors' rule: I try to avoid most companies with a dividend yield over 5%. Very few investments like this will be made in my case (you can read my case against high dividend yield here). The reason is simple; when a company pays a high dividend, it's because the market thinks it's a risky investment… or that the company has nothing else but a constant cash flow to offer its investors. However, high yield hardly come with dividend growth and this is what I am seeking most.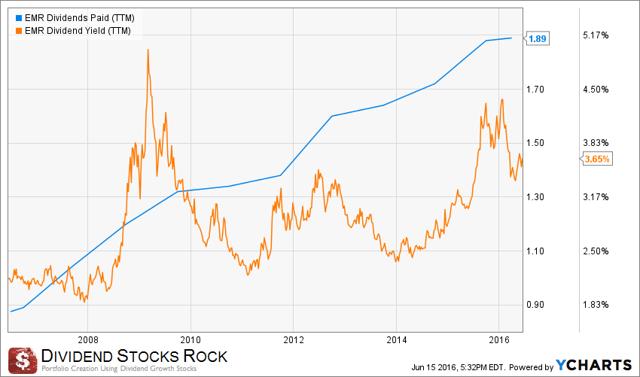 Source: data from Ycharts.
EMR seems to be in a very good phase of its cyclical industry as the dividend yield is relatively high compared to its past 10 year history. It is quite impressive to see a dividend king paying a 3.65% dividend yield. The company's "average" yield should be closer to 2.75 - 3%.
EMR meets my 1st investing principle.
Principle#2: Focus on Dividend Growth
My second investing principle relates to dividend growth as being the most important metric of all. It proves management's trust in the company's future and is also a good sign of a sound business model. Over time, a dividend payment cannot be increased if the company is unable to increase its earnings. Steady earnings can't be derived from anything else but increasing revenue. Who doesn't want to own a company that shows rising revenues and earnings?
The company is beyond the "simple" dividend aristocrats list with 59 consecutive years with a dividend increase. It is now part of the highly selective group of dividend Kings. With a company like this, it is quite obvious you don't have to worry about management's dividend policy orientation. However, we will have to look at how strong the dividend growth could be in the upcoming years by digging further into the company's number. What is guaranteed, is that it will take a Tsunami to make management stop the incredible dividend increase streak. EMR meets my 2nd investing principle.
The next step is to understand if the company will still have the money to increase its dividend in the future...
Principle #3: Find Sustainable Dividend Growth Stocks
Past dividend growth history is always interesting and tells you a lot about what happened with a company. As investors, we are more concerned about the future than the past. this is why it is important to find companies that will be able to sustain their dividend growth.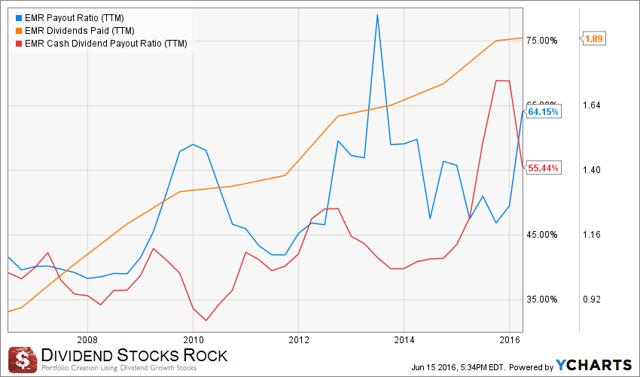 Source: data from Ycharts.
As you can see, EMR's payout ratio seems a bit high at 64%, but its cash payout ratio is almost 10% below at 55%. This is a great indication that EMR is a true cash flow making machine and that management will continue to increase its payouts.
EMR meets my 3rd investing principle.
Principle #4: The Business Model Ensure Future Growth
Emerson Electric has built an amazing reputation over the years of being a process automation leader. Unfortunately, EMR shows roughly 43% of its revenue tied to the oil & gas industry. It's not a surprise to see the stock price falling over the past 2 years.
The company benefits from high switching costs for clients, granting a stable income from existing clients each year. The amount of potential bugs in switching EMR for one of its competitors represent a high cost that clients are not ready to shell out.
The strongest EMR sectors are definitely process management and climate technologies that differentiate them from others. By offering aftermarket parts, maintenance services and incorporating products into a complete system makes a big difference for EMR clients.
What Emerson Electric does with its cash?
The company distributes roughly 80% of its cash flow in dividend payouts and share repurchases. These are two activities we all like as investors. However, this could be perceived as a sign of weakness to find something better to do with their cash flow. I'm all about getting paid when I invest in a company but I would rather like to see a company grow both dividends and capital at the same time!
I must admit the company spends about 2% of its sales on acquisitions to ensure future growth. At this stage, I'm not sure it's enough to compensate for the strong ties with the oil & gas industry.
Based on the company's reputation and high switching costs, EMR meets my 4th investing principle.
Principle #5: Buy When You Have Money in Hand - At The Right Valuation
I think the perfect time to buy stocks is when you have money. Sleeping money is always a bad investment. However, it doesn't mean that you should buy everything you see because you have some savings aside. There is a valuation work to be done. In order to achieve this task, I will start by looking at how the stock market valued the stock over the past 10 years by looking at its PE ratio: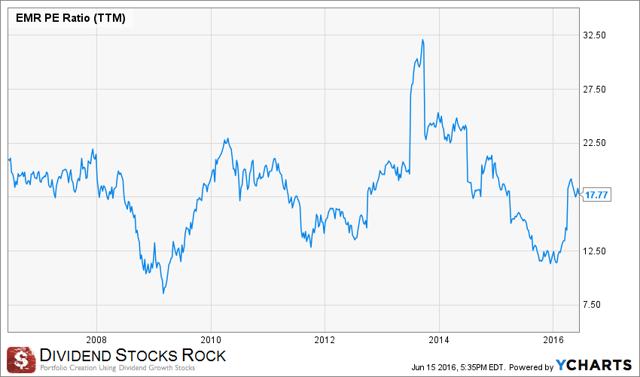 Source: data from Ycharts.
The company has its ups and downs but we can see that a 17-18 PE ratio falls pretty much within its 10 years average. At first glance, we can't say there is a big discount on EMR.
In order to dig a little bit further, I will use a dividend discount model with 2 stages of dividend growth. The first stage is used for 10 years and I'll use a 6% dividend growth rate as management has clearly demonstrated the will to increase its payout. Then, I will drop it to 5% in order to remain conservative in my calculations.
Finally, I'll use a 9% discount rate for EMR as I believe that a dividend king deserves to be on the conservative side of investments and there isn't much risk around its future payouts increases.
| | |
| --- | --- |
| Input Descriptions for 15-Cell Matrix | INPUTS |
| Enter Recent Annual Dividend Payment: | $1.90 |
| Enter Expected Dividend Growth Rate Years 1-10: | 6.00% |
| Enter Expected Terminal Dividend Growth Rate: | 5.00% |
| Enter Discount Rate: | 9.00% |
Here are the calculation details:
Calculated Intrinsic Value OUTPUT 15-Cell Matrix

Discount Rate (Horizontal)

Margin of Safety

8.00%

9.00%

10.00%

20% Premium

$86.80

$64.89

$51.76

10% Premium

$79.56

$59.49

$47.45

Intrinsic Value

$72.33

$54.08

$43.13

10% Discount

$65.10

$48.67

$38.82

20% Discount

$57.86

$43.26

$34.51
Source: Dividend Monk Toolkit Excel Calculation Spreadsheet
Here again, the stock seems to be trading at a fair value. There isn't much unlocked value to enter a new position at this price.
EMR doesn't meet my 5th investing principle.
Principle #6: The Rationale Used to Buy is Also Used to Sell
I've found that one of the biggest investor struggles is to know when to buy and sell his holdings. I use a very simple, but very effective rule to overcome my emotions when it is the time to pull the trigger. My investment decisions are motivated by the fact that the company confirms or not my investment thesis. Once the reasons (my investment thesis) why I purchase shares of a company are not valid anymore, I sell and never look back.
Investment thesis
An investment in EMR is first and foremost to benefit from its stellar dividend growth history. The company has and will continue to increase its dividend payouts throughout the year. There isn't a bargain to be had at the moment in terms of valuation, but the relatively high yield combined with the potential of future increases could be enough for one to pull the trigger.
EMR sits on a very stable business models producing predictable cash flow in the future. Since EMR has focused on client support and increased its facilities by 11% and plan to expand its network by another 10% over the next 3 years makes its client even stickier.
Risks
As previously mentioned, almost 50% of EMR's business is tied to the oil & gas industry. This represents a very high risk as it has become very hard to predict the course of these commodities.
Emerson Electric has a strong business model and therefore it meets my 6th investing principle.
Principle #7: Think Core, Think Growth
My investing strategy is divided into two segments : the core portfolio built with strong & stable stocks meeting all our requirements. The second part is called the "dividend growth stock addition" where I may ignore one of the metrics mentioned in principles #1 to #5 for a greater upside potential (e.g. riskier pick as well).
Having both segment helps me to categorize my investments into a "conservative" or "core" section or into a "growth" section. I then know exactly what to expect from it; a steady dividend payment or higher fluctuation with a great growth potential.
I think you would be day dreaming if you think EMR's stock price could jump 20% in the upcoming year. An investment in EMR is an investment in stability and ever increasing payout. This business exists for more than a century and will continue to grow with its clients. EMR should be part of a core portfolio.
Final Thoughts on EMR - Buy, Hold or Sell?
Overall, I don't think there are any deals to be made with EMR. The company is strong and the dividend growth trend very interesting. However, the company is trading at fair value with both the PE and DDM valuation model. EMR is a hold for now as there are better opportunities out there.
Disclaimer: I do not hold EMR in my DividendStocksRock portfolios.
Disclaimer: The opinions and the strategies of the author are not intended to ever be a recommendation to buy or sell a security. The strategy the author uses has worked for him and it is for you to decide if it could benefit your financial future. Please remember to do your own research and know your risk tolerance.
Disclosure: I/we have no positions in any stocks mentioned, and no plans to initiate any positions within the next 72 hours.
I wrote this article myself, and it expresses my own opinions. I am not receiving compensation for it (other than from Seeking Alpha). I have no business relationship with any company whose stock is mentioned in this article.