Southern Company (NYSE:SO), like many of its electric utility peers, has experienced a series of downgrades in its stock timeless. At best, SO is considered a "neutral" recommendation by the majority of analysts. However, the stock is worth keeping an eye on as weakness in share price could offer a good long-term entry point.
Southern Company has joined the bandwagon of diversification and growth by acquisition. Its pending purchase of AGL (NYSE:GAS) offers interesting natural gas midstream asset exposure that can be used as an additional capital investment platform. While the price is a bit steep and Morningstar believes it is dilutive by $1 to $2 a share, the added revenue stream of a gas utility to its historic electric footprint lowers the overall risk to investors.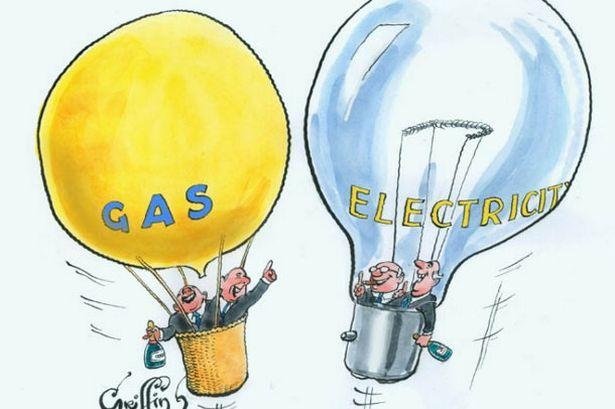 Of more long-term importance is the added integration of natural gas assets in face of the industries' push towards natural gas fueled power generation. If SO is to pay natural gas transportation fees to newly built generating facilities, why not own those assets as well. The combined demand of SO's power generation and AGL's distribution business makes Southern one of the largest purchasers of natural gas in the country.
Management has stated the addition of natural gas diversification will increase SO's earnings and dividend growth rate, albeit not by a substantial amount. Over the past several years, the company has raised its dividend by $0.07 a year, and has indicated it may goose this up to $0.08, based on its current dividend of $2.24.
The addition of AGL will expand SO's regulated footprint far past its traditional Southeast. As shown in the following map from its 2015 Annual Report, SO will operate in 17 states with over 9 million utility customers.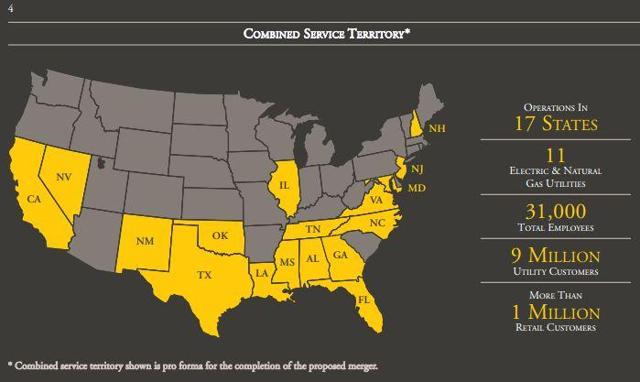 There are several issues hanging over the stock, and these focus on the company's huge capital investment program for added power generation. Cost overruns have plagued both the Kemper coal gasification and Vogtle nuclear power plant construction projects. In the aggregate, Southern Company has incurred charges against earnings of $2.4 billion, $1.5 billion after tax, as a result of changes in the cost estimate above the cost cap for the Kemper IGCC through December 31, 2015. In total, these after tax charges equal $1.61 of reduced earnings per share since Jan. 2013.
In May of 2015, South Mississippi Electric Power Association, SMEPA, backed out of its 15% equity stake in the Kemper plant, valued somewhere around $600 million. According to its Annual Report, SO refunded to SMEPA $301 million in prepayments and interest. In reviewing several SEC filings, I don't find SO management specifically addressing this investment shortfall. Even within this year's total capital expenditure budget of over $7 billion and $22 billion over the next four, this amount of equity shortfall is substantial. So far, the parent SO has "lent" over $750 million, including $301 from last July, to its subsidiary, Mississippi Power, to maintain its liquidity. The note covering the SMEPA shortfall is due July 2017. There are only three potential outcomes for generating the shortfall: find another 15% equity investor, which to me is unlikely; issue additional long-term debt; or issue dilutive shares.
Last month, Moody's downgraded SO's long-term senior unsecured rating from Baa1 to Baa2 and maintained its outlook at stable. From a May 13 report:
The downgrade of Southern is prompted by the primarily debt financed acquisition of AGL Resources, Inc. (AGL, unrated) which will increase parent company leverage and reduce cash flow coverage metrics", said Michael G. Haggarty, Associate Managing Director. The addition of approximately $8 billion of debt at the Southern holding company will increase parent level debt from around $4 billion currently or 12-13% of total consolidated debt to the $12 billion range, around 25% of consolidated debt, pressuring cash flow coverage metrics. "We project Southern's consolidated CFO pre-working capital to debt ratio will fall to approximately 15% immediately following the acquisition, from the 20% range currently, and not recover to previous levels for several years" added Haggarty.
Of interest is the specific referral of these two projects, with a more negative tilt towards Kemper.
The affirmation of the rating and stable outlook of Georgia Power (A3) considers the continued strong state regulatory support for the Vogtle new nuclear project, including the potential for a prudence determination of project costs by the Georgia Public Service Commission earlier than we had originally anticipated; and a recent settlement with the EPC contractors resolving long-term legal and other disputes that had plagued the project, including the removal of construction contractor Chicago Bridge & Iron Co. N.V. (CB&I, unrated). Progress continues on the Vogtle project, with construction approximately 30% complete, although additional delays beyond the three years currently incorporated into the schedule are possible.

The affirmation of the rating and negative outlook of Mississippi Power (Baa3) reflects the regulatory risk in obtaining permanent cost recovery on the Kemper IGCC plant with two new commissioners recently elected to the Mississippi Public Service Commission (MPSC); last year's MPSC approval of interim rate relief on the plant; and the utility's weak liquidity and standalone financial condition with metrics expected to be below investment grade for at least one to two years. The outlook could be stabilized if the Kemper plant reaches commercial operation and a permanent cost recovery plan is approved by the MPSC and implemented by the utility.
The downgrade puts SO in line with some of its peers, and removes one of the motivations for its historic premium valuation - a better credit rating profile.
For Southern, the addition of approximately $8 billion of debt at the parent company will eliminate an important credit advantage that had distinguished Southern from many of its peers, namely, the limited use of holding company leverage and higher financial flexibility at the parent company. With 25% of the company's total consolidated debt at the holding company level going forward, structural subordination will increase and financial flexibility will diminish. Although Southern still has a lower percentage of debt at the parent company than some other Baa rated peers like Duke Energy Corporation (Baa1 negative) which will be at around 35% following the Piedmont Natural Gas Company, Inc. (A2 stable) acquisition; Dominion Resources, Inc. (Baa2 stable) at approximately 48% after its acquisition of Questar Corporation (Prime-1, ratings on review for downgrade); and NextEra Energy, Inc. (Baa1 stable), which guarantees 33% of its total reported consolidated debt; it is no longer a material factor differentiating Southern from these companies.
While not a strong advocate of technical trading, the current set up for SO seems to be one of potential transition and deserves watching. The stock is trading above its 50-day and 200-day moving averages by 2.24% and 8.93%, respectively, and is up 11.3% since the first of the year. Below is a chart of SO going back to last Oct.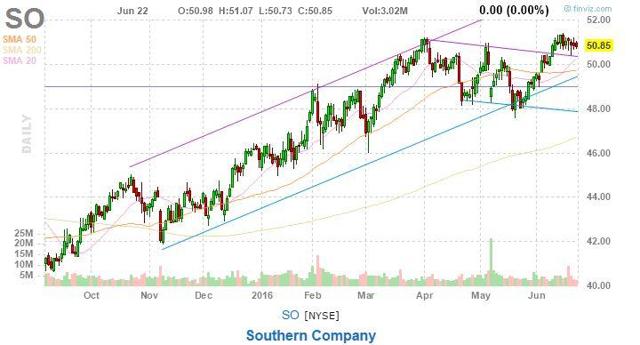 SO has been trading since early November within its recent channel (purple upslope and blue upslope) with support around $49.50 and plenty of room above its current price. However, a break below $50 could signal a reversal into a downtrend of the downslope purple and downslope blue. There is the potential as well for consolidation at the current level, above the downslope purple line connecting the tops in April, May and early June. The uncertainty of which of the three price movements will take place over the next few months generates some of technical neutral readings, and is another reason to watch and wait.
Morningstar offers its Fair Valuation for Southern Company at $48. Its stock review includes the following graph of SO share price vs M* Fair Value going back to 2008.

Source: Morningstar.com
As shown, SO is trading about 6% above M* Fair Value, and has been so since last Dec. The table below looks at previous periods of over and under valuation, according to M*. The table lists the trend, the month and year at its peak and trough, the difference between the Fair Value and the monthly close along with the over/under valuation at its peak and trough. In reviews, SO seemed to peak at a valuation of 16% to 21% in 2012 and 10% to 16% in 2015 while bottoming at -10% in June 2013 and between -7% and -13% in June 2015.

Source: Morningstar.com, Guiding Mast Investments
This would imply a peak range in the $53 to $58 with a target of $56. A trough range could be between $42 and $45, with a target of $44. Based on trading at $50.86, the current valuation is in the middle of these potential peak and trough valuations.
Fastgraph.com offers its long-term view of SO. It seems the current overvaluation is about the same as peaks in early 2015 and late 2011/early 2012.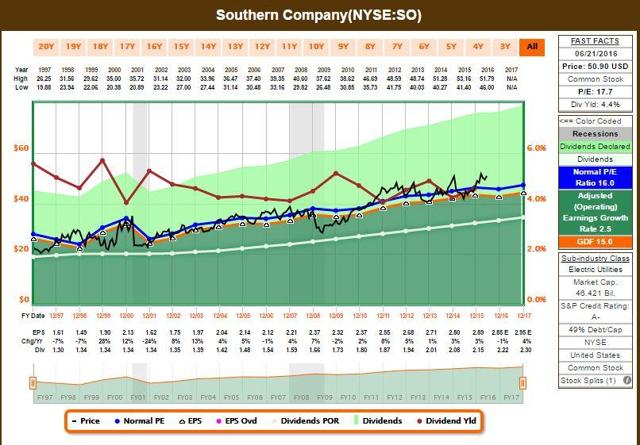 Buyupside.com offers an interesting tool for comparisons of various stocks. Taking information from yahoo.com, the site offers an easy means of calculating total returns with dividends reinvested. Reviewing several popular utility stocks and comparing total annual average return along with the value of $10,000 invested at the beginning of each period, produces the following table for Southern Company, Dominion Resources (NYSE:D), American Electric Power (NYSE:AEP), Consolidated Edison (NYSE:ED), Duke Energy (NYSE:DUK), PPL Corp (NYSE:PPL), and Entergy (NYSE:ETR), as of June 21, 2016. In addition, S&P Quality Equity ratings and S&P Credit Rating are included.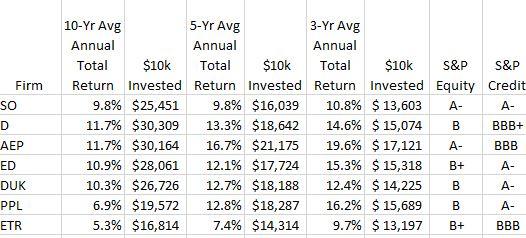 Source: buyupside.com, S&P IQ, Guiding Mast Investments
SO is the only stock with both an A- and better credit rating and an A- and better 10-yr consistency in earnings and dividend growth, as reported by S&P IQ. As shown, SO is middle of the pack on 10-yr returns and on the lower end of the 3-yr total returns. I attribute this shortfall on the current problems at Kemper IGCC project and concerns with additional cost overruns at Vogtle. As these projects wrap up between now and 2020, SO should begin to reap the long-term rewards of these along with the synergies of the AGL acquisition.
While it is easy to focus on the negatives of Kemper and Vogtle and the heavy debt load SO will take on during its acquisition of AGL, SO still operates in one of the best regulatory environments in the country. Historically, the Southeast has been both a hotbed of steady economic growth and utility regulators have been quite friendly towards SO's investment plans. Even though its regulated footprint will expand into other areas of the country, potentially diluting SO's southern exposure, its friendly regulatory environment should continue to be a considerable tailwind for long-term investors.
While I am a long-term bull on Southern Company as a core utility holding, buying or adding to portfolio positions should wait for better valuations.
To help you pass the time for better Southern Company valuations, please enjoy the following songs with a theme of waiting and watching:
Foreigner's 1981 Platinum hit "Waiting for a Girl Like You" from 1964, "Wishing and Hoping" by Dusty Springfield, and the 2005 hit from Jack Johnson, "Sitting, Waiting, Watching."
Author's Note: Please review disclosure in Author's profile.
Disclosure: I am/we are long AEP, D, ETR, SO.
I wrote this article myself, and it expresses my own opinions. I am not receiving compensation for it (other than from Seeking Alpha). I have no business relationship with any company whose stock is mentioned in this article.