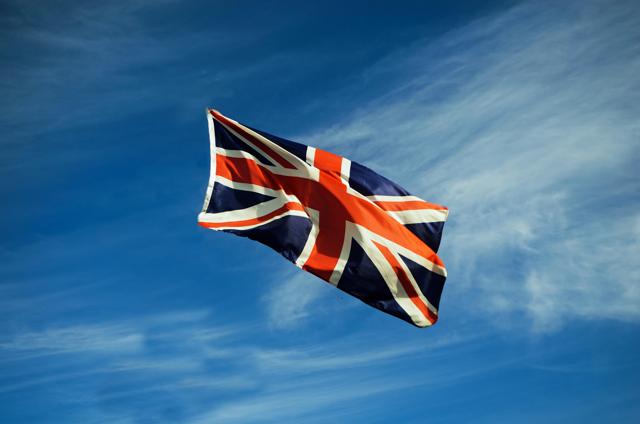 Brexit it is
The U.K. public has voted to leave the European Union after 43 years in yesterday's referendum.
Leave has 51.7% of votes so far with 71.8% turnout (higher than previous general election) suggests a vote for Brexit by a narrow margin.
The leaving process could take a minimum of two years, and even Leave campaigners don't expect the process to complete until 2020.
Opinion polls were too close to call
Polling pointed to a closer result and recent momentum for the Remain campaign which had given markets an element of (false) security: the final poll put 45% Leave, 44% Remain, 11% Don't Know. While the binary nature of the debate suggested that those undecided might abstain, turnout has been high at 72%, despite (you guessed it) bad weather.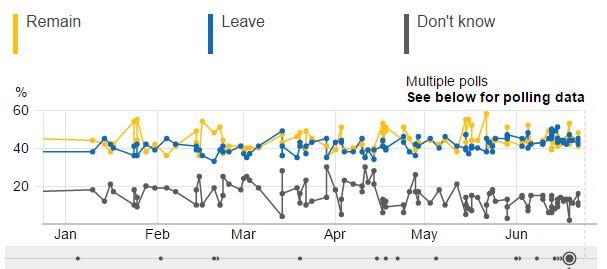 Source: BBC
Article 50
The Prime Minister, David Cameron, must now decide whether invoke Article 50 of the Treaty of Lisbon (to leave the EU) which starts a 2-year exit negotiation process. If not invoked, there is potentially more time for negotiation, but it would create additional uncertainty, in terms of direction, timing and mandate.
Experts ignored
The Remain campaign was able to rely on the expertise of economists, business leaders, and international bodies such as the IMF, all warning of dire economic and security consequences under a Brexit scenario. The Leave camp, in rebellious vein, dismissed this as "project fear" being rolled out by a self-serving elite. Ultimately, the vote was as much about emotions as it was about argument.
U.K. fragmentation
One of the second-order risks that the Referendum has unleashed is the risk of the U.K. finding itself regionally split. At present, England is 53.2% Leave on 72.9% turnout and Wales is 52.5% Leave on 71.7% turnout. By contrast, Scotland is 62.0% Remain on 67.2% turnout, and Northern Ireland is 55.8% Remain on 62.9% turnout. One of the unintended consequences of a "Brexit" from the EU could be an independent Scotland remaining part of the EU. How Northern Ireland would be affected if it is outwith the EU with an open border with the Republic of Ireland that is within the EU is also going to require focus.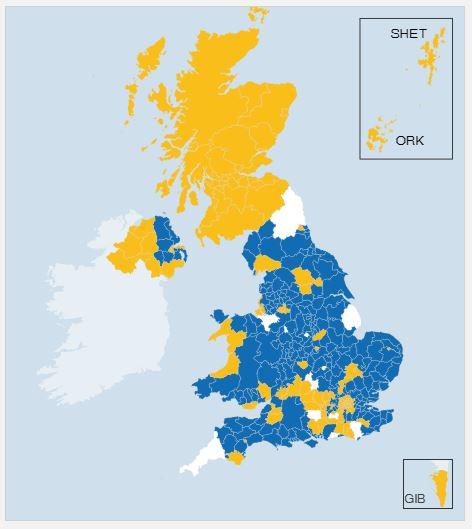 Legend: Blue - Leave, Yellow - Remain
Source: BBC
EU angst
With the U.K. being the first country to leave the EU, a precedent will now be set. Remaining members of the bloc may also start to "think the unthinkable." Brexit will shake the foundations of the European project and trigger introspection in Brussels and, possibly, reform. Ironically, a reformed EU (focusing on trade only, without ambitions of statehood) is something that many Leave campaigners would want. But the vote suggests that expectations in the ability of the EU to reform are low.
Markets
Whereas a Remain vote would have enabled a business as usual relief rally, the Brexit vote means prolonged uncertainty as the U.K. attempts to shape what its future looks like outwith the EU.
Disclosure: I/we have no positions in any stocks mentioned, and no plans to initiate any positions within the next 72 hours.
I wrote this article myself, and it expresses my own opinions. I am not receiving compensation for it. I have no business relationship with any company whose stock is mentioned in this article.
Additional disclosure: This article has been written for a US and UK audience. Tickers are shown for corresponding and/or similar ETFs prefixed by the relevant exchange code, e.g. "NYSEARCA:" (NYSE Arca Exchange) for US readers; "LON:" (London Stock Exchange) for UK readers. For research purposes/market commentary only, does not constitute an investment recommendation or advice. For more information see www.elstonconsulting.co.uk Image credits: BBC Photo credit: George Hodan