Every month, the ZEW publishes a survey which is conducted among 350 financial experts in different countries and industries. Yesterday, I wrote an article covering the current situation and outlook for major developed economies. In this article, I want to analyze the industries report which covers the German industries, comparable to the ISM Manufacturing report in the US.
First of all, I will show you the current situation of the different industries in Germany. Financials are doing terrible. Both banks and insurance companies are suffering. About 66% of experts are negative about the current situation. About one-third is negative about Utilities.
Consumer goods and Construction are doing quite well. This reflects the latest European Sentiment Index data, which showed that Construction in both Great Britain and Germany is doing very well. This ZEW report is confirming that outlook.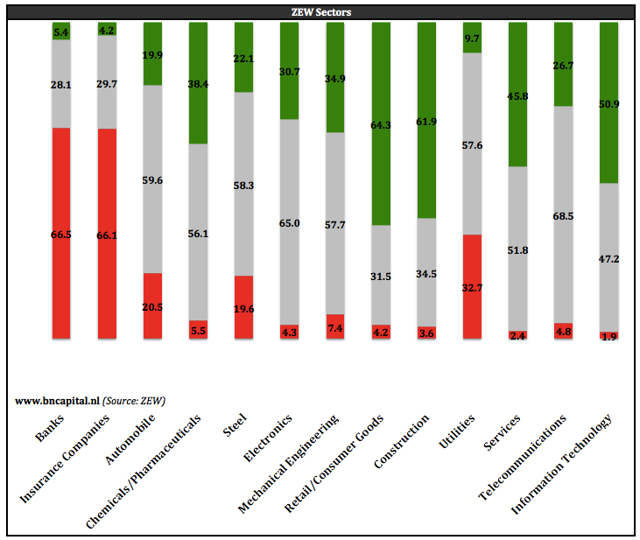 The ZEW industry balance gives a very clear picture. The balance is the difference between the positive and negative value. Neutral values are being ignored. Financials are suffering while Consumer is doing great.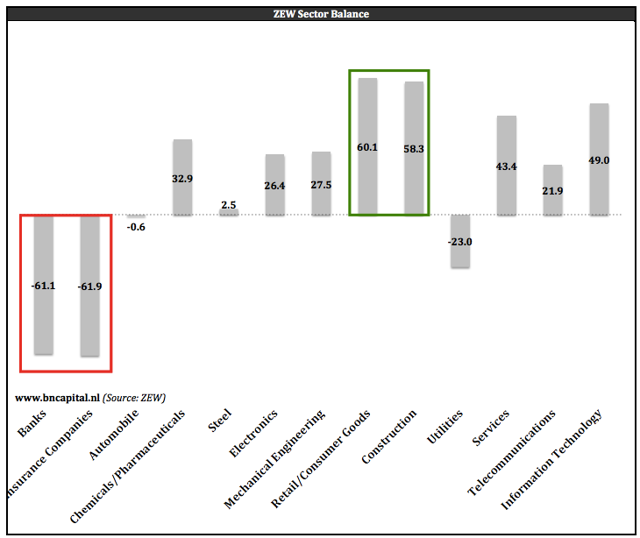 Financials are mainly down because of the low interest rates. Banks are suffering badly. Deutsche Bank (NYSE:DB) broke its 2008 low once again this month. In addition to low rates, we witness a weakening economy. This, however, is not displayed in this ZEW reading which is quite interesting. Below you see a graph of the STOXX Europe 600 Banks Index.

Source: STOXX
The graph below shows the change of balance. In other words, how has the balance changed compared to the previous month?
We clearly see that the industries that really matter to Germany do really well. Automobiles, Chemicals and Steel are among the best performers and all up more than 5 points. In addition to that, Utilities could improve significantly. Banks and Insurance are down even more.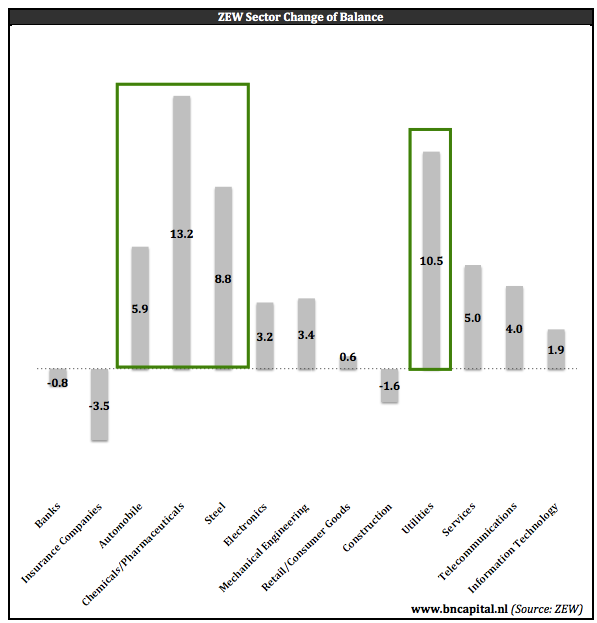 This report is quite bullish on the German economy. The one thing that becomes even more clear is the fact that you don't want to be long Financials in Germany right now. The same goes for the entire Eurozone.
Disclosure: I/we have no positions in any stocks mentioned, and no plans to initiate any positions within the next 72 hours.
I wrote this article myself, and it expresses my own opinions. I am not receiving compensation for it (other than from Seeking Alpha). I have no business relationship with any company whose stock is mentioned in this article.