Cummins (NYSE:CMI) has powered higher by roughly 35% year to date, but still trades about 12% lower versus this time last year. The yield remains attractive, but will an expanding payout ratio lead to a cooling down period for its recent above-average (north of 20%) dividend growth rate? Its capital allocation skills have slipped recently as well - but why?
A brief business summary
Cummins maintains roughly 70% share of the medium and heavy-duty turbocharger market. The company also dominates the engine market it operates in. About half of its sales come from its moaty engine business.
According to research at Morningstar, the company owns 40% of the lucrative heavy-duty engine market in North America and roughly 73% of the medium engine market. Cummins is 2-3 times the size of its closest competitor and has enjoyed a large leap in market share over the last few years, as Caterpillar (NYSE:CAT) has basically left the market and Navistar's (NYSE:NAV) market share has dwindled in comparison.
This allows Cummins to operate in a niche business with high barriers to entry, which has also led to a large gap-up in the size of the company. Morningstar thinks it would take a viable competitor substantial amounts of global sales and at least a decade to develop the equivalent engine expertise needed to dethrone Cummins from its lucrative lead in the engine business.
Declining capital allocation skills over the last decade?
Below we can see the evolution of Cummins' capital allocation ratios.

Created by Joseph Harry, data from Morningstar
The company's return on invested capital, equity, and assets have all sunk recently. At least some of the blame can be placed on declining margins that are dragging down results.

Created by Joseph Harry, data from Morningstar
We can see that recent margins were impacted the most at the net level, but have actually expanded when looking at the gross level. Margins have actually improved slightly since the beginning of the decade, however.
It should also be noted that margins at the operating level, and hence net margins as well, were significantly impacted by restructuring and impairment charges in 2015.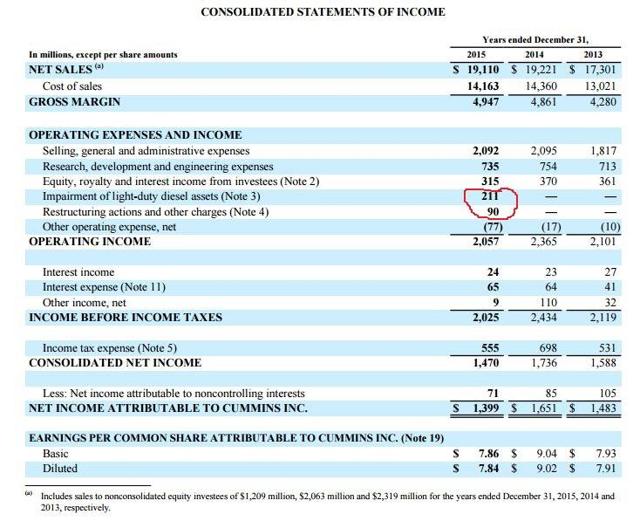 Source: Cummins' 2015 annual report
If we consider these a one-time deal, 2015 operating margins would be closer to 12.34%. Assuming an equivalent tax rate of 27.41%, net margins would have been closer to 8.84%.
Moving on and singling out return on equity (ROE), since it's likely that most of you reading this are interested in the CMI shares of the company and not its debt, I'd like to zoom in on the last three years specifically, in order to gain some insight into why ROE has declined so notably.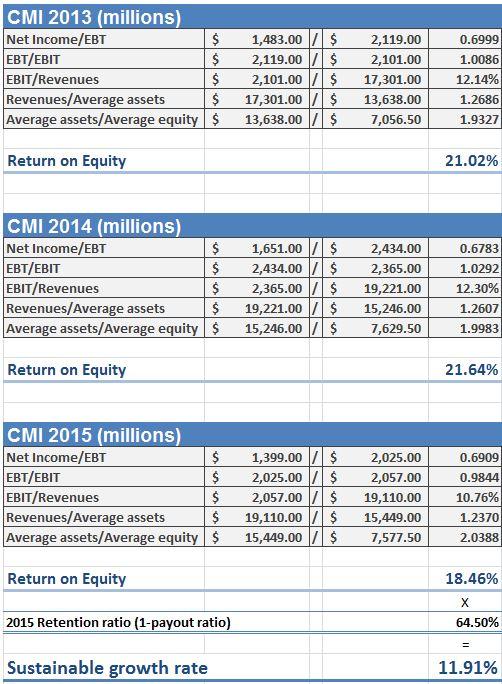 Created by Joseph Harry, data from Morningstar
We can see that margins, as previously noted, have slipped. Asset utilization has also declined slightly, while leverage has ticked up slightly as well. All in all, there haven't really been any dramatic changes. If we adjust the 2015 numbers by stripping out the one-time items, I estimate ROE closer to the 22% range.
Looking back even further, leverage was actually higher at the beginning of the decade as well as during most of the pre-financial crisis period. This, with similar or slightly higher margins, explains the higher ROE that existed for most of the time before the last three years. Cummins' asset turnover has followed a slow decline over the last decade as well, which is also dragging the company's ROE down with it. It appears things will be more normalized on the ROE front going forward, however, as long as the company doesn't take anymore charges.
Impressive dividend growth, but a higher payout ratio?
Cummins ended 2015 with a payout ratio of just about 35.5%. The firm has been bumping dividends by a lot recently (24% the last time it announced an increase), but I'm not sure how long this can continue. I'd still expect double-digit increases going forward, however.
The company's sustainable growth rate, as noted above, was 11.91% for fiscal 2015. The sustainable growth rate can be loosely defined as the amount a firm can grow without borrowing more money, and is defined mathematically as [ROE X (1-payout ratio)]. This basically means higher ROE and a lower payout ratio equal more sustainable growth.
Looking at more recent TTM numbers, Cummins' payout has increased to almost 50% and ROE has dipped slightly to 15.04%, which indicates this rate has dropped to about 7.37%. As previously explained, however, the weakening payout ratio and lower sustainable growth rate is largely due to restructuring charges and impairments cutting into margins and ROE.
While the payout has significantly increased and the sustainable growth rate is slowing, I still think the firm should be able to continue to bump dividends at an above-average rate, especially if it continues to churn out free cash flow and the restructuring issues holding a cloud over its margins inevitably clear up.
A nimble balance sheet - why it's important
Cummins maintains a solid balance sheet, and it has done a good job of keeping debt at acceptable levels. Debt has been bumped a bit recently, while cash has dipped, but the firm's capital structure is far from being overly reliant on debt. This is probably something to keep an eye on going forward, though.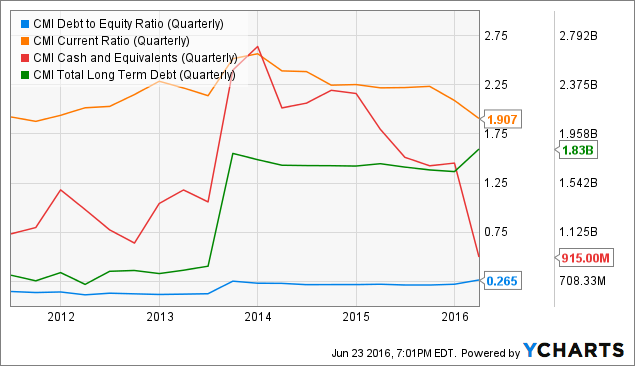 CMI Debt to Equity Ratio (Quarterly) data by YCharts
A strong balance sheet is especially important for an economically-sensitive cyclical such as Cummins. We can see above what happened to the firm during 2009. Margins were decimated.
The company has continued to improve on the free cash flow front over the last decade, too.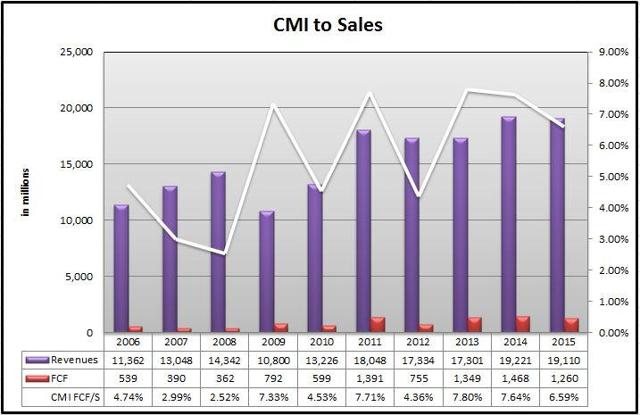 Created by Joseph Harry, data from Morningstar
It saw a slight setback in 2015, but FCF in relation to sales is still materially higher than it was pre-financial crisis.
Conclusion
Cummins has seen its net and operating margins decline over the last three years, dragging down its ROE as a result. These figures don't look so bad after adjusting for items, though. The company's utilization of assets also show a slow decline, judging by its asset turnover ratios.
Still, I'd argue that the company's niche engine business and improving free cash flows can hold it over in the mean time. There's lots of potential growth left on the international front, too, even if there are a few hiccups along the way.
The shares currently yield 3.37% and trade at a discount to the overall market, at a tad over 15 times earnings. While this might look cheap on an absolute basis, it's actually a premium to the firm's 5-year average P/E of roughly 14.4 times earnings.
This is a cyclical company, and cyclicals tend to trade at a discount - even superior ones. CMI shares also trade at a premium when comparing forward P/E ratios to competitors such as Navistar. It trades roughly in line with Paccar (NASDAQ:PCAR) on a forward basis, though.
I don't think Cummins is a screaming buy right now, especially with the global economy showing some cracks, but it's a great company to put on your watch list. I think the shares are probably fairly valued, but revenue growth is also needed to justify its valuation. Unfortunately, the company seems to be stalling out in regard to sales growth as of late, though.
If you enjoyed this article and would like to receive further updates and articles in the future, please feel free to hit the "+Follow" button at the top of the page by the author's name.
Disclosure: I/we have no positions in any stocks mentioned, and no plans to initiate any positions within the next 72 hours.
I wrote this article myself, and it expresses my own opinions. I am not receiving compensation for it (other than from Seeking Alpha). I have no business relationship with any company whose stock is mentioned in this article.
Additional disclosure: Articles I write for Seeking Alpha represent my own personal opinion and should not be taken as professional investment advice. I am not a registered financial adviser. Due diligence and/or consultation with your investment adviser should be undertaken before making any financial decisions, as these decisions are an individual's personal responsibility.