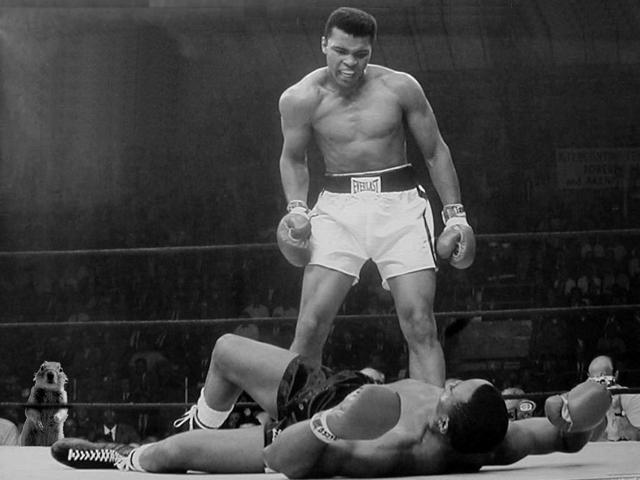 Cassius Clay's upset of Sonny Liston (circa 1964)
When I think of upsets NC State's victory over Houston in the 1983 NCAA National Championship game and Cassius Clay's 1964 shocker over Sonny Liston for the heavyweight championship come to mind. Now add Brexit to the list. With over 95% of the votes tallied the U.K. will leave the European Union by a 52% to 48% margin. Global markets cratered on the news. In early morning trading the Dow Jones (NYSEARCA:DIA) was down 3.5%, the FTSE (NYSEARCA:VWO) was down 8.6% and the Shanghai Composite was off 1.7%.
The irony is that there was panic buying across markets on Thursday prior to the referendum. Investors anticipated that the billions of capital taken out of global markets leading up to the referendum would return on the expectation that Britain would remain with the EU. Legendary trader George Soros warned that a UK decision to leave would sink the British pound; the pound fell around 10% while WTI oil futures fell nearly 6%.
Global Implications Of Brexit
Financial markets hate uncertainty and I expect market volatility to intensify over the next several weeks. Other implications are as follow:
British Prime Minister David Cameron's Career Could Be In Jeopardy
The Brexit vote is also a protest vote of sorts. The British have voiced concerns over immigration and several older, unemployed citizens have felt left out of the globalization enjoyed by banks and big business:
The quintessential anti-EU voter, an aging unemployed white working-class citizen in northern England, might feel a certain solidarity with a similar Trump voter in rural America. Both have reason to feel victimized by a global economy that has left them behind. Both have concluded that the culprits are out-of-control immigration and an unresponsive government far away, in Washington or Brussels.
It was Cameron who called for the referendum, which may go down as one of the biggest blunders in political history. Brexit may be interpreted as a vote against his inability to create opportunity for all citizens. Cameron will likely face opposition from pro-Brexit leaders like Nigel Farage. Whether he has the political capital to survive remains to be seen.
The European Union Could Suffer
The UK represents one-sixth of the EU's economy. Its exit will leave one less strong country to help shore up the economies of weaker members like Greece, Portugal and Italy. Even with the UK's involvement the EU was not setting the world on fire. The Eurozone economy grew an anemic 0.6% in Q1 2016, slightly better than previous quarters. This came after trillions in stimulus from the ECB.
Brexit could also cause a domino effect. Who is to say that France, the Netherlands, Sweden or Denmark won't be next to leave? A dying EU would potentially create even more uncertainty in global markets.
A Fed Rate Hike Could Be Off The Table
Fed Chairwoman Janet Yellen is on record that she expects the U.S. economy to grow even if Brexit passes. We will now have a chance to test that thesis. That said, global financial market volatility and political upheaval in the UK would not bode well for the global economy. In the past Yellen has cited "global economic and financial develops" as risks that could deter a rate hike. I assumed she was referring to a strong dollar, financial straits in Brazil and Venezuela, and a slowing China. With Europe on the brink, in my opinion, a rate hike this year is likely off the table.
I am short equities so market volatility is welcomed news. I believe Brexit will demonstrate the folly of central bank policies to spur asset prices via low interest rates. Lastly, in the case of Brexit "bad news" really is "bad news" for financial markets. I would advise investors to stay on the sidelines until market uncertainty dissipates.
Disclosure: I/we have no positions in any stocks mentioned, and no plans to initiate any positions within the next 72 hours.
I wrote this article myself, and it expresses my own opinions. I am not receiving compensation for it. I have no business relationship with any company whose stock is mentioned in this article.