I wrote last week that Tencent (OTCPK:TCEHY) was near completion of its takeover of the world's top-grossing mobile publisher, Supercell. Tencent has sealed the deal to acquire 84.3% of Supercell for $8.57 billion. SoftBank (OTCPK:SFTBY) will sell all of its 73.2% stake in Supercell. Some Supercell employees also agreed to sell their shares to Tencent.
To better appreciate the economic impact of this deal, please study the chart below from Newzoo. The Supercell+Tencent combo will get 13% of the total $99.6 billion global video games revenue this year. Tencent is now notably bigger than its rivals in video games.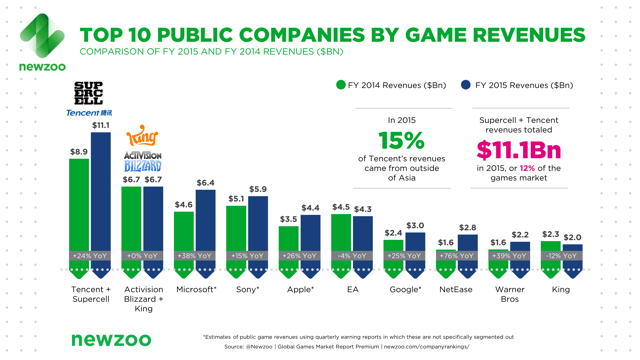 I underestimated Tencent's bid offer when I wrote last week that the deal could value Supercell at $9 billion. The final deal gave Supercell a valuation of $10.2 billion. This final amount is near my maximum $11 billion valuation for Supercell last year.
I believe Tencent did not overpay because the price/ratio is only 4.4x. Supercell's revenue last year was $2.3 billion, but it is predicted to make $3 billion in FY 2016.
Compared to Satya Nadella's latest acquisition, Tencent's $8.57 billion payment for 84.3% of Supercell is more justifiable. Microsoft (NASDAQ:MSFT) recently bought LinkedIn for $26.2 billion. LinkedIn's FY 2015 revenue was only $2.99 billion. Microsoft paid at P/S ratio of 8.76x. Furthermore, Supercell's net income in 2015 was $923 million, while LinkedIn lost $166 million last year.
I'm not comparing a mobile games company like Supercell to LinkedIn per se. I just wanted to point out that Tencent's gamble on Supercell was more prudent than Microsoft's $26.2 billion bet to become the Facebook (NASDAQ:FB) for jobseekers and HR recruiters.
Investors should appreciate that Tencent bought a highly-profitable company in Supercell. The Finnish company's 2014 revenue was $1.7 billion, and net income was $565 million. Supercell's 2013 revenue was $570 million, net income was $267 million.
Adding the expected $3 billion FY 2016 revenue of Supercell will make Tencent the top global video games publisher. As per App Annie, Supercell was No.1 top-grossing mobile games publisher and Tencent was No.2.
Why Owning Supercell Is Important
Owning Supercell means Tencent has now solidified its lead over its fierce Chinese rival NetEase (NASDAQ:NTES). Tencent and NetEase are China's top two mobile gaming firms. Unlike NetEase, Tencent's growth prospect is also no longer limited to China's market. As you can see from the Newzoo chart above, only 15% of Tencent's 2015 revenue was from outside Asia/China. Tencent needed Supercell's 100 million daily active players to fast-track its global expansion.
Supercell's games are very popular in America. Clash of Clans, Supercell's most famous game, rakes in more than 50% of its monthly revenue from the United States. As per ThinkGaming, Clash of Clans' average daily sales to iPhone gamers in America is $858k. Supercell's mobile games have a global following of paying customers. They help Tencent reduce its exposure to China's gaming market.
As per SensorTower's data, Clash of Clans' global iOS/Android net sales last month was $93 million.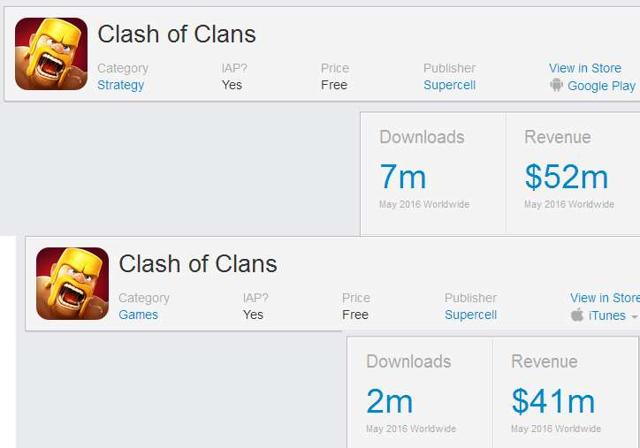 (Source: SensorTower)
Supercell's latest game, Clash Royale also had Android net sales of $37 million and iOS sales of $54 million. Tencent's $8.57 billion gamble on Supercell is already a winner just from the strong cash flows of Clash Royale and Clash of Clans. The monthly estimates of SensorTower do not include revenue from China-specific versions of Clash of Clans and Clash Royale.
Clash Royale is the 6th top-grossing iOS game in China. Supercell's Boom Beach game is the 10th top-grossing Android game in China.
The Finns Did Not Veto The Deal
The Finnish founders and current management team of Supercell could have vetoed the Tencent deal. However, seeing Supercell's Co-Founder and CEO Ilkka Paananen happily shaking the hand of Tencent's President Martin Lau told me that everything is all clear. Tencent might have granted the same autonomy that SoftBank gave Supercell's founders/leaders.
Letting the founders and current management remain in control should mean smooth sailing for Supercell. The current team has done a great job and they deserve to continue stewardship of Supercell.
Tencent will only meddle in the Chinese versions of Supercell games. VentureBeat said that Tencent's takeover could mean Kunlun/360 Mobile Assistant will no longer publish Supercell games in China. Tencent will most likely publish them on its own Chinese Android app store. Tencent owns the biggest Android app store in China.
Conclusion
I approve this Supercell takeover. Tencent makes most of its revenue from online/mobile games. It was only logical that Tencent had to buy Supercell. The Finnish company touts the most addictive, freemium but pay-2-win, mobile games. Clash of Clans and Clash Royale's strong monthly sales are tailwinds for Tencent's topline growth.
Catering to big spending mobile gamers is sound strategy. Just to illustrate, Chief Pat, the top ranked player of Clash Royale, revealed last March 31 that he spent $12,000 on Clash Royale and $18,000 on Clash of Clans. Chief Pat is just one of the many big spending players that Tencent bought with its purchase of Supercell.
I hereby endorse TCEHY as a Strong Buy. I like the mobile games business because selling virtual goods for real dollars is the best implementation of capitalism.
I will probably dump my SFTBY to fund a long position on Tencent. This fast-growing internet/gaming giant has attractive fundamentals.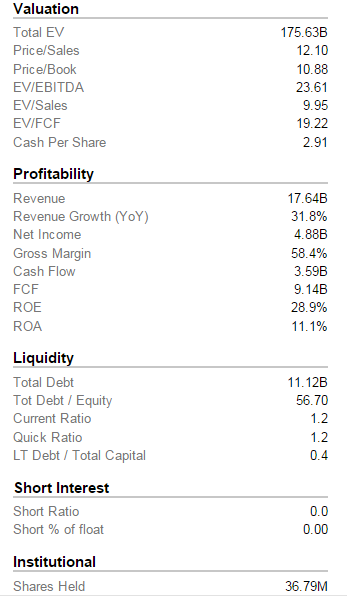 (Source: Seeking Alpha)
Disclosure: I am/we are long MSFT, SFTBY.
I wrote this article myself, and it expresses my own opinions. I am not receiving compensation for it (other than from Seeking Alpha). I have no business relationship with any company whose stock is mentioned in this article.
Additional disclosure: I might also go long on TCEHY soon.
Editor's Note: This article discusses one or more securities that do not trade on a major U.S. exchange. Please be aware of the risks associated with these stocks.