In a stunning development on Thursday night into Friday morning, it appears almost certain as of this writing at Midnight EDT that voters in the United Kingdom European Union membership referendum have opted to 'Leave' the European Union. Now what?
The World Does Not Completely Change On Friday
The first thing to remember in the aftermath of all of the gloom and doom predictions about the fallout effects from the U.K. (NYSEARCA:EWU) deciding to leave the European Union is that the sun will rise on Friday morning and the world will be very much the same as it was the day before. Obviously, the path forward has taken a decidedly unexpected turn, now that the second largest economy as measured by GDP in the European Union (BATS:EZU) has decided to leave the single market and make an economic go of it on its own. But the U.K. will not be out of the EU the moment the final vote count has been tallied and the official announcement is made on early Friday morning. Instead, it is likely to take a couple of years before the United Kingdom fully makes its way out. In other words, this is a process that is going to take a fair amount of time and the opportunity exists to make sure that it plays out as orderly as possible.
Of course, the 'leave' decision out of the U.K. has the potential to have disruptive spillover effects across the European Union. The U.K. is certainly not alone in having a sizeable portion of their population disgruntled with the single market, as a Eurosceptic wave has been building for some time in countries such as Greece (NYSEARCA:GREK), Italy (NYSEARCA:EWI), Spain (NYSEARCA:EWP), Portugal (NYSEARCA:PGAL) and France (NYSEARCA:EWQ) among others. Thus, the decision by the U.K. to 'leave' may embolden others across the European Union to more closely consider following a similar path. The stakes are higher for these other member nations, however, for unlike the British that still have their own pound currency (NYSEARCA:FXB) and its monetary policy independence as a result of what has become an ironic turn from a few decades ago, the rest of these countries are in much deeper trouble through their transition to the shared euro (NYSEARCA:FXE) currency. Nonetheless, the upcoming experience of the U.K. will give others a general sense of what economic life might be like on their own.
In the end, these are issues that will be worth monitoring in the weeks, months and years that follow Thursday's landmark vote by U.K. voters.
What Do We Effectively Know?
In the meantime, it is worthwhile to establish an expected baseline in determining what can investors expect immediately in front of them in the coming hours.
Currency market volatility is likely to explode with the euro and pound getting pounded (down more than -3% and -9%, respectively, versus the U.S. dollar as of midnight EDT) while the safe-haven U.S. dollar (NYSEARCA:UUP) and Japanese yen (NYSEARCA:FXY) are bid sharply higher. Other traditional safe haven such as U.S. Treasuries (NYSEARCA:TLT) and gold (NYSEARCA:GLD) are also rallying sharply given the uncertainty resulting from the vote outcome.
Stocks are also likely to be awash in red as markets open on Friday. Exchanges across Asia including Japan (NYSEARCA:EWJ) and Hong Kong (NYSEARCA:EWH) that have been open as the vote tally came in toward 'leave' are already down more than -7% and -4%, respectively, as of Midnight EDT. British stock futures are already down more than -6% on the FTSE 100 Index, while S&P 500 Index (NYSEARCA:SPY) futures in the U.S. are also down nearly -5%.
None of these results should come as a surprise.
Then What?
It is what follows once the markets are open on Friday and investors have had the time to digest the news and the initial volatility that may be more unexpected and potentially difficult to predict. The following are some thoughts and observations:
Working Off The Fluff
U.S. stocks will likely open sharply lower. As of Midnight EDT, S&P 500 Index futures are already down by -92 points.
But let's put this projected stock market decline into context heading into Friday's trade. As a remarkable show of hubris once again by U.S. stock investors ahead of the 'Brexit' vote, stocks had risen by a net of +42.10 points on the S&P 500 Index in the first four trading days of this week. This includes a particularly ballsy +27.87 rally on the day of the 'Brexit' vote on Thursday. As a result, the first -42.10 points to the downside on the S&P 500 Index should effectively be viewed as throw away points that the market misguidedly added in recent days as investors tried to front run a political outcome that turned out much differently than expected in the end.
Thus, anything below 2071 on the S&P 500 Index starts to become a purer post 'Brexit' decline reaction. But this leads us to our next point, which is that the market was trading as low as the 2040 to 2050 range on the S&P 500 Index for most of the month of May a few weeks ago. As a result, the next -30 points to the downside does nothing more than bring us back to where we were on the market about a month ago, which is still a fairly lofty perch from a valuation perspective.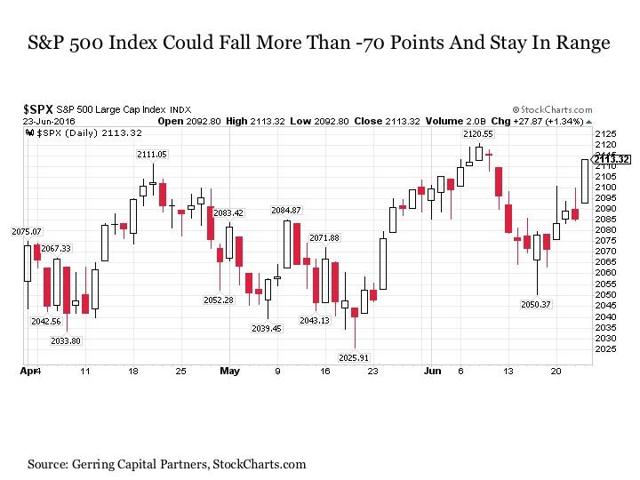 Putting this all together, U.S. stock investors should be reasonably comfortable with the first -70 points coming off of the market to the downside in the aftermath of the 'Brexit' vote, as these are mostly fluffy noise points within the recent trading range for the S&P 500. Losses that start to extend beyond this -70 point amount to the downside is where things start to get interesting.
Do Not Be Surprised By Stock Market Resilience
While the U.S. stock market may be bloody at the open on Friday and may continue to the downside for the remainder of the day, do not be surprised at all if stocks open sharply lower and spend the rest of the day rallying their way back to the upside. They may be so bold as to end the day in the green, which would leave the bears (of which I am one) completely gobsmacked. Another possibility is that U.S. stocks may push lower through Friday and into the early part of next week, only to eventually find their footing and rally all the way back higher into positive territory pre-'Brexit,' which would also confound the bears.
It would be a natural and easy instinct to blame any such rally on the flow of central bank liquidity. And we certainly should also not be surprised at all if major global central banks come out with monetary policy guns blazing as quickly as Friday morning to reassure global stock markets that everything is OK. But such an immediate bounce back is a common stock market occurrence dating back to before the days of relentless central bank intervention.
One has to look no further than the days immediately following the collapse of Lehman Brothers on Sunday, September 14, which had much more immediate and dramatic implications for financial markets than the 'Brexit' vote on Thursday. Indeed, stocks opened sharply lower once the markets opened for trading on the Monday after the Lehman bankruptcy announcement. And they continued lower despite a modest rally on Tuesday through mid-day Thursday of that week. But in the afternoon of Thursday, September 18, stocks suddenly began rallying sharply higher. And by the close of business on Friday, September 19, the S&P 500 Index miraculously managed to end marginally higher for the week.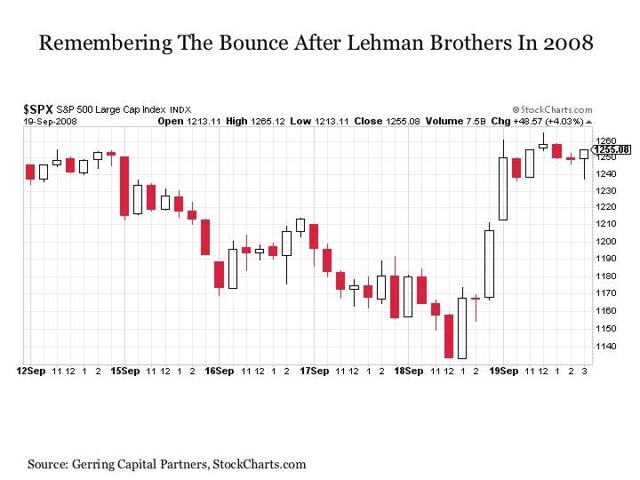 Stay The Course At Least Until The Dust Settles, Then Act If Needed
Investors can take two very important takeaways from the Lehman experience.
First, if the stock market is bleeding on Friday morning, resist the urge to sell into the downdraft. And if they are continuing lower into early next week, stay the course. History has repeatedly shown, as Lehman is just one of many examples, that the stock market will eventually give you a strong bounce that may go so far as offsetting most if not all of your initial losses. Put simply, if stocks can find their way all the way back in the days after Lehman, they certainly can do the same after the 'Brexit' vote, particularly with supportive central bankers at the ready with stimulus for all.
Maintain your discipline and remember why you bought the stocks you did and why you were still holding them during easier times as recently as Thursday. And if you find yourself wishing that you had gotten out of selected names ahead of the unexpected 'Brexit' outcome, do not react but instead stay the course and wait for the bounce that will eventually present itself.
This leads us to arguably the more important second point. Just because stocks may bounce after any initial bleeding following the 'Brexit' outcome, do not suddenly become complacent in thinking that any such rally is somehow an all clear that the worst is over. If you wanted to sell during the bloodbath, make sure that you follow through and do so once the bounce takes place. For just as history has repeatedly shown that stocks will give investors an initial bounce, these are just as often followed by a far more staggering and sustained decline. Reflecting back to our Lehman example, which was chosen as an example not because 'Brexit' is a Lehman event - because it is not at all - but because it amplifies this historical phenomenon that has happened repeatedly throughout history, most of us can recall the far more dramatic declines that followed in the weeks after that Friday, September 19 bounce back peak. Thus, we should not be surprised to see the stock market take a far more meaningful and sustained tumble to the downside following any initial recovery bounce.
To reiterate, stock investors should not sell everything once they get the bounce. Instead, they should only sell those stocks that they wish they had sold and are not prepared to bring along with them into the next bear market war. A number of stocks such as Wal-Mart (NYSE:WMT) and Southern Company (NYSE:SO) are built to perform in bear markets, at least during their early stages. And if stocks overcome the 'Brexit' vote and resume their climb to new all-time highs, all the better to hold these same type of "bear market battle ready" stock market names.
The Bottom Line
It promises to be a wild trading day on Friday and potentially into early next week. But while the stock market losses may be staggering at the outset, and declines may even continue into the coming days, it is times like these where it is particularly important to maintain your discipline. Do not react in the midst of the sell-off. Stay calm, show patience, and wait for the bounce that is very likely to present itself in the coming days before taking any action with your portfolio. After all, this bounce may end up wiping away your immediate post 'Brexit' losses. And history has repeatedly shown that this discipline both on the decline and the bounce is rewarded during periods of heightened market volatility such as what we are likely to see in the days and weeks ahead.
Disclosure: This article is for information purposes only. There are risks involved with investing including loss of principal. Gerring Capital Partners makes no explicit or implicit guarantee with respect to performance or the outcome of any investment or projections made. There is no guarantee that the goals of the strategies discussed by Gerring Capital Partners will be met.
Disclosure: I am/we are long TLT, PHYS, WMT, SO.
I wrote this article myself, and it expresses my own opinions. I am not receiving compensation for it (other than from Seeking Alpha). I have no business relationship with any company whose stock is mentioned in this article.