Why We're Writing
As we write this article, the Associated Press is reporting the following about the British vote to leave the European Union: The "leave" side was ahead by 51.7 percent to 48.3 percent with more than three-quarters of votes tally, making a "remain" win a statistical near-impossibility.
Forward View did not publish a forecast for the Brexit vote, however, our clients know that we have been focused on temporarily de-risking portfolios. With markets near record highs, 2Q has not been a time to be greedy. 3Q will be no different as the Fed postpones interest rate hikes and investors ponder the full ramifications of the Brexit. The most important point to consider is whether or not the British decision will lead to other countries dumping the EU. Nationalism is gaining global strength, and Brexit will inspire other anti-EU movements. (For the record, though, who would have believed that Brexit would happen and Grexit would not by 2016? Just a year ago, Grexit seemed highly likely and Brexit just a joke.)
The Forward View
Despite the fear-mongering of the Remain camp, life will go on. Civilization will continue. The sun will rise in the morning, and the British will still enjoy fish and chips in the afternoon. Voters' anger has trumped fears of the unknown, though. Global politics in 2016 no longer follow normal patterns. You should thus be focused on temporarily reducing portfolio risk.
A simple and cost-effective way to hedge against uncertainty is to buy into our top pick: ProShares Ultra VIX Short-Term Futures ETF (NYSEARCA:UVXY). The unlevered ProShares VIX Short-Term Futures ETF (NYSEARCA:VIXY) is another option. (The iPath S&P 500 VIX Short-Term Futures ETN [VXX] is less interesting to us for technical reasons, but keep it if you own it.)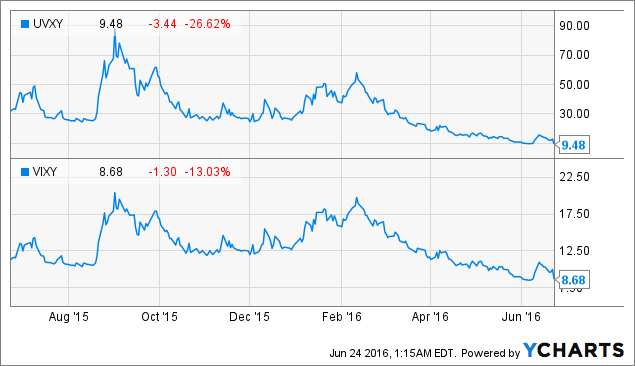 These VIX-linked investments will cushion your portfolio against losses stemming from the general unease that will settle over the global markets this summer. Buying UVXY or VIXY can also help you avoid losses without dumping stocks you believe represent long-term profitable opportunities. Holding your equity shares and making a single VIX-related trade will reduce your annual commission fees, too. By minimizing expenses and hedging against turmoil, your portfolio beta will drop and your returns won't suffer. It's a win-win scenario.
More speculative traders and fund managers would be wise to consider the ProShares Ultra 20+ Year Treasury ETF (NYSEARCA:UBT) or the even more leveraged Direxion Daily 30-Year Treasury Bull 3x Shares ETF (NYSEARCA:TMF). Both ETFs provide a way to benefit from the coming rally in Treasury bond prices as investors seek safety and the Fed postpones interest rate hikes in the face of headwinds from across the pond.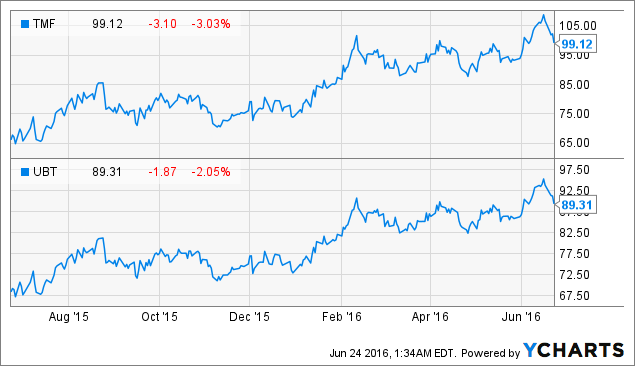 In summary, Brexit is no reason to sell your securities and begin stuffing cash in mason jars you then bury in your yard. Still, tactical portfolio adjustments are advisable to ensure that you're prepared for 3Q. We don't expect to see stocks advance in the coming weeks (and probably not for months) due to the combination of high valuations and significant international macro/political uncertainty. We invite you to follow Forward View to ensure that you receive the latest updates from our research team. Welcome to the post-Brexit world! Isn't democracy perpetually entertaining?
Disclosure: I/we have no positions in any stocks mentioned, and no plans to initiate any positions within the next 72 hours.
I wrote this article myself, and it expresses my own opinions. I am not receiving compensation for it (other than from Seeking Alpha). I have no business relationship with any company whose stock is mentioned in this article.