Introduction
My largest portfolio is my dividend growth portfolio. As I shared with my readers, I own companies that tend to increase their dividend payment annually. All investments in the portfolio are long term investments, that hopefully will help me to create wealth going into the future. There are many investors who practice this strategy, and many of them use different investment thesis. One of them is limiting your losses by using stop loss orders.
The idea of a stop loss is limiting the maximum amount of capital you can lose in your investment, while the upside remains infinite. If for example I buy a stock for $50, and put a stop loss at $45, I can only lose 10%, while the upside is limitless. I decided that the risks in using a stop loss are too high, and decided to avoid it, and absorb the market volatility.
The decision of the British people to vote in favor of the Brexit, gives me another reassurance to my decision. When I see the stock markets futures sharply, I understand how stop loss can damage your returns.
Brexit
The Brexit is the British exit of the European Union. In a referendum yesterday the British people decided to leave the European Union. A decision that some people believe can be the beginning of the end of the Eurozone and the European Union. Therefore, the markets reacted pretty intensely over the past several hours. However, I believe that we see here overshooting, with the London Stock Exchange down by over 6%, and the GBP is at its lowest point over the past 31 years.
First of all, in order to leave the EU, a country must exercise article 50 of the Lisbon Treaty. Then there is a two year period of negotiation, and only after two years, a country can really leave the European Union. It makes sense for me that the negotiation will result in keeping tight economic ties between the United Kingdom and the European Union.
Moreover, PM David Cameron has resigned from his position, as he doesn't want to take part in what I believe is a wrong decision. He campaigned in favor of staying in the EU, and he lost. This morning, he resigned, so in the UK we have at least three more months before the new PM will exercise article 50. I believe that once the pro "Leave" politicians face the irreversibility of Brexit, it will be much harder for them to exercise it as they campaigned.
The Governor of the Bank of England also assured investors that the Bank of England is ready to deal with any implication of the Brexit. The decision for Brexit isn't immediate, and it will take a lot of time and negotiations before we see an independent United Kingdom, and no one really knows what the new treaties will look like.
Why not using stop losses
I don't like stop losses because they lock your losses, even when you lose due to short term volatility like the Brexit. I believe that the market will correct itself as it did when the whole EU stock market was volatile when Greece had its debt negotiations.
In addition, investors can really suffer, even when the market reacts to short term news like weak earnings or weaker outlook for a stock. As a long term investor, I ignore these short term fluctuations and avoid stop loss orders.
Previous examples
Previous examples for stop loss failures can be seen all over the market. Look at Apple (NASDAQ:AAPL) for example. In January 26, 2016 the company released its earnings report. The earnings were weaker than expected and the outlook wasn't as positive as the investors believed it will be. The stock plunged 6.6% at the same day to a share price of $92. Today the stock price is 4.5% higher, and investors who used stop loss at $93 for example, didn't enjoy the rebound or the dividend payments.
Johnson & Johnson (NYSE:JNJ) is another example. One day this year, due to a trading error, the stock market plunged and offered several stocks for a very attractive price. JNJ traded for several minutes for the price of $81. The price recovered on the same day very quickly and investors who used stop losses might have ended up with only $85 for each share. While the price recovered to over $90 the same day, it is now closer to $120.
Today
We can see how poorly stop losses have done today in the London Stock Exchange. Investors again didn't know how to react to the news of the Brexit and the resignation of PM Cameron, and while the stock market opened with steep declines, that probably triggered many stop loss orders, the market has been recovering in the past two hours.
Look for example at the International Consolidated Airlines (OTCPK:ICAGY) stock. A holding company that owns several giant airline companies including Iberia and British Airways. The stock price closed at 5.28 GBP yesterday. Today it opened at 3.5 GBP probably triggering many stop losses. Since then, the stock has recovered to 4.6 GBP. Investors who bought the shares in the opening have already made 31%. Investors who sold their stocks for 3.5 GBP, locked their loss at an irrational price.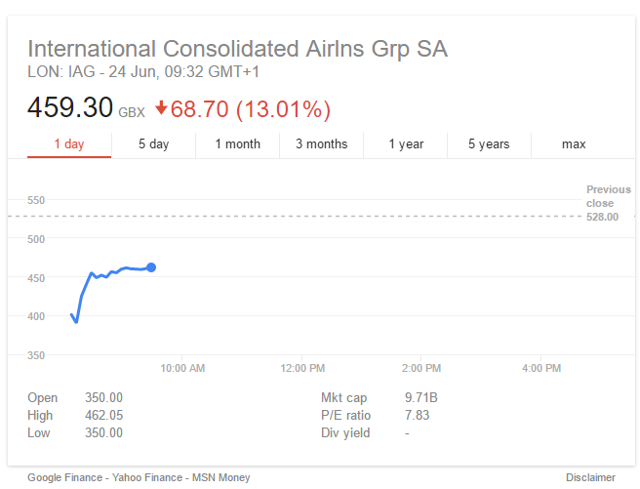 HSBC (NYSE:HSBC) is a huge multinational British Bank. It is traded in Hong Kong and in London. The stock market in Hong Kong opens in the middle of the night in Britain. As news about Brexit began to flow, the stock price of HSBC declined by over 12%. However, now the stock price has recovered and it is now only 6.5% lower.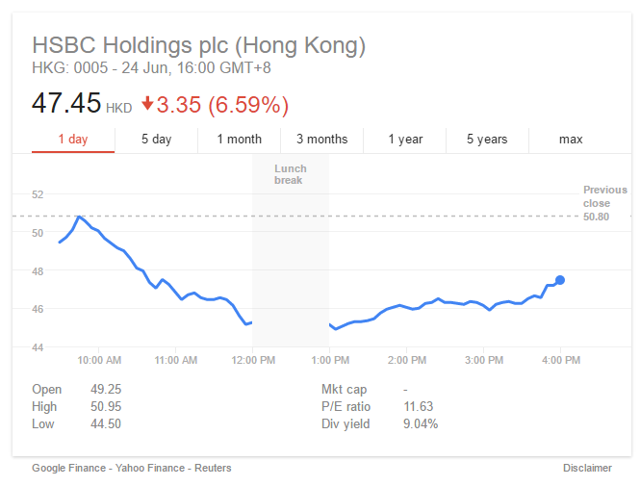 Even the British pound that declined in the morning by over 10% to $1.32, recovered now to $1.4. Investors who bought British shares at the opening, earned money with the stock recovery and the GBP recovery. All in all, I believe that these three examples show why I avoid stop loss. They could damage my portfolio, and lock me with great losses.
What I do today
What I am going to do today is look for opportunities in the American market. First of all, companies that will suffer almost no effect from the Brexit will also suffer from the stock market decline. For example, a company like Realty Income (NYSE:O) shouldn't suffer from the Brexit. It should even benefit from it, as the chances for higher interest rates in the short term are slim. Altria Group (NYSE:MO), which sells tobacco and wine in the U.S., shouldn't suffer from any major headwinds due to the Brexit as well. Both these companies might see their shares plunge, and I believe that investors should look for opportunities.
The sector that is going to suffer is the financial sector. I am going to look for good opportunities in the options market. American banks will suffer from massive pressure and their options will probably be very volatile. I will look to sell some put options of large financial institutions like Bank of America (NYSE:BAC), Morgan Stanley (NYSE:MS) and AIG (NYSE:AIG).
Conclusions
I avoid using stop losses, as they tend to create more damage than good in volatile markets. When markets aren't volatile, I can sell my shares by myself if I wish. According to my investment philosophy, I will keep all my positions as I believe these are strong companies that will survive the headwinds easily.
Moreover, I will look for new opportunities due to the market higher volatility. American companies can offer several opportunities, and selling some put options can also give me some more income, and I will look into both options.
Disclosure: I am/we are long MO, O, MS, BAC, AAPL, JNJ.
I wrote this article myself, and it expresses my own opinions. I am not receiving compensation for it (other than from Seeking Alpha). I have no business relationship with any company whose stock is mentioned in this article.
Editor's Note: This article discusses one or more securities that do not trade on a major U.S. exchange. Please be aware of the risks associated with these stocks.