Despite posting record profits, the market still isn't giving Ford (NYSE:F) any credit. Even though the stock looks incredibly cheap, I mentioned several drawbacks such as the rigid cost structure and its sensitivity to macro factors in previous articles (read Think Twice About Ford). In other words, we can't just take Ford's recent success at face value. We must take future uncertainty into account. As Buffett has said, anything times zero is still a zero.
Of course, I don't think Ford is worth zero. Even in an event of a major downturn, I believe that Ford can withstand the short-term impact, as it did so during the last recession. However, it's worth noting that Ford never really recovered. Over the course of a full cycle (even though the trough was a bit extreme), the stock ended right back where it started from.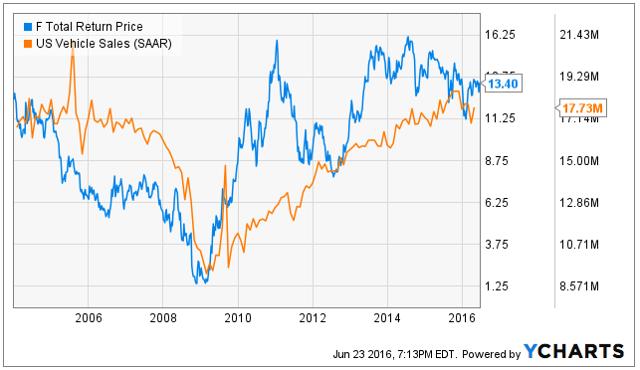 As weaknesses in the auto sector have begun to surface (e.g. souring loans), it's understandable that investors are nervous once again. However, I believe that the management can change this perception, if Ford is truly undervalued.
Turning the stock around is no longer about posting better results. Increasing profitability should be the norm in a typical economic environment; every macro sensitive stock will do well when the economy is growing. Instead of touting its profits, Ford can differentiate itself by showing investors how much it can keep during a downturn.
As I mentioned earlier, I'm skeptical about Ford's "value." I fail to see how Ford will fare any better in another downturn given the fact that today's margins and capital structure look quite similar to pre-crisis figures.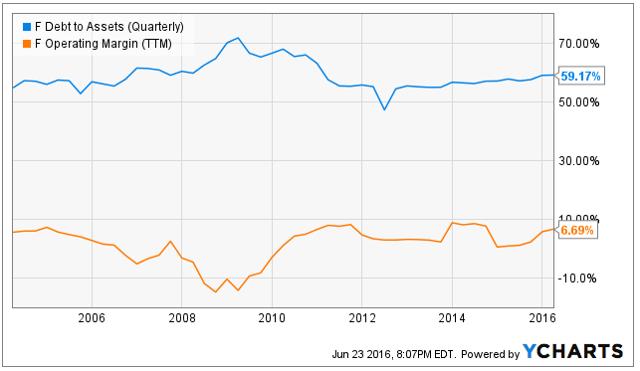 If the financials look the same, you can't blame the market for thinking that Ford will suffer a similar fate once the auto market turns south.
How can the management give a large boost to the stock? There is no need for a massive strategic shift (such as their investment in technology). I believe that the management can achieve the goal by simply being more transparent. By transparent I mean that the management should give contingency guidance concerning an unfavorable outlook. What would happen if sales decline by 5%? No one can answer that question better than the management, and it is a critical piece of information that would allow investors to accurately gauge the cheapness of the stock. If Ford can't preserve value for equity holders in a downturn, then it will negate all the progress that it has made thus far.
Unfortunately, I've yet to come across a management team that likes to talk about what could happen in a bearish scenario, even though it's an important issue that is on the back of everyone's mind. Nevertheless, I believe that this is one of the few tactics that the management could employ to push the stock to a more fair valuation, at no cost at that.
Takeaway
Posting good results won't be good enough for Ford. If you can't keep what you earned at the bottom of a business cycle, then the stock isn't worth investing in. I am bearish on Ford as I see little evidence that would suggest an easier time for Ford once the auto market starts to flounder. Of course, the management may see things differently; if so, I believe that it is crucial that they release this information to investors. Simply riding on the "up" portion of the auto cycle just won't cut it anymore.
Click the "Follow" button beside my name on the top of the page to be updated with my latest insights. To learn more about the V20 Portfolio, whose goal is to compound capital at 20% over the long term, I encourage you to read the introduction to my investment process. Premium subscribers get full access to the V20 Portfolio. Track the portfolio through the latest update, here.
Disclosure: I/we have no positions in any stocks mentioned, and no plans to initiate any positions within the next 72 hours.
I wrote this article myself, and it expresses my own opinions. I am not receiving compensation for it (other than from Seeking Alpha). I have no business relationship with any company whose stock is mentioned in this article.