Well, it's currently well past mid-night and I've been up for several hours trying to prepare for what should be a very interesting, likely painful day tomorrow in the markets. I say this because it's all but certain right now that against all odds, Brexit (or at least the non-binding populous vote for the move) is a reality. For some time now I've held a decent amount of cash. Two days ago I sold another significant portion of my alternative assets within my portfolio, hoping to soon begin to average into a higher equity allocation if/when the market experiences negative volatility in the near term (I saw several potential headwinds looming, Brexit being one of them). The market has been near all-time highs since recovering from the slump in February and I've had a hard time spotting deals. The dividend aristocrat stocks that I typically like to own have been overbought for several years now, with P/E ratios, and more importantly, PEG ratios, so high that I could not fathom adding shares at these levels. I do my best to always remember that the stock market should be viewed as a market of stocks, not a larger basket. I try to stay vigilant and take advantage of short term, irrational moves in high quality individual names. This is how I seek Alpha over the long-term. However, in this digital world with algorithms and machines making the majority of the trades, it is difficult to ignore the fact that marketwide sell-offs hurt my portfolio, whether or not I acknowledge their validity or not. So, right now amassing knowledge and mentally preparing myself for tomorrow's volatility is the best bet, even if it means I lack sleep over the next couple of days, because knowledge is indeed power and helps maintain a sensible, rational mind in the face of rampant emotion.
So, what am I looking into tonight specifically? Well, namely, stocks who do a vast amount of their business domestically in the face of what appears to be a strengthening dollar. I should say that I will track the entire market and the myriad of companies that I follow tomorrow and will be looking for deals across the board, regardless of international exposure, though it seems that the dollar strengthening is a certainty in this post-Brexit world, which means that multinationals will, once again, be facing growth headwinds. I'm not a soothsayer and I can't predict which high quality companies may sell off to the point that their valuations become attractive based on this Brexit news, though the market futures point towards an absolutely terrible open, with the DOW down roughly 700 points as I write, and therefore, it seems that some of the stronger domestically focused names will likely sell off, even if it is relatively unwarranted. Since I don't know which other names across the broader market will be most adversely affected, doing work in this space seems to be the best use of my time, currently.
So, which companies have I focused in on? I'll discuss 6 in this piece: CVS Health (NYSE:CVS), Lowe's (NYSE:LOW), Home Depot (NYSE:HD), Reynolds American (NYSE:RAI), Kroger (NYSE:KR), and Whole Foods Market (NASDAQ:WFM).
CVS health is probably the favorite company sharply focused on domestic business that I've come across tonight. I already own Walgreen Boots Alliance (NASDAQ:WBA) in this space, so I've been interested in adding exposure to this near-duopoly for awhile now. WBA gives me international exposure with its recently purchase of Alliance Boots in 2014, making it the largest pharmacy led, healthcare retail in the world. However, CVS is no slouch, with a $100b market cap and over $160b in ttm revenues. This company has made strides recently, vertically integrating its operations as an independent PBM to go alongside its retail pharmacy business. I do worry about the reliability of healthcare earnings in the US with debate constantly surrounding the healthcare markets. With that said, CVS has made a habit of growing its revenues, its EPS and its dividend. CVS' long-term debt has been rising, though the company has been active in the M&A side of things over the last couple of years, solidifying its moat and long-term prospects. An aging domestic population seems to be another strong tailwind for this company. CVS is richly valued, trading 20x its ttm EPS; however, analysts predict strong double digit grow for 2016 and 2017, making its forward looking valuation metrics much more attractive. This company has been generous when it comes to rewarding shareholders. Since 2011, CVS has reduced its outstanding share count by 12.75%. The company has also paid an increasing annual dividend for 13 consecutive years and boasts an extraordinary 31.95% 5-year DGR, which helps for me to look past its 20x valuation in the present. CVS's yield is relatively low at 1.79%; however, on irrational weakness tomorrow, this is a company that I will be taking a close look at with an oversized cash position sitting on the sidelines.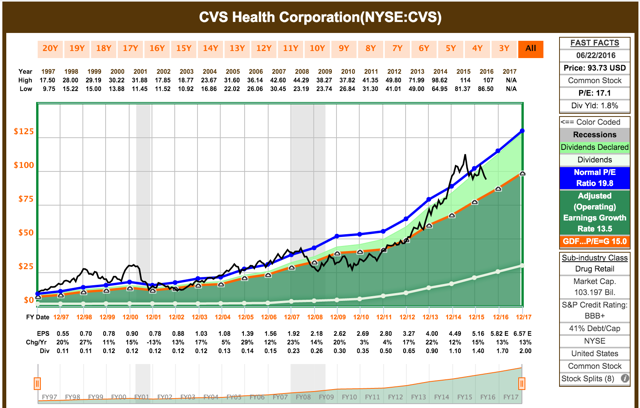 Lowe's and Home Depot are both companies that I've had on my mind for some time now. Over the last couple of years I've reduced my exposure to big box retail because of fear that Amazon will continue to take away market share from brick and mortar retails, several of whom qualify as dividend aristocrats and are widely owned by people with similar portfolio goals as my own. Because of this, I've looked at companies that are essentially "Amazon-proof." Both LOW and HD fall into this category due to the relatively larger size of their product offerings. I like the business these two companies operate in. As a newly minted home owner, I've recently come to understand the fact that home maintenance is an on-going process. This work/chores often time require goods and materials that can only be found at places like LOW and HD. This is a long-term trend which I don't see changing. It's a trend not unlike the one that got me interested in CVS, homes, like people, will age and require regular upkeep. Both companies have shown regular revenue growth and strong EPS and dividend growth over recent years. Lowe's had paid an annually increasing dividend for 54 consecutive years and has an impressive 5 year DGR of 20.57%. Home Depot has a much shorter dividend increase streak, of just 7 years, but, like Lowe's, HD has been generous with its cash, with a 5 year DGR over 20% as well, coming in at 20.09%. Both companies have reduced their outstanding share counts over the last 5 years as well, with Lowe's retiring 21.2% of their outstanding shares since 2011 and Home Depot reducing theirs by 16.8%. Both companies have relatively low yields: LOW coming in at 1.79% and HD at 2.17%. As you can see in the graphs below, neither company is exactly cheap, trading at roughly 19x forward P/E; however, both companies stand to benefit, on a relative basis at least, from a stronger dollar and the financial performances of these two companies make it clear that they are the wonderful type of companies that I like to buy and hold within my portfolio.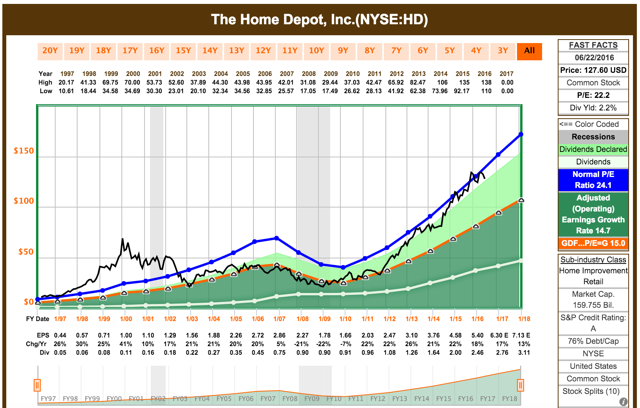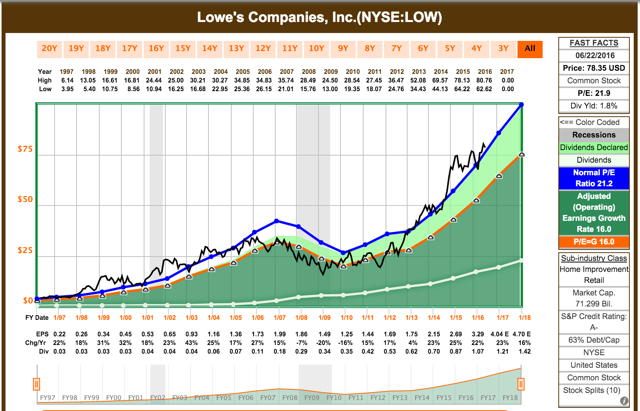 Reynolds American, due to the sale of the international rights to its products some time ago, is another company with a domestic focus on its business. Before I go on, I should say that Altria (NYSE:MO) is another tobacco company whose focus in domestic, though I already own a sizable position there and for diversification's sake, I'm focusing on RAI. Truth be told, I think MO is a stronger company than RAI; I'm attracted to its alcohol business (as you can tell, diversification is important to me). If you don't own MO or don't consider your position to be overweight, it too is a high quality company that would fall into a similar category to RAI. Anyway, RAI is the second leading American tobacco company (post Lorillard acquisition, RAI has a roughly 35% market share). Although cigarette volume has been falling in the US for years and is expected to continue to do so for the foreseeable future, this company has proven to be profitable in the face of these volume headwinds and I wouldn't be against them as we head into the future. I understand that for moral reasons, many investors avoid tobacco companies, and I completely understand that. If this is you, just ignore this section and continue on to the next, which I promise will be more wholesome. I too have my worries about tobacco in terms of its effect on human health; however, I also believe in free markets and if people want to spend their hard earned money on a product that has proven to be likely harmful to them over the long-term, who am I to say no? I don't use tobacco products, but I'm not opposed to tobacco dividends. I'm not a marijuana user either, though I see its popularity as a recreational drug and I wouldn't be surprised if it became more widely legal and available moving forward. Where I live, vineyards and breweries are widely pushed by local governments as small business opportunities due to the tax benefits that come from having them. I expect more and more states and local governments will want a piece of the same revenues that states like Colorado are benefiting from currently. I also expect that companies like RAI and MO will benefit from this policy change, moving into, and eventually dominating the space, should my assumptions turn true. In the mean time, innovation tobacco products like e-cigarettes should help to continue to drive revenues, earnings, and dividend payments. RAI has a much higher yield than the companies mentioned thus far: 3.35%. The company has a 13 year dividend increase streak and a 5 year DGR of 8.60%. Sure, this dividend growth is much lower than CVS, LOW, and HD; however, it still significantly outpaces the inflation rate. As shown below, RAI's value comes into question, especially when looked at in terms of its long-term averages; however in this yield starved environment, this company becomes more attractive for those requiring that certain income benchmarks be met.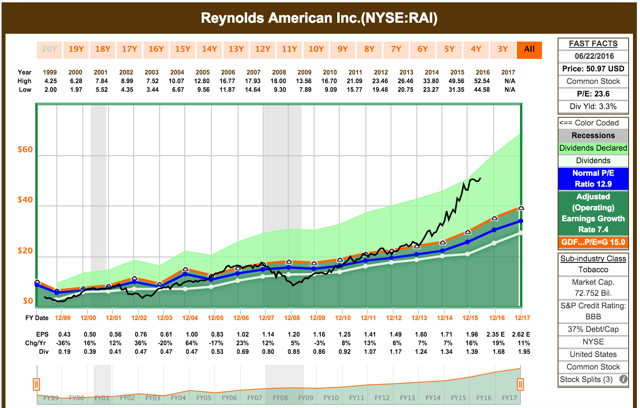 And lastly, in a flight to safety, it doesn't get much better than grocery stores, does it? Just like people need healthcare, need to maintain their homes, people need to eat. I guess that RAI breaks this trend a bit, though I imagine that many people addicted to tobacco products would attest that they also need to get their fix. Both Kroger and Whole Foods operate primarily in the States. Kroger is a more defensive bet, with a long streak of earnings beats, same store sales growth, and a wider variety of products coming in at different price points. Whole Foods offers a more specific collection of products, focused more on organic products and health foods. Many of these products come in at higher prices, however, WFM benefits from a strong trend in America (and elsewhere) focused on healthy eating and a more comprehensive understanding the food they consume, where it came from, and how it was grown/produced. Now, don't get me wrong, KR too has drastically increased its focus on organic/health foods as well; my point being, WFM is more of a pure play on the health movement. Both companies pay a low dividend yield, with WFM coming in at 1.77% and KR at 1.19%. Neither company is an aristocrat, with KR's dividend increase streak sitting at 10 years and WFM's at 6. KR recently announced a dividend increase for its upcoming payment, up 14.3% to $0.12/share. The company's 5 year DGR is in line, at 15.33%. Both companies have strong balance sheets and I expect that they continue to reward shareholders with strong dividend growth. Both companies are decreasing their share counts and have miniscule debt loads. Frankly put, these two companies lack the same growth prospects of a CVS, or a LOW or HD, in my opinion, though, like I said, the grocery space is a defensive space, which I imagine investors will be interested in on a day like today is shaping up to be.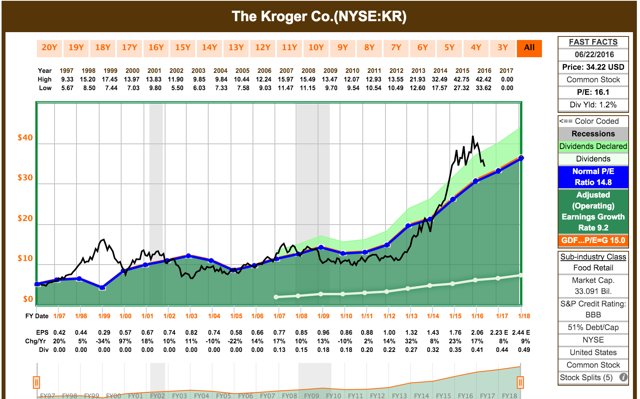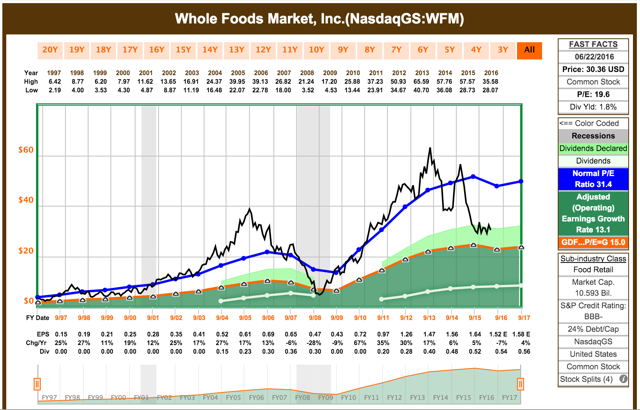 All graphs were sourced from F.A.S.T. Graphs
Disclosure: I am/we are long WBA, MO, WFM, KR.
I wrote this article myself, and it expresses my own opinions. I am not receiving compensation for it (other than from Seeking Alpha). I have no business relationship with any company whose stock is mentioned in this article.