The Leave side has won; Brexit is happening. U.K. Prime Minister David Cameron has announced his intentions to resign by October. The world markets are crashing, the pound and euro are tumbling, gold is soaring, and fears of a U.K. recession are reigning supreme.
U.S. and European stock markets rallied yesterday when it seemed that U.K. would choose to stay within the EU. But the severity of the crash in European stocks today is indicating that the market clearly did not expect a divorce.
The ramifications of Brexit are not just limited to U.K. and Europe, but will affect every other nation, directly or indirectly, majorly or less. As investors woke up to the horror, they rushed to the safe-haven assets such as gold (NYSEARCA:GLD) and Japanese yen. The former touched a fresh two-year high while the latter spiked to a new 2-1/2 year high. There is no telling how much more the yellow metal will appreciate, but as I said in a previous analysis, gold may kiss $1,400.

Source: TradingView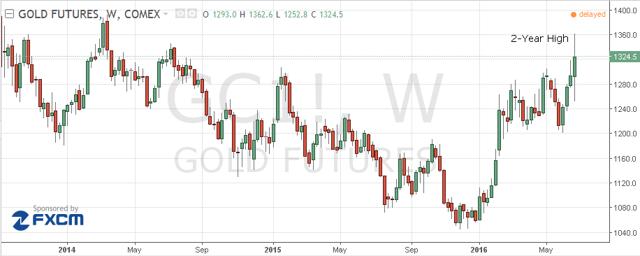 Source: TradingView
As the British pound crashed 11 percent and euro tumbled 4 percent, the U.S. Dollar Index jumped sharply. At the time of writing this analysis, the index was trading near its day's high, indicating that more losses may be in store for pound and euro.

Source: TradingView
The relative strength in the U.S. dollar has hit one commodity hard - crude oil (NYSEARCA:USO). Crude oil is currently trading with a steep cut of 5 percent at $47.68 per barrel. For a very long period now, crude was struggling to sustain above $50 per barrel, and upside potential could be capped following this decision. Further strength in the greenback may push crude down to lower $40s.

Source: TradingView
Many analysts have expectations that U.K. will slip into recession post the historic departure from the European Union. But there will be adverse consequences for the U.S. economy, too, and Fed Chair Janet Yellen understands that. The verdict has, in my opinion, ruled out any rate hike for the next 9-12 months. We may even see a rate cut, but that is still too distant.
Emerging market economies are expected to take a big hit as well. Nations such as India have deep business ties with Europe and are likely to be affected as major IT, automobiles, and pharmaceutical companies have several of their operations spread across the EU. But the impact on India is likely to be less adverse than the peers because of the structural reforms taking place in the country.
Conclusion
I think no one is quite sure whether Brexit would cause the next global crisis and lead to a market meltdown. But deep-value investors will view this mayhem as a long-due opportunity to buy good, quality stocks at reasonable prices. Thorough due-diligence will be required on the part of investors, and patience will be tested given the adverse economic scenario.
There will be drastic policy changes from global central banks as well. Although very less probable, the U.S. Fed may even reduce the interest rates to protect the economy. I do expect the Bank of Japan to interfere in a timely manner to weaken the strengthening yen.
This may begin the end of the most unloved bull market, or at least I hope so.
Disclosure: I/we have no positions in any stocks mentioned, and no plans to initiate any positions within the next 72 hours.
I wrote this article myself, and it expresses my own opinions. I am not receiving compensation for it (other than from Seeking Alpha). I have no business relationship with any company whose stock is mentioned in this article.