GoPro's (NASDAQ:GPRO) Q1 16 results made for tough reading. Revenue was down 58% YoY, while margins dropped dramatically from 45% in Q1 15 to just 33%. Existing camera owners are deciding not to upgrade to GoPro's latest set of products, while drones are increasingly competing on the same turf.
Bulls are hoping the company diversifies to reduce total reliance on camera hardware sales. The company, slow to innovate on the hardware side, has guided that it wishes to provide product differentiation versus cheaper copycats and drones by offering a seamless video editing/sharing software suite. The clumsy and time-consuming video post-production process required to extract useful footage has long been a gripe of GoPro owners. Hence, the question becomes, can GoPro differentiate on the media and software side and if so, will it be able to monetize existing users with a recurring revenue Software as a Service [SaaS] model?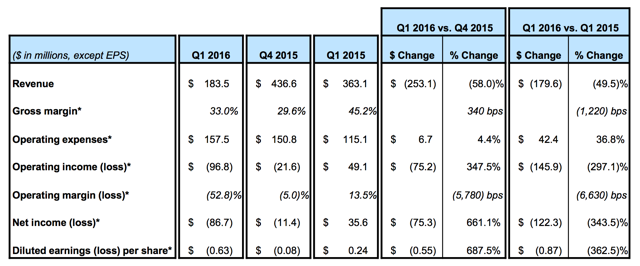 Source: GoPro Q1 16 Report
The company spent $105m acquiring two software companies, both announced in February 2016, signaling clear intent to improve its software talent and product. Despite its undisputed marketing prowess, GoPro has so far demonstrated limited technology chops. Acquiring Stupeflix and Vemory, both mobile video editing platforms, should help GoPro achieve its stated goal of making video editing more seamless for users.
To critically analyze the progress the company has made in terms of its multimedia and software transformation we now examine its existing web and app based properties:
1) The GoPro App
The GoPro companion app touts functionality that allows users to easily find action highlights, seamlessly extract and share video and intuitively control their hardware from a smartphone - see here:
Using the SimilarWeb research tool, we examine how the GoPro app is faring in terms of usage and user engagement which indicates if users are finding it useful. In this analysis, we compare GoPro to DJI, the still private drone manufacturer backed by well-regarded Venture Capital fund, Accel Partners. DJI is a former (failed) GoPro partner and future direct competitor in the drone space. It is competing for both mind share and consumer spend. Both companies are Apple (NASDAQ:AAPL) retail distribution partners, with DJI only recently joining GoPro with the exclusive honour of the Apple Store Homepage feature spot.
Apple Store Homepage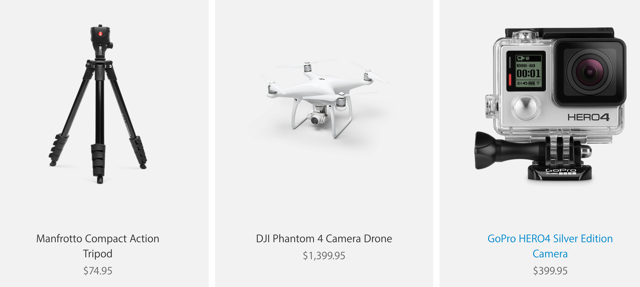 Source: Apple.com
United States Daily Android App Users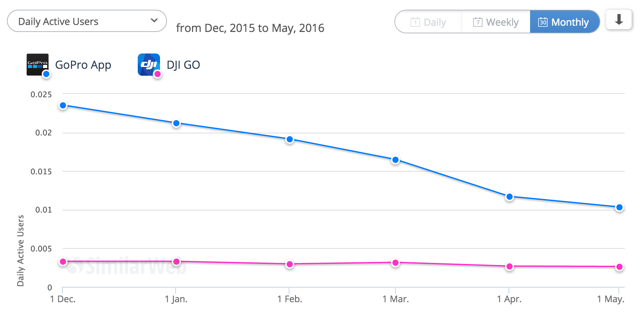 Source: SimilarWeb
United Kingdom Android App Daily Active Users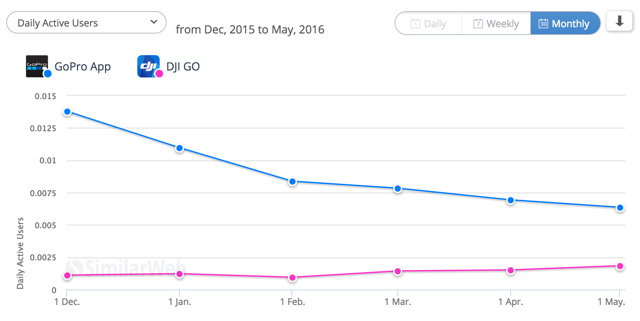 Source: SimilarWeb
From the above, we can see that in both the United States and the United Kingdom, two of the company's largest markets, the GoPro app is being used less, not more, a trend which has existed for at least the past 6 months. In contrast, DJI, the drone market leader is beginning to eat into consumer time spend.
United States Android App Engagement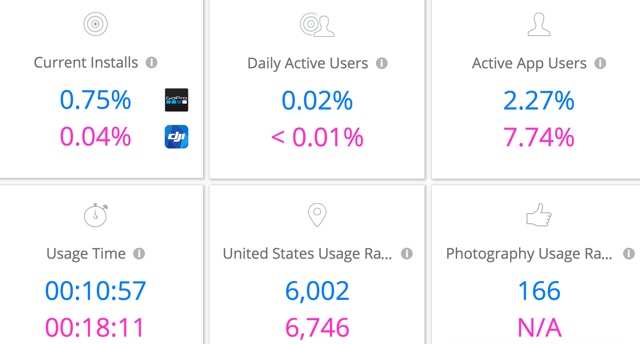 Source: SimilarWeb
United States Android App Retention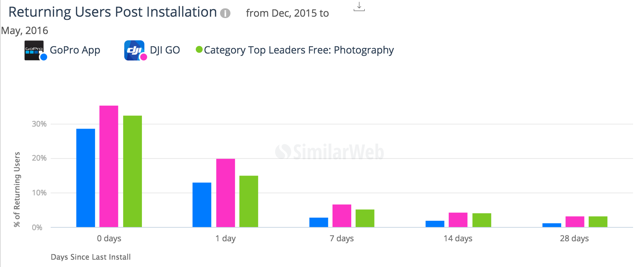 Source: SimilarWeb
More worrying, when comparing app engagement, specifically, consumer time spent within the app and the percentage of users who are active during a monthly period, we see that DJI's app is significantly better in both metrics, although its install base is significantly smaller for now. Further, the GoPro app has weak retention, meaning a high abandon rate, again, a sign that users simply aren't finding the GoPro app useful.
These engagement metrics are troubling for two reasons, firstly, it means GoPro still has a long way to go to make its software as compelling as its hardware once was, and secondly, that DJI is a formidable threat to GoPro's much-delayed drone, but also its broader video capturing and editing mission.
While users do not necessarily need to be active on the companion app to use their GoPro, we can view this both as a good proxy for device usage and net new device additions (likely a better indicator than checking inventory in brick and mortar stores like some of the i-banks are still doing), but also a clear reflection of how useful users are finding the GoPro software suite. Not particularly useful then, it seems.
2) The GoPro Website:
Now we can further complete our digital assessing by look at the web traffic reaching gopro.com, an important device sales and marketing channel.
Monthly Web Visits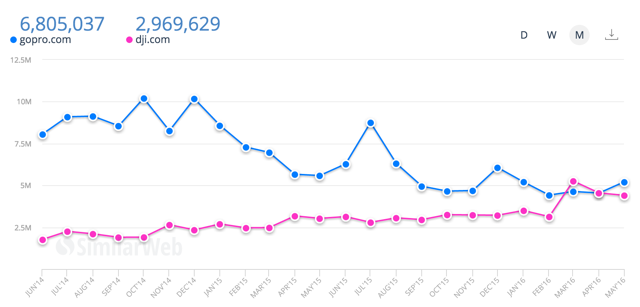 Source: SimilarWeb
Again, the situation looks bleak, with DJI currently in the midst of usurping GoPro. Now, what about with Google search interest, as a proxy for consumer mind share?
Google Search Volume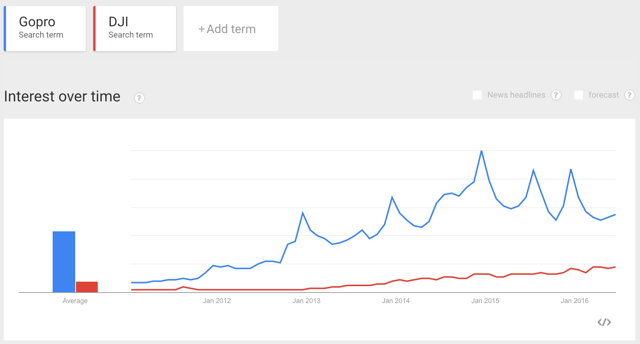 Source: Google Trends
Again, this trend of flattening consumer interest since January 2015 will be yet another worrisome leading indicator for GoPro CEO Nick Woodman.
The overall outlook for both GoPro's existing hardware and future software offering is bleak, with weak app engagement, declining web traffic, poorly reviewed desktop software and a strengthening competitor in the form of DJI. DJI's sales were expected to double to $1bn in 2015, already putting it within reaching distance of GoPro.
While the long-awaited release of the secretive GoPro Karma drone powered by the formidable GoPro marketing machine is likely to provide some short-term support for the stock, the longer-term potential of the company's transformation to become a recurring revenue software play certainly looks far fetched according to the Internet trends we are currently observing.
Disclosure: I am/we are long GPRO.
I wrote this article myself, and it expresses my own opinions. I am not receiving compensation for it (other than from Seeking Alpha). I have no business relationship with any company whose stock is mentioned in this article.
Additional disclosure: Author is currently tactically long GPRO on stock weakness, but intends to take a longer-term short position within the next 30 days