Something very interesting happened on June 20 that the energy markets conveniently ignored. It was reported that Russian President Vladimir Putin is looking to sell a 19.5% stake in Russia's state-owned Rosneft (OTCPK:RNFTF) to China and India. Last month, I reported that Russia was considering China for the Rosneft deal; now, with India in the picture too, the sale is slowly becoming a crucial and strategic geopolitical move for Russia. It is interesting to note that Rosneft's shares surged by almost 5% last week in London, which increased its market capitalization to $55.4 billion.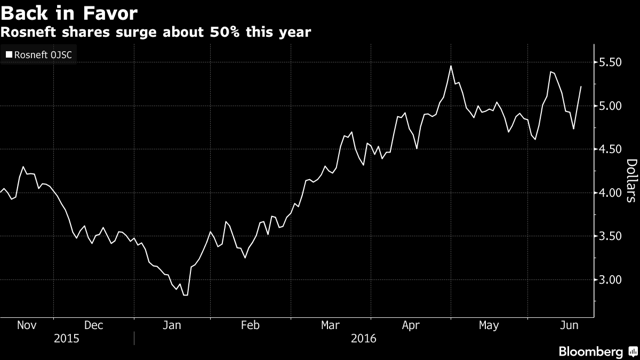 A Strategic Geopolitical Move by Russia
With a fiscal breakeven oil price of almost $100 per barrel, Russia is finding it difficult to come out of its budget deficit at current oil prices. In fact, as per a survey conducted by Russia's Economic Ministry, the country's budget won't be balanced until at least 2020. However, it must be noted that Russia's Economic Ministry has made its budget predictions based on the assumption that oil prices will remain in the range of $40 a barrel. I find this assumption too conservative and believe oil prices (USO, OIL) will move higher. With the reelection process due in less than two years, President Putin is struggling to meet his spending commitments.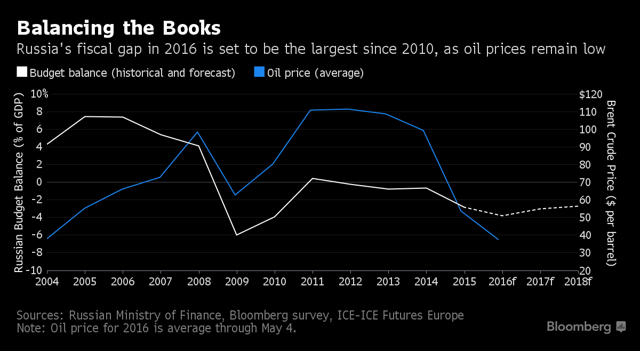 Why is India Now in Picture?
I had previously explained that Russia is trying to hedge its bets on India. Although Russia's oil trade with India is very small when compared with China, things are slowly and steadily changing. Rosneft is already in the process of acquiring a 49% percent stake in India's second-biggest private-sector oil refinery, Essar Oil Limited. Last month, India's state owned Oil and Natural Gas Corporation Limited ("ONGC") increased its stakes in Rosneft's Vankor oilfield from 15% to 26% for around $1 billion while another Indian consortium (consisting of Indian Oil Bharat Petro Resources, and Oil India Limited) bought a 23.9% stake worth $2 billion in Vankor oilfield.
The International Energy Agency has already stated that India may very well replace China as the main growth market for crude oil in the coming years. With an expected oil consumption rate of around 4.2 million barrels a day in 2016, India has already overtaken Japan to become the third largest global importer of crude oil. It is quite evident that Russia now wants to increase its strategic presence in India and take advantage of India's growing energy requirements.
China-Russia Oil Deals are Already Increasing at a Rapid Pace
As Russia is increasing its oil deals with India, it is simultaneously strengthening its relationship with China. Russia has already captured the Chinese oil market from Saudi Arabia by becoming China's largest oil supplier for the third consecutive month in May. Russia exported a record 1.24 million barrels of crude oil to China this May, an increase of around 33.7% year on year. It needs to be noted that Russia (1.06 mb/day) also just surpassed Saudi Arabia (1.05 mb/day) to become China's top oil importer for the first five months of 2016.
China's teapot refineries, which are driving China's oil import demand (by 1mb/day) this year, are preferring Russia's EPSO grade, as it is available in small cargo sizes and is geographically nearer to China when compared to Saudi Arabia's higher-sulfur grades. As many of these teapot refineries have acquired an import license for purchasing crude oil from abroad, Russia's oil exports to China may increase further in the coming time. And if Russia is successful in selling a part of Rosneft to China, this strategic move will further strengthen the relationship between the two nations that will go beyond the US dollar.
Takeaway
The biggest significance of the potential Rosneft deal is that it will bring India and China together as partners, which, of course, is very rare. Although it is not clear as to how the 19.5% stake will be divided between India and China, it seems each country may take an equal stake around 9.75% as a balancing measure.
As India is trying desperately to enter the elite Nuclear Suppliers Group (NSG) and as China is allegedly blocking this deal, Indian Prime Minister Narendra Modi and China's Xi Jinping met each other in Tashkent this week. Although it is not known whether the two leaders discussed the current Rosneft deal during this meeting, both India and China have already expressed their interest in grabbing a stake in Rosneft. Last week, India's Oil Minister Dharmendra Pradhan even said that India and China were not rivals and pointed out that India's ONGC and China's CNPC had already done joint projects in past.
It is clear, though, that if this energy deal between Russia, India, and China goes through, Russia would be its biggest beneficiary. Apart from having easy access to two huge oil markets - those that are expected to drive global oil demand for the future - Russia will try to cover its budget deficits and offset the effects of Western sanctions imposed after the Ukraine crisis. This energy deal will have a direct effect on Russia's future oil production, and will also affect global oil prices in the coming months and years.
Disclosure: I/we have no positions in any stocks mentioned, and no plans to initiate any positions within the next 72 hours.
I wrote this article myself, and it expresses my own opinions. I am not receiving compensation for it (other than from Seeking Alpha). I have no business relationship with any company whose stock is mentioned in this article.
Editor's Note: This article discusses one or more securities that do not trade on a major U.S. exchange. Please be aware of the risks associated with these stocks.