Market Profile
Although the energy sector has been heavily hit with the most recent decline in oil prices, Exxon Mobil (NYSE:XOM) has enjoyed above average returns in a relatively neutral industry. Exxon Mobil holds one of the largest portfolios of proved reserves in North America and is the largest producer in Europe. Exxon Mobil has made a strong commitment to minimizing the environmental cost and impact of its global operations. In 2015, the total expenditure on worldwide environmental preservation and investment was $5.6 billion. Meanwhile, Exxon Mobil has not been able to participate in the new Iranian market after this re-emergence after the lifting of the embargo. This has allowed Shell (NYSE:RDS.A) the opportunity to capture the entire market.
Thesis Overview
Exxon Mobil offers exposure to the Oil & Gas sector of Energy with minimum downside risk when compared to its peers. The company has recorded 33 years of continual dividend increases. Even during the global economic crisis of 2008, Exxon continue to increase its dividend. In addition to this, the company's commitment to long-term value creation and strong business fundamentals makes Exxon Mobil a robust long-term investment. With excellent FCF/dividend coverage ratios and low financial leverage, Exxon Mobil is positioned well in this struggling energy environment. In addition, the future global energy demand is increasing as more and more nations develop and Exxon Mobil has the capacity and ability to provide energy to these new emerging markets. Below is the four year stock graph.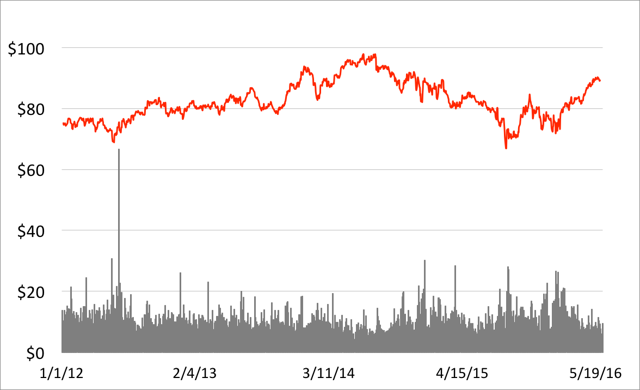 Investment Thesis
As a company, Exxon Mobil has many strong characteristics that set it apart from other firms that are positives for investors. Exxon's strong FCF/dividend coverage ratio and low financial leverage aid in the company's ability to perform even in economic recessions; making it a strong defensive investment. Exxon's business strategy of organic growth coupled with key acquisitions over the next several years will allow the massive firm to continue to grow. For these reason, I expect to see Exxon break its current 52-week high by the end of 2016, if the energy sector stabilizes as current growth rates, and a price target of $103.
Long-term Outlook Part of Exxon Mobil's long term business strategy is dependent on future growth in demand for energy as populations increase and developing nations continue economic growth. The company believes that with projected population growth to reach around 9 billion by 2040. This massive population growth when forecasted with an expected energy efficiency growth rate, means that demand for energy will grow by 25% by 2040. For this reason, Exxon Mobil is focused on creating technologies that will enable energy-efficient and low emission fuels to supply that demand while minimizing the environmental impact per economic unit of output.
The company also breaks down this future increase in demand in order to show the effects on its major operating segments. According to the annual report, Exxon Mobil expects a rise in transportation energy demand by 30%, with 60% of this increased transportation demand estimated to come from liquid fuels demand. For Exxon Mobil, the threat of any large transportation fleets switching away from liquid fuels is very low as alternative energies are not able to compete with the efficiency and power generated through liquid fuels. The largest growth is expected to come from the demand for electricity with a 65% increase from 2014 to 2040.
End of 2016 Forecast For the end of 2016, I have set some forecasts based on Exxon's target 2018 FCF yield of ~5.0%, implying a 3.3% dividend. Both these reflect, Exxon's strong balance sheet and free cash flow levels. In the long term, adjusted for dividends, Exxon is expected to return roughly 12% (over the average 8% expected). For the upside risk of 2016 and beyond, I expect the rebound of oil prices and of natural gas. The continued margin improvement and favorable and successful acquisitions add to this. In addition, I expect a global crude production reversal as upstream operations are negatively affected by the low prices of crude. For 1Q of 2016, Exxon beat consensus estimates for EPS and the company continued to show positive FCF even though it experiences headwinds from working capital.
Strong Downside Protection As Exxon Mobil is both an upstream and downstream operation, each segment offsets the losses of the other should the prices of oil swing dramatically as they have done in the current environment. With Exxon Mobil, we see a strong balance sheet, with upstream operation assets and downstream operation investment that will benefit Exxon Mobil in the long run due to the heavy capital expenditure in complex refineries. Chemical operating earnings were driven by continued strengthening commodity margins as well as better mix and volumes. Throughout this drop in crude oil prices, demand for gasoline remained strong while the margins for refineries saw a decline. Moody's held Exxon's rating at AAA which shows the confidences in financial flexibility. The rating also reflected Exxon Mobil's consistently strong FCFs. The firm's rating was downgraded by S&P, however, though this will not impact Exxon's ability to raise capital. After this downgrade, Exxon raised $12 billion in debt, across staggered maturities, which was equal to last year's dividends for shareholders.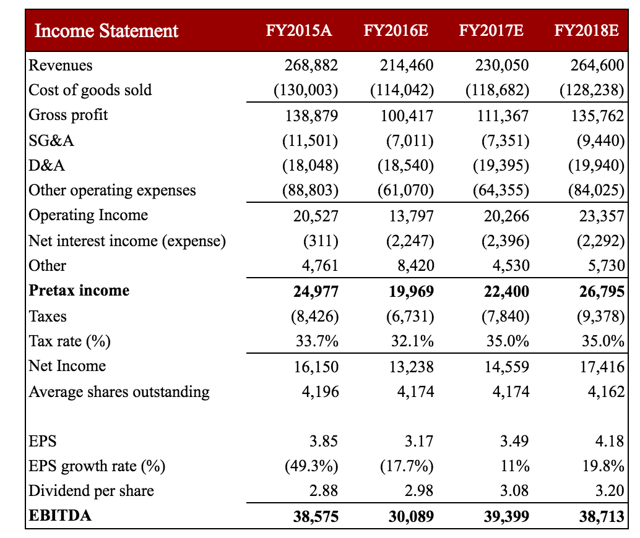 Projected Financial Statements From the table above, we can see the projected annual income statements for Exxon Mobil. The decline in 2016 is primarily due to the continued low price of crude oil impacted the first fiscal quarter for Exxon and will be reflected in the second quarterly report as well. For the first quarter, the production of 4.3 million barrels a day was in-line with consensus analyst estimates. As expected, the downstream earnings and revenues were able to offset some of the losses in upstream operations. For its upstream operations on a per barrel basis, Exxon saw smaller losses than its chief rival, Chevron (NYSE:CVX). For 1Q, Exxon spent $5.1 billion on capex which at an annualized rate would yield a capex of ~$20.5B. This falls below the company guidance of $23.2B. Consensus estimates place the FY16E capex at ~$22.5B should oil prices average at or above $45/bbl for the year.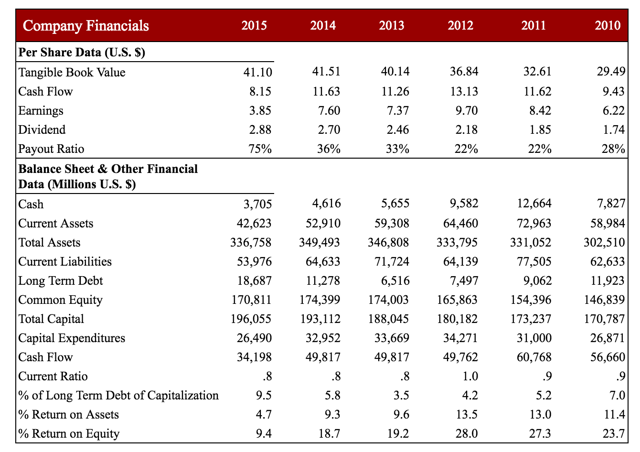 Financial Trends and Outlook In 2015, Exxon Mobil returned nearly $15.1billion to shareholders in the form of share repurchases as well as quarterly dividends. This trend is expected to continue into 2016 as the company continues to raise its dividend. Though Exxon has announced a ramp down of its share repurchasing program, as there is some pressure on the company's cash from operations in the current market. For the cash flows for 2016, the cash flows are expected to increases as project spending decreases. In addition, we expect some M&A for the upstream operating segment as less liquid and struggling E&P companies are acquired by Exxon.
The firm has also invested in expanding its Natural Gas production. The most notable long-term project is the 20% interest that Exxon bought in Eni Mozambique. Estimates show that Eni owns roughly 50% of Mozambique discovery, which is equivalent to an estimated 85 trillion cubic feet of natural gas. However, as the project has a completion date of early 2020, this $4.2 billion acquisition will not aid Exxon's near-term reserves. This marks the most recent activity of Exxon Mobil to move into Natural Gas, since the 2009 acquisition of XTO. This entrance into natural gas has exposed Exxon to the common volatility of natural gas prices. However, this seems to be an acceptable consequences as the projected global usage of coal is decreasing year over year due to stronger environmental regulations. With the main direct coal-substitute being natural gas, Exxon Mobil is confident that the expansion into natural gas will result in strong future growth as this trending decrease in coal continues.
Comparable Analysis For Exxon Mobil's comparable analysis, I used several direct competitors as well as other integrated oil companies. Looking at the market cap, we can see that Exxon Mobil is significantly larger than its comparables and competitors. Therefore, its business segments each have revenue streams and diversity be less subject to large volatility compared to other firms. Looking at the EV/EBITDA metric, we observe that Exxon Mobil is in line with its peers, excluding BP. This trend continues for all metrics with the exception of the dividend yield. In addition to strong EPS, Exxon has the lowest D/E ratio of its comparables, which again shows the firm's financial flexibility. Using the EV/EBITDA average of 16.10x, I calculated the implied price per share of $96.96, which gives us a rudimentary valuation for where Exxon should be trading.

Investment Risks The primary business operations of Exxon Mobil are dependent on commodity prices, specifically of oil, gas and petrochemicals. This means that changes in the prices of these commodities can affect the company's operations and revenues. A significant decline in the prices could affect the upstream segment's operations. However a large increase in the price of these commodities could adversely impact the downstream segments including the chemical segment. The company also notes that the demand for energy and petrochemicals is correlated directly with global economic growth rates. Therefore, periods of recessions, civil unrest, government austerity programs, or changes in exchange rates can impact the demand for petrochemicals and energy. Exxon Mobil also faces other international risks as it operates in nearly every nation. Sovereign debt defaults or downgrades, debt restructuring or distressed fiscal, monetary, or political systems pose risks to Exxon Mobil's operations and its partners.
Other risks to Exxon Mobil are increases or changes in government or political regulatory developments. These regulations can affect Exxon Mobil in several ways: limitations of access, restrictions on activity, climate change restrictions, litigation risks, and sponsorship of alternative energies. Several country place foreign limits on access to their oil and gas resources. This limits the potential development and expansion. These restrictions on foreign investment increase in times of high commodity prices. As subject to US laws and sanctions, the company is limited in doing business with certain nations which places Exxon Mobil at a disadvantage to other companies without such restrictions or sanctions. One of the final risks to Exxon Mobil is its exposure to international and national laws and regulations involving taxes, price control, environmental regulation, alternative energy mandates or contract cancellations. Many of these risk involve the regulation of greenhouse gases. A number of countries have adopted regulatory systems to reduce greenhouse gas emissions. This regulations make production more expensive and could result in increased compliance costs.
Recommendation Using the valuation methods above as well as an analysis of the risks involved with future operations, I think Exxon Mobil has a strong outlook. The company's superior financial positions and continued positive FCF in a down energy environment show its ability to thrive in economically strained situations. I believe that Exxon will continue to perform in the long run due its adaptability and high capital expenditure and acquisition/organic growth models. This price target is valid through 2018 and should be updated with changes in the E&P and O&G operating environments.
Disclosure: I am/we are long XOM.
I wrote this article myself, and it expresses my own opinions. I am not receiving compensation for it (other than from Seeking Alpha). I have no business relationship with any company whose stock is mentioned in this article.
Additional disclosure: I am not a registered investment advisor or broker/dealer. Readers should conduct their own research and due diligence and obtain professional advice before making investment decisions. I will not be liable for any loss or damage caused by information obtained herein. Readers are solely responsible for their own investment decisions.