By Parke Shall
We hate to be the bearers of bad news, but an unfortunate reality is upon us. It's only going to get worse from here.
Well, we have gotten ourselves into a conundrum of enormous sorts. By now, we are sure that you know the news about the UK leaving the European Union, which sent global markets into a vicious tailspin. United States equity futures look to open our markets lower by between 2.5% and 3.5%. The Dow looks like it is ready to shed about 560 points and the S&P looks like it is about ready to shed 100 points on the open this morning.
There are going to be numerous articles out discussing the financial implications of the UK leaving the European Union, but we wanted to have a quick discussion of how this move plays into our already firmly held bearish view on equities. It is single-handedly one of the most destabilizing occurrences that have taken place since the 2008 financial crisis. The FTSE overseas was the lead indicator for sentiment overnight and here is how it wound up for the evening,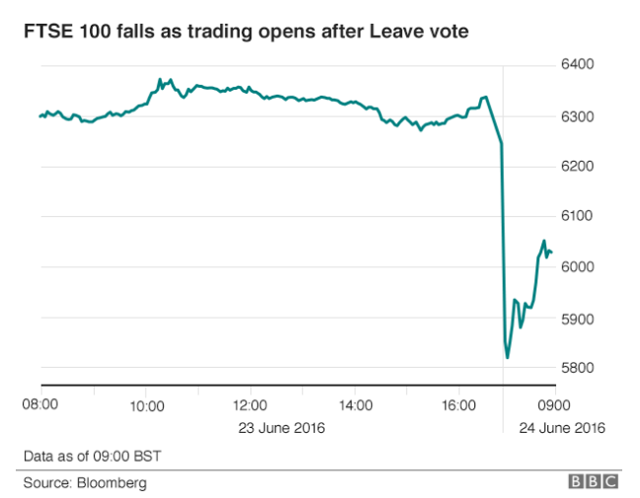 The pound was similarly hit hard, pushing to levels not seen since 1985,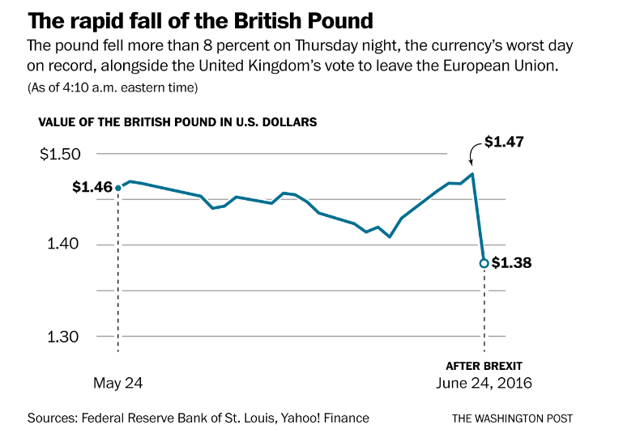 Anybody that tells you they are "buying this dip" for a quick rebound does not understand the difference between a slight dip caused by minor volatility and a systemic shift of seismic proportions that is going to take at least 12 months to play out in full. This exit is going to have monstrous effects as the weeks continue, and there is no way that the worst will be behind us today.
Fluctuations in currencies and commodities are going to be off the charts and are going to cause serious headaches for investors and businesses alike. No doubt, funds will have taken the other side of this bet and there are going to be redemptions as well as hedge fund closures. We are going to see FX firms on the wrong side of the trade come out and seek assistance, similar to the way we did when the Swiss unpegged the Franc.
Moving forward from here, the question becomes whether or not it is a good time to try and step in and buy here today. We do not think this is the case. We have been writing for six months that we believe the market is going to be pushed into a 10% to 15% correction. Just days ago, we noted that there was a real risk of the UK leaving the European Union, and we stated in that article,
We also have the upcoming vote on June 23 as to whether or not Britain wants to exit the European Union. Latest polls show that this is a distinct possibility and a move like this would likely destabilize Europe and send shockwaves throughout the global economy. It is already sending some shockwaves now that poll results are concluding that Britain may very well leave the EU.
The implications from this exit are going to be far reaching, and we are going to continue our strategy of staying at 40% short at the current time. We will look to potentially add very small pieces of core positions on the way down, but we are not convinced that today is going to give us the lowest prices that we are going to see. We believe that patient investors with cash on The sidelines will be rewarded with exemplary buying opportunities over the course of the next 3 to 6 months, as we continue to expect at least a 10% to 15% correction in all US indices.
Further, as we predicted, the Fed has exacerbated things by putting themselves in a position where they have little to no leverage to make any monetary policy changes to counteract the effects of this volatility. Just days ago, we wrote that the Federal Reserve was going to get itself into a place where it has no more levers to pull and when catastrophe strikes, they are going to be helpless,
We have argued that this inaction may turn out to be gross negligence when we look at it years in the future. We believe that failing to raise rates when it was appropriate to do so is going to lead to a much larger bubble that the Federal Reserve is going to be wholly responsible for. We have often asked the question of what would happen when quantitative eating simply doesn't work and the public loses confidence in the entire game.
We have reached that point. Global markets have sold off significantly and will continue to sell off significantly. The Federal Reserve, while able to take a July rate hike off the table, has little to no leverage and definitely does not have the confidence of the American investor or consumer.
Those hoping for a quick chance to add to long portfolios and then put this event behind them do not have the proper perspective. It was argued on CNBC just days ago that this should not really be considered a big deal because it could take 6, 12, or 18 months to fully implement. We would argue the exact opposite. We believe that this event is going to continue to keep markets in a stranglehold for at least the next year and that there are going to be significant opportunities to buy equities much lower than their price today.
One important thing to note is that other countries are now likely to follow suit, leaving the EU. This is going to create further chaos and further decentralization for these countries in the years ahead. Already, cells in countries like Ireland are rising up and making an argument that "if the UK can do it, so can we."
This is the first big systemic shock to the market since 2008 and it is time we started treating it like it. We can continue to try and create reality distortion fields and tell ourselves that the Fed has everything under control and that everything will be fine going forward from here, but we just do not see that as reality.
Disclosure: I/we have no positions in any stocks mentioned, and no plans to initiate any positions within the next 72 hours.
I wrote this article myself, and it expresses my own opinions. I am not receiving compensation for it (other than from Seeking Alpha). I have no business relationship with any company whose stock is mentioned in this article.