Over the past few weeks, a lot has changed in the Fort McMurray area where a wildfire has caused massive oil shortages and devastated the local economy in Alberta, Canada. In the past, here and here, I wrote about the wildfire in some details but now that some time has passed, we have a better understanding of what kind of impact it should have on the oil market and what it should mean not only for Civeo Corp. (NYSE:CVEO), but also for companies like Memorial Production Partners (NASDAQ:MEMP), Approach Resources (NASDAQ:AREX), and Legacy Reserves (NASDAQ:LGCY), as well as for those in the United States Oil ETF (NYSEARCA:USO) and other oil-related ETFs.
The fire is now "being held"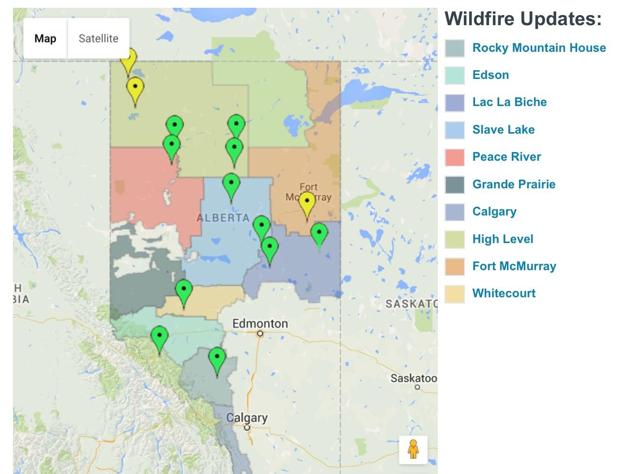 For some time, the Fort McMurray fire was considered "out of control" by the Canadian government but thanks to the amazing efforts of firefighters, other personnel, and improved weather conditions, this status was updated over a week ago. Now, the fire is "being held" according to the government, as you can see in the image above. In the image below, you can see that this means that they no longer believe it should spread and you can also see two other designations that can be used to describe wildfires.

Despite this great news, even on June 20th (the day this article is being written) the fire measures 589,617 hectares in size. This equates to about 1.46 million acres, nearly 5 times larger than New York City and is actualy larger than the 566,188 hectares (or 1.40 million acres) the fire stood at the last time I wrote about the topic. What this means is that there's still plenty of work to do to get the fire put out and it is still possible (though unlikely) that it could go out of control again if weather conditions were to worsen.
What this means for oil
In my last article on the topic, I pointed out that companies are now allowed to go back to certain areas that were affected and begin pumping the oil sands again. This may give investors in the oil market some worry regarding a continuation of the oil glut but this isn't something that players in this space should worry about in my opinion. The reason for this is that oil production is still low and it will take some time before it hits prior levels.
In its latest discussion on the issue, the EIA (Energy Information Administration) stated that outages last month averaged 800 thousand barrels of crude per day, with total outages at one point hitting a high of 1.1 million barrels per day. Over a 31 day timeframe, the average outages from Canada alone should have totaled 24.8 million barrels of crude. What's more is the fact that if the EIA is correct in its assumptions regarding the timeline in which production will come back online, June will still be negatively impacted by about 400 thousand barrels per day, or 12 million barrels.
This shortfall should be due, largely, to the fact that logistically it's difficult to get all of the projects back up and running, as can be illustrated in the image below, which shows the proximity of oil sands projects to locations affected by the wildfire. Some facilities have also been damaged and another big contributor to the problem has been the fact that diluent, which helps to reduce the viscosity of the oil so that it can be transported through pipelines and which itself must be transported by pipeline, has been stalled to some degree.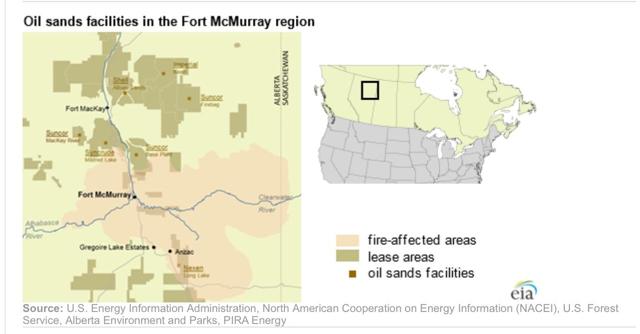 What about imports?
Some investors have been of the mindset that if the supply outages in Canada were so large, then we should see a similar decline in imports into the U.S. from our northern neighbors. While this would certainly be true (subject to a delay for contracts that must be fulfilled) in a market without excess supplies, Canada also has inventories in storage. The EIA stated in their release on the topic that imports into the U.S. have dropped as a result but not to the extent of the overall decline in production because of this.
To see what impact this has had, I looked into the weekly import numbers from Canada and compared them to what we saw in terms of imports compared to earlier this year. As you can see in the table below, which looks at import numbers for the first week of each month, we began this year with 3.18 million barrels per day in net imports from Canada, a number that jumped to nearly 3.45 million barrels per day in February. However, since then, the amount of imports have dropped and bottomed out in March at 2.95 million barrels per day and have since ticked up in June to 3.06 million barrels per day. I was tempted to include year-over-year imports (which show a similar trend last year as they do this year) but given the fact that oil imports to the U.S. from Canada have been rising every year since at least 2010, I figured this would be statistical noise.

Takeaway
As of this moment, it seems things are looking up for the residents of Fort McMurray compared to how they looked earlier this year and it's only a matter of time (most likely) before the fire is put out. At some point in time, oil output will come back online from Canada but the nice reprieve that we've had, combined with the delay in capacity coming back online en masse suggests that the oil market is still going to benefit from the catastrophe for the foreseeable future.
Disclosure: I am/we are long AREX, MEMP, CVEO, LGCY.
I wrote this article myself, and it expresses my own opinions. I am not receiving compensation for it (other than from Seeking Alpha). I have no business relationship with any company whose stock is mentioned in this article.
Additional disclosure: My LGCY position is in the form of preferred units, not common ones.