We never understood why the market is so interested in weekly fluctuations in U.S. oil (NYSEARCA:USO) inventory levels. How does what happens in one week provide any indication of what is really going on with supply and demand in the oil market?
Seriously, think about it.
Each VLCC (Very Large Crude Carrier) carries two million barrels of oil. One extra VLCC unloading its cargo from one week to the next can make a 2 million barrel difference in how American oil inventory moves.
We have all seen how wildly the price of oil can react to an unexpected 2 million barrel swing in inventories.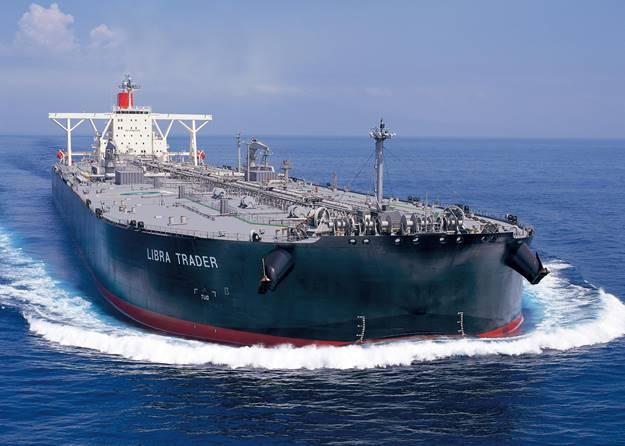 Source: Motorships.com
When traders are making decisions off of one week of oil inventory data they are really trading on the timing of VLCCs unloading. They aren't actually trading off of global supply and demand numbers.
That isn't to say those weekly numbers are useless. But we think you need to consider how they are moving over several weeks so that you eliminate the lumpiness caused by the timing of these big ships unloading.
We will however admit that in recent weeks the lack of decline in U.S. oil inventories has surprised us.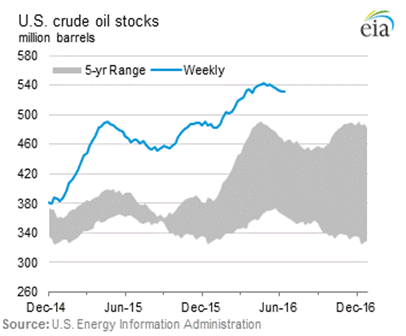 Source: EIA
We expected to be seeing more bullish draws than we have. Our expectation was based on the very significant amount of production outages that we have had globally in 2016
There Have Been Production Outages In The Millions Of Barrels
In past years the rebel attacks on oil infrastructure in Nigeria might have been enough on its own to send oil prices soaring. The last good piece of data that we received showed that Nigerian oil production was down by 800,000 barrels per day.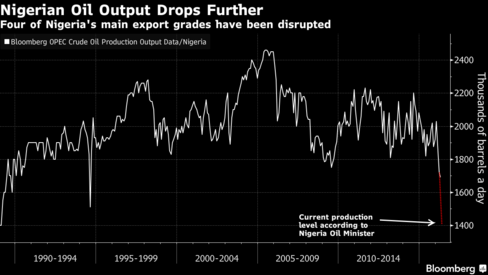 Source: Bloomberg
That is a big number and has potential to get bigger as the lack of oil revenue in the country continues create havoc.
Nigeria isn't alone, Venezuela is in chaos.
Production is already down by 300,000 barrels per day and there is potential for more losses to come as the country struggles to provide itself with electric power and widespread civil unrest.
The wildfires near Fort McMurray knocked more than a million barrels of production per day off line for up to a month. That should have taken 30 million barrels away that was expected to go into storage. The Fort McMurray outage is limited in duration, but it was big in the number of barrels it took out of production.
Those three items alone total more than 2 million barrels per day of unexpected outages. A month of that is 60 million barrels of difference for oil inventory levels.
On top of that you can throw in U.S. production which is now shrinking at a rate of more than 100,000 barrels per day each month.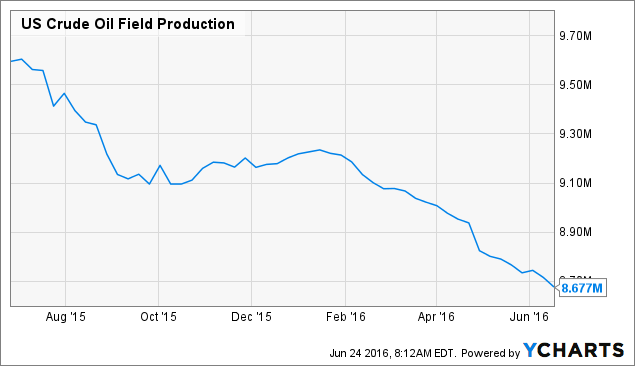 US Crude Oil Field Production data by YCharts
So why aren't inventory levels reflecting all of this bullish action? Perhaps it is because we are looking in the wrong place.
Saudi Oil Inventories Have The Biggest Six Month Fall On Record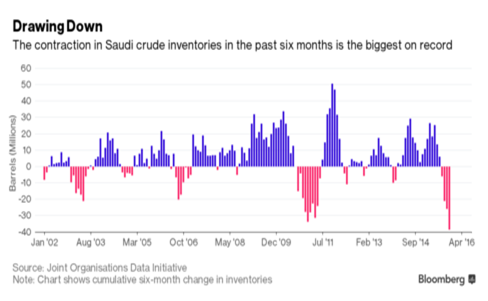 Source: Bloomberg
Now there is a bullish looking oil inventory chart!
Bloomberg reports that this six month decline in oil inventories in Saudi Arabia is the longest stretch on record since such numbers have been tracked by the Joint Organizations Data Initiative which commenced 15 years ago.
In total that is a decline of nearly 40 million barrels of oil.
If that decline had taken place in the U.S. inventory levels instead of in Saudi Arabia where nobody really watches we suspect the attitude towards oil would be much more bullish.
There is another inventory draw that has been taking place off the radar. This one would be in the amount of oil that Iran has parked in floating storage offshore in the Persian Gulf.
The sanctions that had been in place against Iran had pushed that floating inventory number up from 10 million barrels in 2012 to 70 million barrels in the middle of last year (see chart below). Much of that excess storage has likely come down in recent months and has influenced U.S. inventory levels.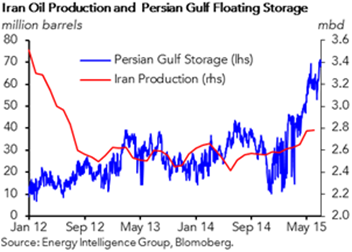 Source: Energy Intelligence
Our opinion is that since oil is truly a global market inventory draws need to be watched at a global level. The Saudi inventory decline will actually accelerate in the coming months due to domestic oil demand for electricity during the hot summer (barring a production level increase or export decrease).
We believe the oil market continues to tighten and good things are in store for oil prices over the medium term. Between the Saudi drawdown and Iranian floating storage reduction there may have been 60 to 80 million barrels of oil inventory reduction that few people are aware of.
About The Superinvestor Bulletin
If all of this Brexit news has you looking for a way to play a rising gold price we have a company that you might like to learn about. One of the Superinvestors we follow has 11% of his portfolio invested in this little company and we just released a 20 page report on it for our premium subscribers. If you would like to join our subscribers and get a look at this company, just follow this link.
If you would like to get more of our free content, make sure to click the follow option at the top of the article.
Thanks for reading. Good luck with your investing.

Disclosure: I/we have no positions in any stocks mentioned, and no plans to initiate any positions within the next 72 hours.
I wrote this article myself, and it expresses my own opinions. I am not receiving compensation for it (other than from Seeking Alpha). I have no business relationship with any company whose stock is mentioned in this article.