Given the impact the monetary policy of the Federal Reserve has had on stock markets in the post-crisis era, there were some notable comments about the equity market in Tuesday's semi-annual Monetary Policy Report from the Fed.
While the Fed's chief responsibilities are its dual mandate of fostering full employment and low and stable inflation, the Federal Reserve has an important secondary role of maintaining financial stability in its role as chief regulator of the banking system. In the section on Developments Related to Financial Stability in the report, the Fed made some specific mentions of equity valuation levels.
The Fed noted in this section that "forward price-to-earnings ratios for equities have increased to a level well above their median of the past three decades." The Fed continued that "although equity valuations do not appear to be rich relative to Treasury yields, equity prices are vulnerable to rises in term premiums to more normal levels, especially if a reversion was not motivated by positive news about economic growth."
For Seeking Alpha readers, I wanted to present these two data points - the current forward P/E ratio versus its historic average and the valuation of equities relative to Treasury yields - and offer some additional insights that might help frame the Fed's view on equity markets.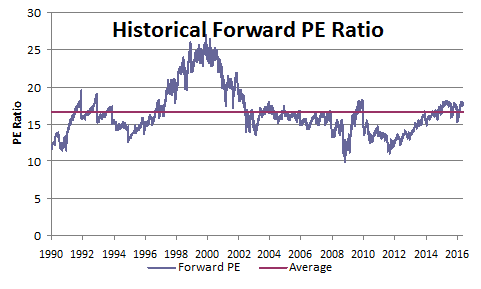 Source: Bloomberg and Standard and Poor's
It is obviously a little tricky to get a historical forward P/E ratio, and any forward estimates could differ due to the subjectivity and accuracy of forward predictions. The data graphed above is the Bloomberg forward earnings estimate for the S&P 500 (NYSEARCA:SPY), dating back to the earliest point in that dataset. The historic average forward P/E ratio is 16.56, which is consistent with other studies of longer-run historic multiples I have conducted. At 17.75x the current estimate of forward earnings, the market looks to be about 7% overvalued relative to its long-run average. The market does not appear to be well above its long-run median multiple as indicated by the Fed, and is well below the stretched valuations of the late 1990s tech bubble.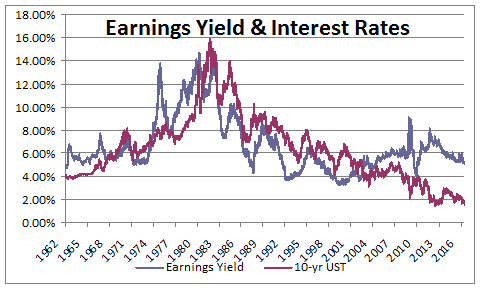 Source: Bloomberg, Standard and Poor's, US Treasury
As the Fed indicated in its comparison of equity valuations to the interest rate environment, this comparative valuation is more appropriately viewed in a historical context and in relation to rates. In the graph above, I have tracked the market P/E ratio based on trailing earnings relative to the prevailing 10-yr Treasury yield at the time, a much longer dataset.
While forward P/E ratios are modestly elevated relative to historic levels, this current valuation has to be put in context of historically low Treasury yields. Since the value of a stock today is its future earnings or shareholder dividends discounted back to the present, then price-to-earnings ratios should be in part a function of changes in the discount rate. The very strong correlation between earnings yields and Treasury yields is readily apparent in the graph above.
It is no wonder that a theory of equity valuation that compares a stock's earnings yield (the reciprocal of a P/E ratio) to the yield on long-term government bonds has been dubbed the Fed Model. As the Fed indicated, by this measure stocks do not look especially rich. The current differential between the earnings yield of the S&P 500 (5.18%) and the ten-year Treasury (1.74%) is 344bp, which is far in excess of the historic premium of just 28bps.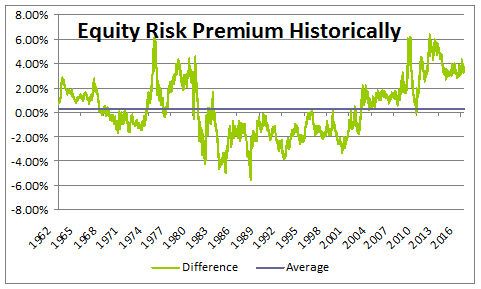 Takeaways
We now have pictorially the two most salient data points that the Federal Reserve used in its recent assessment of U.S. equity valuations, but what do they mean? Seeking Alpha readers need to assess whether the equity market should command a premium above its long-term average multiple at a relatively mature point in the business cycle. Investors also need to ask themselves whether they are being compensated through the equity risk premium for the riskiness of the stock market.
The equity risk premium (earnings yield - "risk-free" rate) is elevated, but that does not necessarily mean that stocks are cheap - bonds could just be extraordinarily rich. The Fed is alluding to the impact that higher rates would have on this seeming premium if rates were to normalize. With extraordinary monetary accommodation still in place around the world and historically low global sovereign yields, bonds are pricing in a very low economic growth environment fraught with macroeconomic uncertainties. A linear extrapolation of equity multiples and interest rates would likely point to much higher equity valuations, but the low growth environment has likely, and I believe justifiably, walked back markets from potentially more elevated levels.
How will the era of extraordinary monetary policy end? What are the implications of the recently announced Brexit on the fabric of the European experiment and the spillover effects on global growth? Will China successfully navigate the transition from a capital-intensive, export-driven economy to one more focused on domestic consumption? How will the rapidly aging population in the developed world influence economic growth and financial markets? These are all unprecedented questions that will need to be factored into your assessment of the market risk premium.
I will continue to be long the domestic equity risk premium as a function of my long-term investment plan, but obviously investors have different objectives and investment horizons and may elect to take a different position. There is a chance that we are going to see an elongated business cycle given the very deep contraction that proceeded this expansion, the slow pace of recovery, and the extraordinary monetary measures taken to support a lackluster economy. While I expect returns to continue to be subnormal relative to historic returns, exiting the market with limited alternatives in the fixed income universe is inconsistent with my long-term horizon. With that said, I have still tilted a portion of investments to funds focused on lower volatility funds.
We have an updated view on equity market valuations from the Fed. Please share your own thoughts on relative valuation in the comments section.
Disclaimer:
My articles may contain statements and projections that are forward-looking in nature, and therefore inherently subject to numerous risks, uncertainties and assumptions. While my articles focus on generating long-term, risk-adjusted returns, investment decisions necessarily involve the risk of loss of principal. Individual investor circumstances vary significantly, and educational information gleaned from my articles should be applied to your own unique investment situation, objectives, risk tolerance and investment horizon.
Disclosure: I am/we are long SPY.
I wrote this article myself, and it expresses my own opinions. I am not receiving compensation for it (other than from Seeking Alpha). I have no business relationship with any company whose stock is mentioned in this article.