Philadelphia City Council Committee last week approved a tax of 1.5 cents per ounce on the sugary drinks. In an article, I mentioned some points which help explain why Philadelphia soda tax is not a big deal for PepsiCo (NYSE:PEP). Coca-Cola (NYSE:KO), however, is more vulnerable to soda taxes because it derives 73% of total volumes from sparkling beverages while North America accounts for 47% of total revenue.
The idea of the soda tax is heating up in the U.S., which is evident from the fact that several cities and municipalities have tried 43 other soda taxes between 2008 and 2016. The previous efforts failed due to resistance from the beverage industry, but the success of Philadelphia soda tax could trigger a set of aggressive efforts backed by the former New York City mayor, Michael Bloomberg. Now San Francisco also going after soda tax explains a lot.
The U.S. soda market has already collapsed due to a dramatic drop in per capita consumption since 2000, and the new stream of soda taxes will make the situation worse for Coca-Cola due to the potential price increase.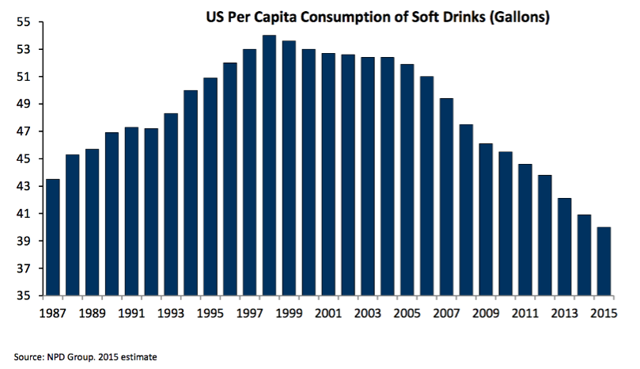 Source: Businessinsider, RBC & NPD Group
What's The Plan?
Coca-Cola holds 42% share of the U.S. and 48.6% share of the global soft drinks market. Thus, continuously dropping consumption is negatively impacting Coca-Cola's financial performance. The company's top-line has declined from $48 billion in 2012 to $44.3 billion in 2015 and is set to drop for another 5% to 6% during 2016.
To turn the things around, Coca-Cola is in the process of a major organizational change. Streamlining and simplifying the business model by accelerating refranchising efforts would boost the profitability and cash flows. However, one brand marketing, focus on pricing discipline, and investments in long-term growth opportunities are critical for a successful turnaround.
Asia-Pacific And Broader Spectrum
According to Kantar Worldpanel, Coca-Cola remained the world's top FMCG brand for the fourth consecutive year in 2015. The global recognition of Coca-Cola is helping the company expand in markets with significant growth potential, such as Asia-Pacific markets. With the improving disposable income levels, the beverage industry is growing rapidly in Asia-Pacific region. The expectation is that Asia-Pacific will account for 47.2% of world's beverage consumption in 2021.
Coca-Cola is targeting a broader price spectrum to cover each income class in the emerging markets of Asia-Pacific. The company is expanding its affordable sparkling brands as well as premium ready-to-drink tea and coffee. The company is witnessing the impressive performance in India, Japan, and The Philippines. However, the economic slowdown in China and turmoil in Vietnam may hinder the growth pace.
According to World Bank, approximately 67% of the total Indian population lives in rural areas. Thus, Coca-Cola is focusing on affordability to develop a customer base, which would fuel growth in the long-run amid increasing urbanization and improving disposable income. In this regard, Coca-Cola's splash bar concept is rapidly growing in rural areas primarily due to its base price of 7 cents only. The strategy is quite successful, which is evident from the fact that per day sales volume has increased to 1.5 million cups of Coke, Thums Up, Fanta, and Sprite.
On the flip side, setting a separate distribution channel for its premium brands will benefit from growing demand for premium products. Coca-Cola's two billion-dollar brands, Fuze Tea, and Coke Zero are delivering impressive growth in India. Similarly, Coca-Cola is targeting India's premium dairy beverage market with its flavored milk brand, Vio. The flavored milk category is expected to grow at a CAGR of 20% by 2020. Local companies, such as Amul, Britannia, and Mother Dairy dominate the dairy beverage market. However, distribution expertise, brand recognition, and industry-wide growth potential would enable Coca-Cola's to capture market share.
A Long Bet
According to Euromonitor, the beverage market will continue its growth momentum in the future. However, Coca-Cola will witness market share erosion due to the further decline in soda consumption, particularly in North America and Western Europe. In tough market dynamics, Coca-Cola is trying to minimize the negative impact by increasing marketing efforts. The company is rolling out one brand strategy by introducing Coke as one singular iconic brand with different variants. While Coca-Cola is adjusting its approach to the sparkling category, the company is increasing its focus on non-carbonated beverages to boost the revenue contribution from still beverages, which is a long bet.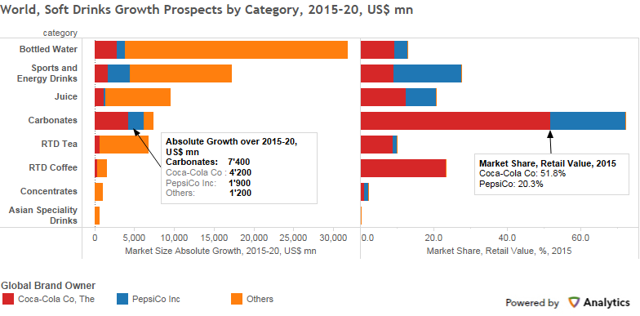 Source: Euromonitor
The consumers are spending more money on bottled water, ready-to-drink tea, coffee, energy, and organic drinks. Coca-Cola covers all these growing categories. Out of Coca-Cola's 20 billion-dollar brands, six are soda and bottled water brands, each, four juice brands while the remaining are ready-to-drink tea, coffee, and sports water.
Bottled water is next big thing. The consumption of bottled water has surged 120% over the past one and a half decade, and the momentum is likely to continue as consumers move away from carbonated water. Bottled water offers low-profit margin as compared to other beverages, but flavored and premium water can boost the margins to some extent. As bottled water market is expected to reach approximately $280 billion, Coca-Cola is increasing its efforts to capture more market share. In a similar effort, Coca-Cola has acquired a small stake in an organic aloe water company. With 64% growth in two years, the startup is growing rapidly. Its growth potential would increase significantly and quickly due to support from Coca-Cola's extensive distribution network.
Over the past one year, Coca-Cola has made four small investments in four different growth categories. The recent acquisition of AdeS would help Coca-Cola strengthen its position in the soy-based beverage market. Similarly, a couple of months ago Coca-Cola acquired plant-based protein drinks company in China, and a minority stake in Nigeria's leading value-added dairy company Chi Limited. The idea is simple, develop and buy growth brands, and expand them globally. The execution is very smart, but new brands will take the time to create meaningful value for the shareholders.

Source: Coca-Cola Presentation
Is Coca-Cola About To Get Expensive?
After the completion of ongoing refranchising, Coca-Cola is expecting a significant boost in profitability and cash flows. The company's long-term growth expectation of mid single-digit looks optimistic due the fact that Coca-Cola's revenues have declined each year since 2012. Although a stream of potential soda taxes could hurt the performance of Coca-Cola's core brands in the U.S., the long-term growth outlook of still beverages is very convincing.
Despite challenging market conditions, Coca-Cola has surged more than 12% and outperformed its rival. PepsiCo is trading at forward price to earnings of 20.3 times while its PEG ratio is 4.5 times. On the other hand, Coca-Cola is trading at forward price to earnings of 21.9 times and PEG ratio of 6.7 times, which indicates that Coca-Cola is suffering from mute growth. For the fiscal year 2016, Coca-Cola is projecting revenue drop of 5% to 6% and PBT drop of 4% to 5%, which will weigh on the stock price in the short-term due to escalating valuation. Thus, Coca-Cola looks like a fully valued stock at these valuation levels and offers a limited upside, at least for now.
Disclosure: I/we have no positions in any stocks mentioned, and no plans to initiate any positions within the next 72 hours.
I wrote this article myself, and it expresses my own opinions. I am not receiving compensation for it (other than from Seeking Alpha). I have no business relationship with any company whose stock is mentioned in this article.