In this article, I would try to explore the efficacy of Federal Reserve's decisions or the monetary policy on the American economy. Moreover, I would use the financial data together with the behavioral finance theory to explain the diminishing impact of monetary tools have on the economy. Thus, the pertinent question would be whether monetary tools have their intended effect on the overall behavior of the economy.

The above graph paints an interesting picture. The Federal Reserve's assets have been increasing, however, despite that, the M2 circulation is not inching up in tandem with the growth of the FED's assets. Further, it is also noteworthy to state that the loans and leases are also not jacking up, in spite of the policy of quantitative easing by the FED.
In my view, this is primarily because, after the financial crisis of 2008-2009, the consumers of United States have become more risk averse, thus, they started to deleverage their personal balance sheets and minimized their debt. This has resulted in a behavior where people do not borrow a huge amount of money despite having ample capacity coupled with lower markup rates.
The following graph depicts that after the financial crisis, American consumers have trimmed their financial liabilities and increased their financial assets, resulting in financial surplus as a percentage of GDP as against financial deficit in a pre-financial crisis era.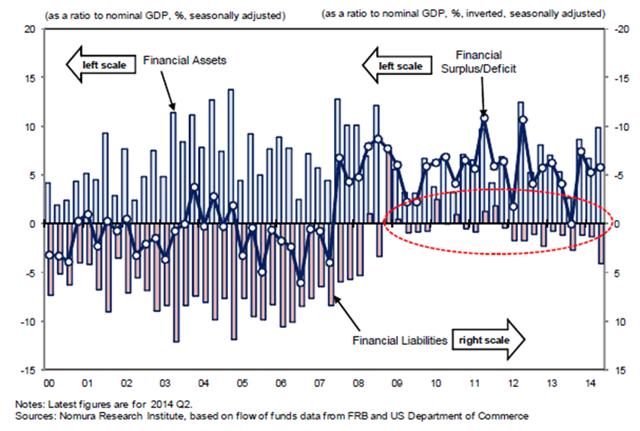 I believe, this is one of the main reasons the Fed is unable to increase its increase rates as the solid recovery in the economy has not yet taken place. Additionally, it is precisely because of this reason the financial markets are not factoring in the Fed rate hike as the implied Fed rate increase assumed by the financial markets of the U.S. is less than 20%.
Hence after considering the above case into account, I expect there won't be any increase in Fed rate in the upcoming Fed announcement.
Disclosure: I/we have no positions in any stocks mentioned, and no plans to initiate any positions within the next 72 hours.
I wrote this article myself, and it expresses my own opinions. I am not receiving compensation for it (other than from Seeking Alpha). I have no business relationship with any company whose stock is mentioned in this article.