Dialysis treatment will play an important role in the future. The demographic change and growing population as well as the increasing provision of health care in developing countries are seen as strong drivers for the industry. Today the market of dialysis solutions is mainly dominated by two companies, Fresenius Medical Care (NYSE:FMS) and DaVita HealthCare (NYSE:DVA).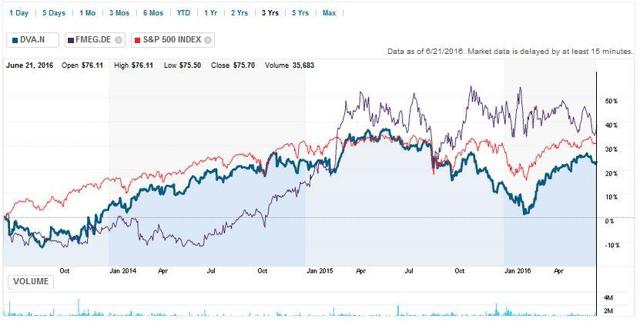 (Source: Reuters)
Both of them are, from my point of view, great companies. Nevertheless, there are a few significant differences. FMS is much larger than DVA in terms of patients. FMS treated 265,000 patients in 2015; almost 60% more than DVS's 166,000.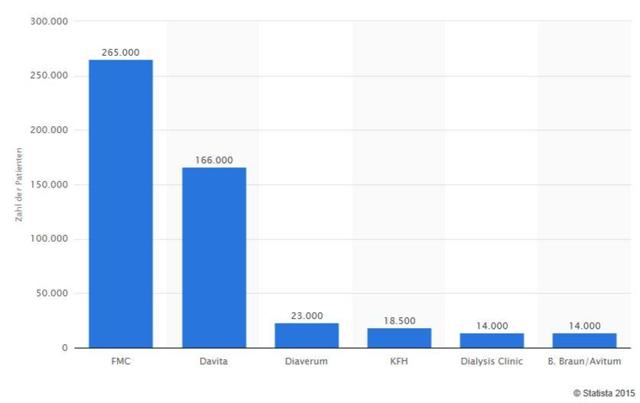 (Source: Statista - Germany)
DaVita HealthCare - The American way
The stock is currently trading at $76.18. The Denver-based corporation attained revenues of $13.78bn with an operating income of $1.17bn (margin of 8.5%) in 2015. The company was founded in 1994 and has about 60,000 employees. Unfortunately DVA generates 100% of its revenues in the US; they're very concentrated and would benefit from broadening their international position, to take advantage of globalization trends.
Legendary investor Warren Buffett is already invested in DVA, holding more than 18% or $2.9bn. He is by far the largest shareholder.
Fresenius Medical Care - The trans-Atlantic solution
FMS attains net sales of $16.74bn with an operating income of $2.33bn (margin of 13.92%). FMS was founded in 1975 and expanded its business by organic growth as well as several M&A deals. In 1996 Fresenius SE (OTCQX:FSNUF) took over National Medical Care in the US and transformed the new entity to Fresenius Medical Care. This is why FMS has as of today a strong relationship to the US. The company still generates about 60% of its sales in the US and reports financial results in US dollars. FSNUF still holds 31% of FMS shares.
Duel for fundamentals
DVA is, as of today, valued with a P/E of 34.14x and P/B of 3.32x. FMS instead is much cheaper with a P/E of 24.9x and a P/B 2.6x. The whole industry is showing a higher valuation of 35.15x P/E and 5.70x P/B, according to Reuters.
From application of current growth expectations and the DCF model, DVA is already overvalued by 39.5%. In contrast to that, FMS is undervalued with a 31% margin of safety to its fair value of. We've used the EPS expectations of analyst consensus as well as the same assumptions for growth (generally FMS is expected to growth faster than DVA, which makes this an already conservative valuation) and a discount rate of 12%.
FMS vs. DVA: 1:0
The financial leverage of DVA is 3.94x (MRQ). FMS has a much lower leverage of 2.56x. The equity ratio of the Germany-based company is 39%, whereas the equity ratio of DVA accounts for only 1/4 of its total assets. Nevertheless, the Buffett pick is better equipped with cash. The current ratio is 1.72 for DVA. FMS shows a slightly lesser ratio of 1.61. The free cash flow of DaVita HealthCare in the last twelve months is with $816mln. slightly higher than the free cash flow of Fresenius Medical Care with almost $700mln.
FMS vs. DVA: 1:0
The whole industry is in a continuous growth trend. FMS forecast the growth potential to 3.8M patients in 2020 from 2.5M in 2015. This is an annual growth rate of 8.73% (CAGR).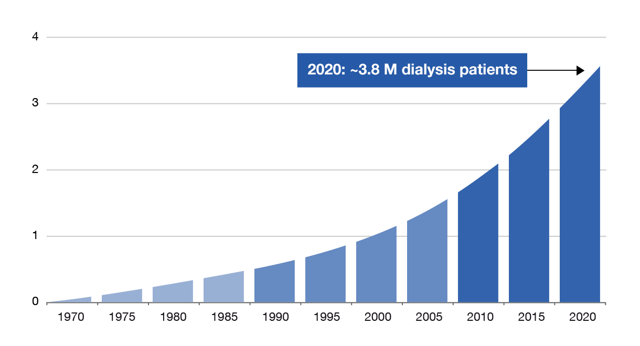 (Source: FMC)
The figures for the last years are showing an advantage for DVA in terms of revenues, but for FMS in terms of earnings.
| | | |
| --- | --- | --- |
| Revenues Growth | DVA | FMS |
| 3year average | 18.96% | 6.64% |
| 5year average | 16.41% | 6.79% |
| 10year average | 16.57% | 9.74% |
| | | |
| --- | --- | --- |
| EPS Growth | DVA | FMS |
| 3year average | -22.97% | -4.41% |
| 5year average | -8.70% | 0.85% |
| 10year average | 1.29% | 8.14% |
As we all know, the stock market is trading the future. For the next three years, we might see a change of position. Following to the consensus of all analysts, DVA will increase its revenues by 6.57% per year. FMS is forecast with an annual growth rate of 8.20% and therefore a little stronger than DVA is. Due to the past success of DVA, we award DVA in this category.
FMS vs. DVA: 0:1
Profitability
As of today FMS is gaining in all aspects of this category, which is a result of the continuous positive management. It's not just a look through the window as of today, but it is rather a more effective work over the last ten years.
(Sources: GreenRiver Capital; Morningstar)
FMS vs. DVA: 1:0
Conclusion
FMS vs. DVA 3:1
Both companies have in each case a strong anchor investor. The underlying trend is a positive long-term signal for the whole industry. Nevertheless, I prefer the global positioning of FMS instead of DVA. Furthermore, FMS is currently, from my point of view, the better pick regarding to all mentioned fundamentals. Both organizations are wonderful companies, but I'd prefer the transatlantic solution and will not follow Buffett this time.
Disclosure: I/we have no positions in any stocks mentioned, and no plans to initiate any positions within the next 72 hours.
I wrote this article myself, and it expresses my own opinions. I am not receiving compensation for it (other than from Seeking Alpha). I have no business relationship with any company whose stock is mentioned in this article.
Editor's Note: This article discusses one or more securities that do not trade on a major U.S. exchange. Please be aware of the risks associated with these stocks.