Calgary, Alberta-based oil and gas producer Encana Corp. (NYSE: ECA) has recently announced sale of 54,200 net acres in Alberta's Montney formation and related infrastructure assets to Birchcliff Energy (OTCPK:BIREF) for C$625 million, or $488 million, in cash. The Gordondale assets held roughly 50 million barrels of oil equivalent reserves and represented production of 25,200 barrels of oil equivalent per day in the first quarter which was 65% natural gas 35% liquids. Following the sale, Encana will be left with more than 9,000 drilling locations at Montney, more than two-third of which are located in the liquid rich part of the play. Earlier in May, the company said that it had a gross well inventory of 10,000 locations in Montney.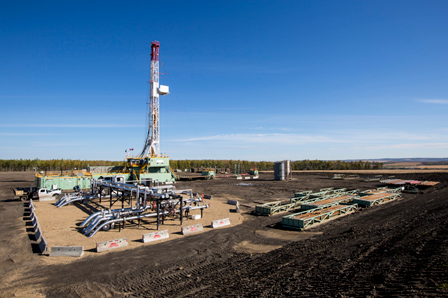 Encana's Montney drilling site. Image Copyright © Encana Corporation. All rights reserved.
Encana has been one of the worst hit oil and gas producers in the downturn. Under its previous CEO Randy Eresman, Encana transformed from an oil and gas producer to mainly a natural gas company following spin-off of its oil sands business into Cenovus Energy (NYSE:CVE) in 2009. That move could not have been more poorly timed since it came just when North America's shale gas boom led to a sharp drop in gas prices. Encana then began to venture into other oil and gas producing regions to diversify its portfolio, expanding its foothold to more than two dozen different shale oil and gas plays. That also turned out to be a bad decision which accomplished nothing.
At the end of Q2-2008, before the Cenovus spin-off, the much bigger Encana had $9.8 billion of long-term debt which compared against total shareholder's equity of $20.8 billion, reflecting a reasonable debt-equity ratio of 47%. By the end of 2012, the smaller Encana carried more than $7 billion in long term debt, which was considerably greater than the equity of $5.29 billion and translated into a lofty debt-to-equity ratio of 137%.
To exacerbate, Encana's reputation got clobbered by an anti-trust scandal which also involved Chesapeake Energy (NYSE:CHK) in 2012. By the end of that year, Encana had reported a string of quarterly losses in a row. It stock also gave the lowest returns to shareholders, including dividends, in its peer group. And then, in January 2013, Eresman resigned.
Eresman was replaced by Doug Suttles, and that is proving to be the best thing that happened to Encana in a long while. The company, like other oil and gas producers, has been posting shrinking revenues, declining cash flows and large losses since the oil prices crashed in 2014. Until mid-2015, the company's debt levels were still elevated and it carried a debt-to-equity ratio of more than 100%. But Suttles set the company's future strategy straight by refocusing it on high-return, liquid-rich assets and concentrating on just four core plays - the Eagle Ford and Permian Basin in Texas and Duvernay and Montney in Western Canada.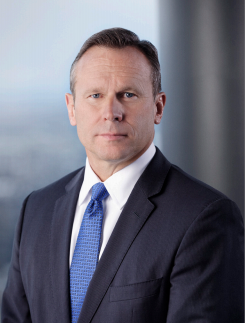 Doug Suttles, President and CEO Encana. Image Copyright © Encana Corporation. All rights reserved.
Moreover, Suttles has taken a number of bold steps to rein in the company's spending levels. Last year, Encana made the unpopular decision of cutting annual dividend from $0.28 to $0.06 per share while also ending the dividend reinvestment program. The company has also implemented massive layoffs, reducing its workforce by almost half since 2013. It has also reduced this year's capital budget by 55% from last year to between $900 million and $1 billion.
But what's particularly impressive is that since the end of 2014, Suttles has managed to close some major asset sales worth a total of around $3 billion, which has allowed the company to reduce its debt levels. Suttles has committed to improving the company's financial health by using proceeds from sale of non-core natural gas weighted assets, such as Gordondale, to cut down debt. The plan seems to be working. At the end of the first quarter of this year, the company's debt stood at $5.4 billion, a significant drop from last year's peak of $7.9 billion in Q2-2015.
And it seems like the debt level will continue going downhill in the future. That's because firstly, eight months ago, Encana reached an agreement to sell all of its DJ Basin properties in Colorado, representing 51,000 net acres, for $900 million. That sale is expected to close in the current quarter. The recently announced Gordondale divestiture is projected to close in the summer of 2016. This means that Encana will soon receive proceeds worth nearly $1.4 billion which will strengthen the company's financial health.
Secondly, the commodity price environment has improved substantially over the last few months. The oil price has climbed to near $50 a barrel after dropping to less than $27 in February. The natural gas price has increased to $2.74 per million Btu from $1.56 in early March. That has sparked renewed interest among buyers for oil and gas properties, making it easier for highly-levered companies like Encana to sell assets. A number of companies, ranging from Devon Energy (NYSE:DVN) to Southwestern Energy , have announced asset sales this month, and more will likely follow suit. I believe Encana will continue to use the improved sentiment in the energy market as an opportunity to close additional asset sales, which should lead to further reduction in debt levels.
The debt reduction should have a positive impact on Encana's valuation.
Note from author: Thank you for reading. If you like this article, then please follow me by clicking the "Follow" link at the top of this page.
Disclosure: I/we have no positions in any stocks mentioned, and no plans to initiate any positions within the next 72 hours.
I wrote this article myself, and it expresses my own opinions. I am not receiving compensation for it (other than from Seeking Alpha). I have no business relationship with any company whose stock is mentioned in this article.