This past April, I was fortunate enough to travel to Omaha, Nebraska for the 2016 Berkshire Hathaway (NYSE:BRK.A) (NYSE:BRK.B) Annual Shareholders Meeting. Of course, as any young person in finance would be, I was eager to learn from Warren Buffett, the world's greatest investor.
While everything that Buffett had to say was quite interesting, I personally found that his comments about the ideal investment made a real impact. Both Buffett and Munger agreed that they believe asset-light businesses are superior investment opportunities. In the early years, Berkshire invested in many asset-light businesses that generated significant cash flow with minimal capital investment. As Berkshire grew, they needed to broaden their investment universe and invest in many capital-intensive businesses such as utilities and railroads.
Brookfield Asset Management
Flash forward a few weeks, and I was watching an interview of Bruce Flatt, CEO of Brookfield Asset Management (BAM). I realized that Brookfield is an example of a company that is transitioning into an asset-light model. The company is becoming one of the world's largest global alternative asset managers.
Bruce Flatt, who took over as CEO in 2002, changed the game plan for the company from one that was effectively a holding company to one that would focus on investing in real assets in the areas of real estate, power generation, and infrastructure. These assets generate stable, expanding cash flows through long-term contracts.
In addition to this important focus on real assets, the company realized that since they were already managing real assets for their own account, they could open up their expertise to others and invite pension funds, sovereign wealth funds, and retail investors to invest alongside the firm's capital.
Brookfield invests in real assets, but they are increasingly using externally sourced capital. So effectively, Brookfield is becoming an asset-light business model that has a substantial leverage generating base and is earning significant performance fees on other people's money.
BAM's Business Strategy - Simple and Effective
Obtain equity from clients looking to invest in real assets.
Use the company's global reach to acquire high quality real assets on a value basis.
Acquire assets when capital is scarce, generally below replacement cost.
Finance assets on long-term, low-risk basis.
Enhance cash flows and values of these assets through leading operating platforms
Through this strategy, Brookfield has been able to build a global, diversified portfolio of real assets, operating in 20 countries with roughly $240 billion in assets under management. Brookfield offers prospective clients with three investment avenues: listed partnerships (Brookfield Property Partners (BPY), Brookfield Infrastructure Partners (BIP), and Brookfield Renewable Partners (BEP)), private funds, and public markets.
These three distinct categories consist of $104 billion in fee-bearing capital, which the company predicts will increase at least 10% annually. These three investment solutions provide diversification in the sourcing of capital and allow both institutional and retail investors opportunities to invest in real assets. Moreover, the company has a strong alignment with the funds managed on behalf of clients as Brookfield co-invests using its existing capital.
Why Invest in BAM?
Asset managers, such as BAM, will only attract capital if they have a strong track record of success. Brookfield has created a globally-respected brand as an alternative asset manager with the numbers to back it up. BAM has performed exceptionally well in all of their core strategies, especially when considering that the annual return for the S&P 500 from 2001 to 2014 was just over 5%.
| | | |
| --- | --- | --- |
| | Years | Annual Gross IRR |
| Private Equity | 2001-2010 | 25% |
| Infrastructure | 2006-2013 | 16% |
| Real Estate | 2006-2014 | 24% |
Data from Brookfield Asset Management Investor Meeting 2015 Presentation.
Clearly, Brookfield has done a great job of allocating its clients' capital within real assets. Fortunately, the amount of institutional fund capital that is being allocated towards real assets is growing exponentially, as shown in the following slide.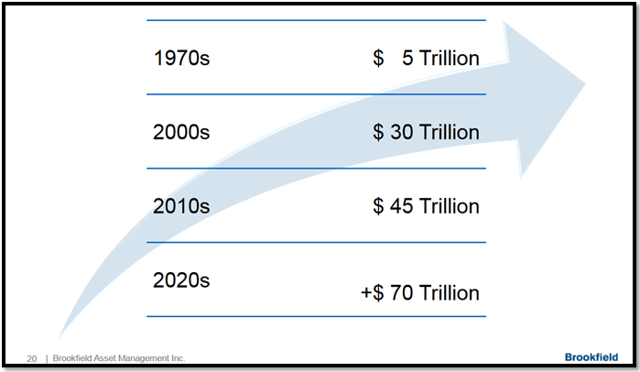 Slide from Brookfield Asset Management Investor Meeting 2015 Presentation
Brookfield recently noted that institutional investors have realized that yields from real assets (roughly 7%-15%) are significant in comparison to bonds (~2%) or even equity markets (~8%). By 2020, Brookfield predicts that 40% of institutional allocations will be in the form of real assets. Brookfield's strong historical returns combined with increasing allocations to real assets should result in solid growth in fee-bearing capital.
This shift towards the asset management business has resulted in strong returns for investors.

Slide from Brookfield Asset Management Investor Meeting 2015 Presentation
Brookfield Business Partners Spin-off
Recently, Brookfield spun-off 1 share of Brookfield Business Partners (BBU), in the form of a dividend, for every 50 shares of BAM that you own. BAM will retain a 78% stake in Brookfield Business Partners, a company with business service related assets in energy, construction, and other industrial sectors. This spin-off further supports the case that Brookfield is transitioning towards an asset-light business model, as BAM has added an additional source of fee-bearing capital to its portfolio.
Valuation
Brookfield's valuation consists of its asset management franchise value combined with its own invested capital. It calculates its asset management franchise value by combining fee-related earnings and target carried interest.
Fee related earnings include base fees from the listed partnerships, private funds, and public markets, as well as the performance fees for the listed partnerships and public markets. The performance fees for the listed partnerships are obtained in the form of incentive distributions. BAM earns 15% and 25% participation in distributions when the LPs surpass distribution hurdles.
For example, if BIP surpasses an annual distribution of $1.22, BAM earns 15% of the excess dividend. If BIP surpasses an annual dividend of $1.32, BAM earns 25% of that excess too. Last year, BIP had an annual distribution of $2.28, which resulted in BAM earning a $78 million annualized incentive distribution. The slide below illustrates Brookfield's annualized incentive distributions in further detail.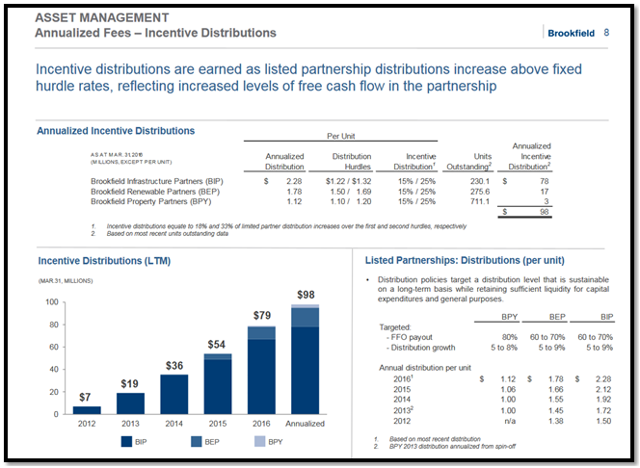 Slide from Brookfield Asset Management Q1 2016 Supplemental Information Presentation
Brookfield also generates substantial inflows from carried interest, which are the performance fees from the private funds that Brookfield oversees. These private funds typically have a duration of 10-12 years. As these funds mature in the future, and Brookfield begins to harvest their investments, realized carried interest is expected to compound at an annual rate of 37% over the next 10 years.
A future value can be determined by combining the asset management franchise value with the amount of invested capital:
Asset Management Franchise Value: Brookfield expects fee-bearing capital to grow from $99 billion in 2015 to $160 billion in 2020 (10% per year). When base fees and incentive fees are combined, fee-related earnings are expected to increase from $440 million in 2015 to $1.13 billion in 2020. Brookfield also expects carried interest net of fees to grow to $570 million by 2020. Fee-related earnings are generally valued at 20x and carried interest typically have a 10x valuation.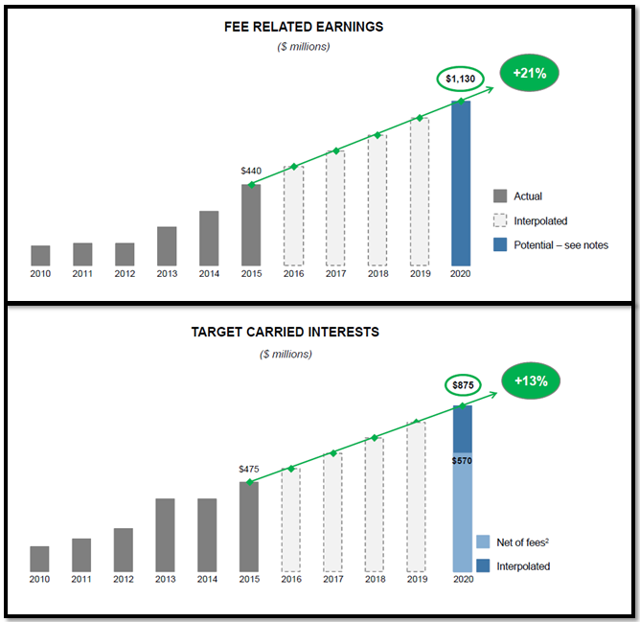 Slides from Brookfield Asset Management Investor Meeting 2015 Presentation
2. Invested Capital: Brookfield currently has $28 billion in the form of invested capital. The company is targeting annualized returns of 12%-15% on invested capital, which translates into $52.5 billion by 2020.
BAM's 2020 base case valuation is shown below, using the assumptions above.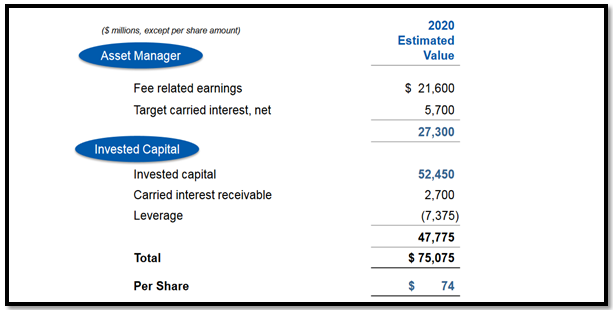 Slide from Brookfield Asset Management Investor Meeting 2015 Presentation
This base case valuation of $74 per share in 2020, results in an annual return of approximately 20% given the current market price of ~$35.
Conclusion
BAM earns its living through two revenue outlets:
A base fee on the amount of assets under management.
Performance fees when they outperform a pre-determined target rate/distribution hurdle.
There is more and more institutional capital being allocated towards real assets, therefore Brookfield can expect their base fees to increase. Furthermore, BAM has a proven track record of outperforming their target rates and distribution hurdles, so it should continue to see growth in this area, as well. Additionally, since Brookfield continues to focus on purchasing undervalued real assets (the backbone of the global economy).
I suspect that the company will have very few risks in the foreseeable future. Lastly, and most importantly, Brookfield is transitioning more aggressively towards an asset-light business, as evidenced by the recent spin-off of BBU. BAM is utilizing external capital to pursue its acquisitions of high-quality real assets, and Brookfield is charging its clients with fees for doing so.
As a final word, I would caution investors to adhere to Bruce Flatt's investment methodology when purchasing BAM, and only buy shares when the company is below its replacement cost, or at a substantial discount to the net asset value. According to the valuation table provided below, BAM is trading at a 5% discount to its NAV of $37. I would recommend that investors wait until the discount increases to 15%, which implies a purchase target of $31.45.

Source: RBC Capital Markets - Canadian REITs and REOCs
Disclosure: I am/we are long BAM.
I wrote this article myself, and it expresses my own opinions. I am not receiving compensation for it (other than from Seeking Alpha). I have no business relationship with any company whose stock is mentioned in this article.