In my previous article, "RSX: Game Plan For Summer," I stated that Brexit was one of the possible catalysts for a successful short trade. Frankly, like many others, I was surprised that Britain decided to leave the EU. The last time I looked at Bloomberg's Brexit Tracker before the actual results were announced, it looked like this: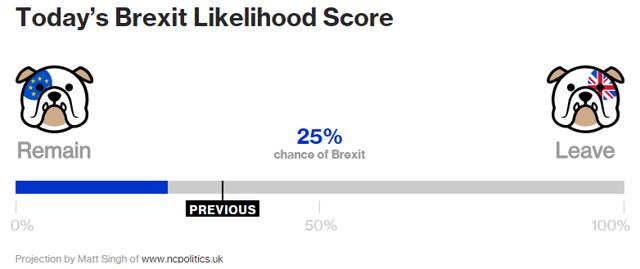 I think that the absolute majority of market participants were caught off guard by the referendum results. The European markets and the British pound crashed. Oil was also under serious pressure. Combined, these factors put immediate pressure on the Russian stock market. Let's now discuss short-term and long-term implications of Brexit on the VanEck Vectors Russia ETF (NYSEARCA:RSX).
Short-Term Implications
I don't think that the initial sell-off will be a one-time event. I expect that we will see continued flow of money into the dollar (NYSEARCA:UUP), which will put pressure on all commodities across the board - except for gold, which will enjoy its safe haven status.
Brexit is a tectonic shift in European politics and economics, and its consequences cannot be fully priced in in just one trading day. More commentary will follow, more nuances will come to light, and more opportunistic politicians will push their agenda and create additional uncertainty.
Interestingly, the Russian ruble held up fairly well amid the market turmoil. At the moment this article was written, the ruble was losing just 2.8% vs. the dollar and was stronger by 0.1% against the euro. In my view, it could have been much worse for the Russian currency, so this is certainly a local success for the bull side.
However, there could be one explanation for this. Russia is in a tax-paying period now. Exporters significantly influence currency trade when they exchange dollars and euros for rubles to pay taxes. It is possible that they have been kindly "asked" to do their exchanging business in one day in case of Brexit to calm the markets - it's really in everyone's interest. We'll see whether the ruble can remain relatively strong in the coming days. I expect further weakness once the support from exporters vanishes.
RSX traded in a rather wide range since late April. If RSX is to break the range to the downside, the time is now. We cannot expect downside catalysts of similar force coming into play this summer. The U.S. Fed hike is likely off the agenda due to Brexit. If RSX is unable to get out of this range and trend lower, the short trade will be a big question.
Long-term Implications
I don't like to bring politics into my articles, but this time, it is unavoidable. Britain is Russia's main opponent in Europe. The two countries have historically had a very tense relationship, and only world wars were a sufficient enough cause to create temporary cooperation between Russia and Britain. Britain has been a vocal supporter of sanctions on Russia. It's no secret that the EU is becoming increasingly divided on the sanctions topic. The gradual lift of sanctions will be a major positive catalyst for RSX. The EU is now fully focused on the Brexit topic, so any talk about sanctions on Russia will likely wait until the end of the year. From this point, the short thesis looks safe for this summer. However, in the long run, Britain's exit from the EU will be a big blow to sanctions supporters.
Game Plan
So, here are the changes to my game plan. I expect a few waves of volatility in the Russian market after the Brexit vote. Short-term risks for commodities and the already weak Russian economy should outweigh any longer-term considerations about sanctions. However, do not forget that short trades are shorter term in nature, and be prepared to exit the bet if markets are able to digest Brexit and oil rallies to $55 per barrel. In case Brexit creates a serious wave of panic, I will exit the position on a big downside spike.
Disclosure: I am/we are short RSX.
I wrote this article myself, and it expresses my own opinions. I am not receiving compensation for it (other than from Seeking Alpha). I have no business relationship with any company whose stock is mentioned in this article.