Taking Stock
It's hard to believe that we're already six months into the year now, and it's definitely shaping up to be an interesting one for the MnM Portfolio. If you're unfamiliar with my portfolio, you can find more information on the portfolio here. In summary, so far this year, I rolled over new funds into the portfolio and took the bold step of rebalancing and reconstituting the portfolio. I moved entirely to cash, and using a zero-based approach, I reformulated the portfolio.
I ultimately added both more positions and positions of higher credit quality. My main goal was to improve the portfolio's quality, and following these actions, I am much more optimistic about the portfolio's prospects going forward.
From a return perspective, the portfolio is continuing to outperform the market. As I reported through May, the returns were in excess of 8% year-to-date.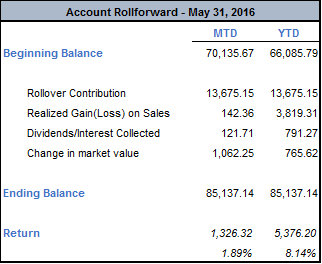 Now, at the time of writing, the portfolio value has increased more. As of today, it has surpassed $86,500 in value. For the purposes of this article, I would caution that the gains reflected are only since reconstituting the portfolio, but many of the trends carry over and encompass the year in its entirety.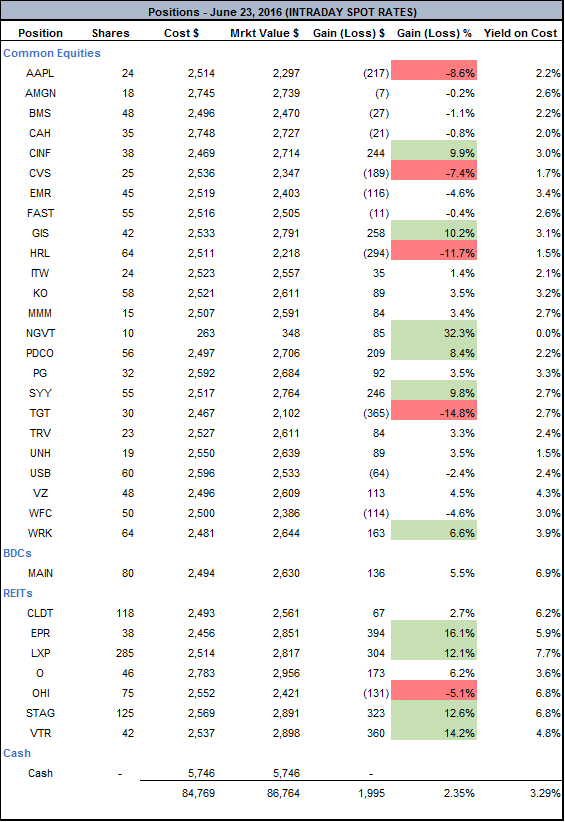 Looking over the portfolio, I would like to highlight the following trends that have become evident this year, including:
REITs have outperformed. I attribute this largely to the Federal Reserve backing off the pace of interest rate hikes. Whether these levels will hold or not is anyone's guess, but going into the year, I did not expect this level of return.
Last year's star performer has retreated. Hormel (NYSE:HRL) was the Stock of the Year last year, something I wrote about here. After starting out the year on a strong note, the stock has pulled back considerably.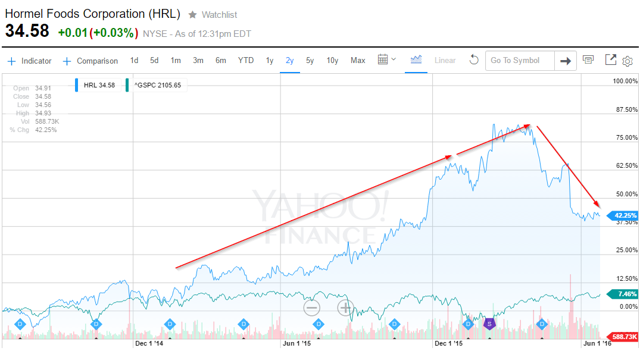 Source: Yahoo Finance, June 23, 2016
Retail stocks have underperformed. I do not hold a significant number of retail stocks within the portfolio, but I would point out that both Target (NYSE:TGT) and newcomer CVS Health (NYSE:CVS), the two retailers in the portfolio, have lagged the S&P 500 in performance and had a rough start to the year.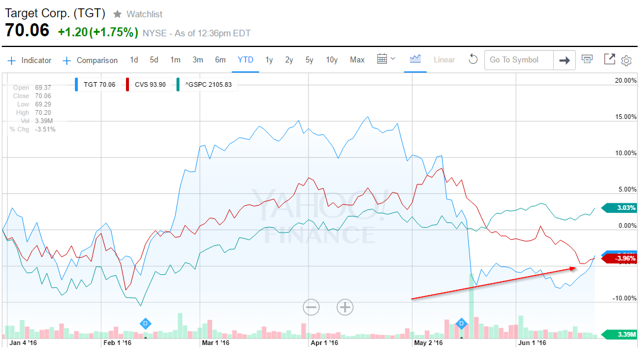 Source: Yahoo Finance, June 23, 2016
The new additions have shown mixed results. I hit it out of the park with the addition of WestRock (NYSE:WRK), which spun off shares of Ingevity (NYSE:NGVT). The large returns in such a short period of time speak for themselves. Purchasing Apple (NASDAQ:AAPL) stock prior to the quarterly report was a poor decision in the short run. Obviously, it's a long-term hold, so we will see how the purchase ultimately pans out.
I can say that I am happy with where I sit right now. The portfolio continues to grow with more and more increases and reinvestment. I am committed no more sales (unless a dividend is cut) or other actions, so benchmarking can begin anew from here.
So, with this all being said, and now being halfway through 2016, I thought it would be fun to take a look back and pick out the one stock, which has had the best year thus far in 2016.
Selecting the (Mid-Year) Stock of the Year
When I looked at selecting a (Mid-Year) Stock of the Year, I chose to exclude REITs. I have already written about VEREIT (NYSE:VER) as my mid-cap pick of 2016, which I commented on here. To be honest, it would be very easy to just say that Realty Income (NYSE:O) is the star performer as it has provided returns to the portfolio of 25+% this year. However, I'm still a little bit leery of this run-up in REITs, and while it's been great to look at, it could also fizzle quickly should we ever see higher rates. Obviously, REITs are a core part of the portfolio, but I will stick with the non-REIT common equities for this process.
So, that being said, when I look at the stocks in the portfolio, the three stocks that stuck out the most, having had the best starts to 2016 were Cincinnati Financial (NASDAQ:CINF), General Mills (NYSE:GIS), and SYSCO Corporation (NYSE:SYY). The returns of all three of these have trounced the S&P 500, with SYSCO leading the pack by a slight margin.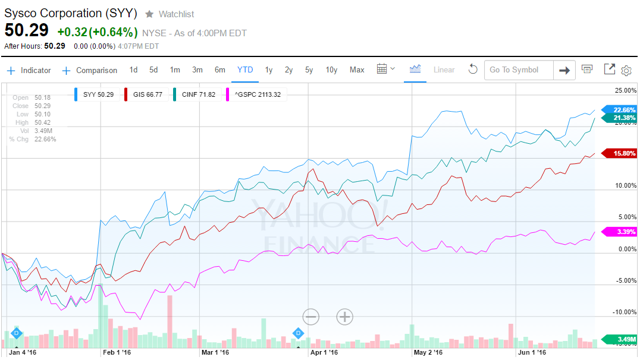 Source: Yahoo Finance, June 23, 2016.
In looking at these three stocks, it's hard to say whether their journeys up have been the result of individual catalysts or the markets maneuver to scoop up anything with an outsized yield, similar to what we're seeing with REITs.
It is worth noting, however, that the three companies have all had differing stories in 2016. SYSCO has risen on strong earnings and the falling through of its planned merger with US Foods (NYSE:USFD). General Mills, despite falling sales, has seen its stock rally as it focuses more on natural and organic products and the potential for a rebound in sales and margin expansion. Cincinnati Financial last reported an excellent quarter in May, but otherwise has been business as usual.
The dividend yields for all three are similar, all generally boasted 3+% yields to start the year which have now fallen into the 2+% range. General Mills has had a superior dividend growth rate in recent years, but as with SYSCO, there is not much room for continued growth with a high payout ratio.

Source: Data obtained from CCC Lists, David Fish
I considered the returns, each Company's metrics, as well as its outlook in determining which stock to select.
And the Winner is?

Ultimately, all three of these have been on a remarkable streak. Since I am picking only one to be the Mid-Year Stock of the Year, I chose Cincinnati Financial. Given that it has had similar results to the others, its metrics (including lower payout ratio and higher yield, even now) were the key factor that set it apart from the other two. SYSCO likely would not be trading as high as it is now had the merger gone through, and now needs to find other avenues of growth. General Mills, despite the stock run-up, has just not had the same results as the others in terms of growth.
I also wanted to illustrate that if we expand the analysis and look back over the past two years, Cincinnati's performance becomes all the more impressive, topping even Realty Income over the same period and beating the others by a considerable margin.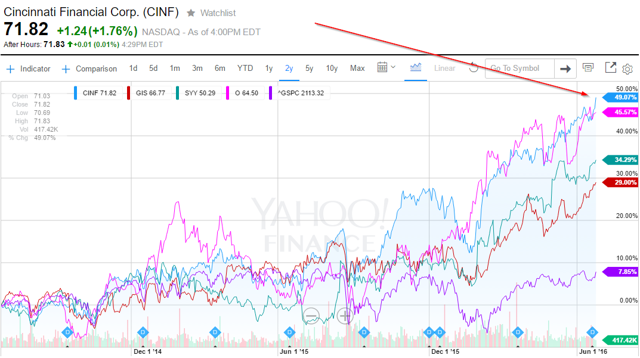 Source: Yahoo Finance, June 23, 2016
From an investment perspective, I rate all three as HOLDs. If I were to add one, I would add Cincinnati. However, the valuations on all have run up considerably and made it much harder to justify putting more money into any of them right now.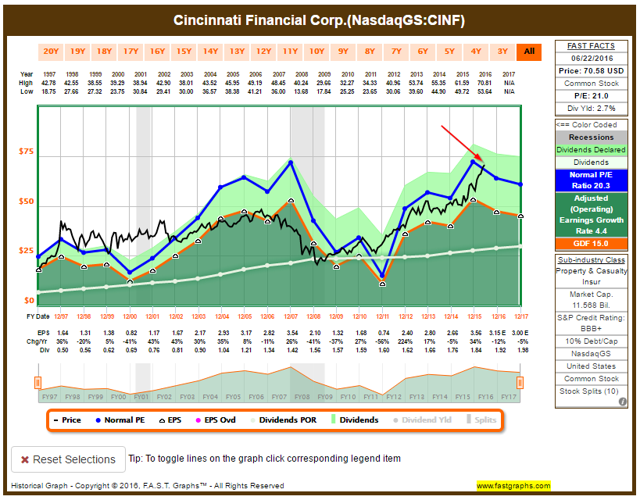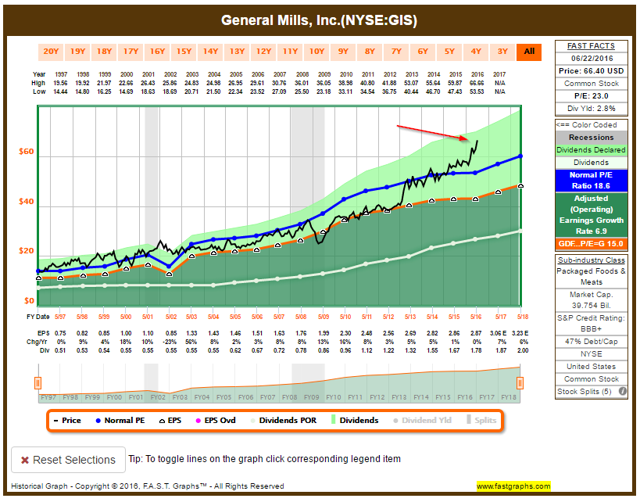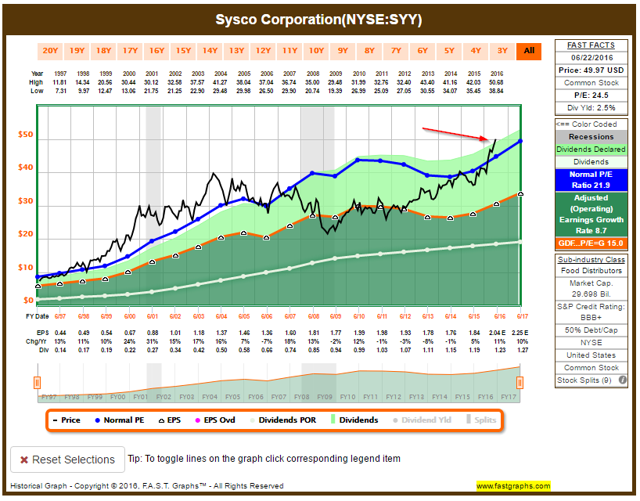 Source: F.A.S.T. Graphs, June 23, 2016
I like the long-term prospects of all three, and am glad they are in the portfolio. The rebalancing that I completed in April proved effective as some of the positions, which were reduced the most, such as Hormel and Target, have struggled, while other positions such as Cincinnati Financial, which were increased to full positions, have done well. For the time being, I will be watching and waiting for a pullback before adding to my positions in any of these.
Disclosure: I am/we are long THE STOCKS LISTED IN THE PORTFOLIO.
I wrote this article myself, and it expresses my own opinions. I am not receiving compensation for it (other than from Seeking Alpha). I have no business relationship with any company whose stock is mentioned in this article.