I was interested in two things as I turned over to turn on the telly at 5:30 AM this morning. Who did the Sixers take in the NBA draft with their latter 1st round selections (I wanted Brice Johnson and DeAndre Bembry), and, I needed verification that Brexit did not happen. Well, needless to say, I was not satisfied with either adverse reality. Yet, I hardly batted an eye despite my fresh long position in Bank of America (NYSE: BAC). Hey, at least we got Ben Simmons. As for stocks, here's why I think we will be fine.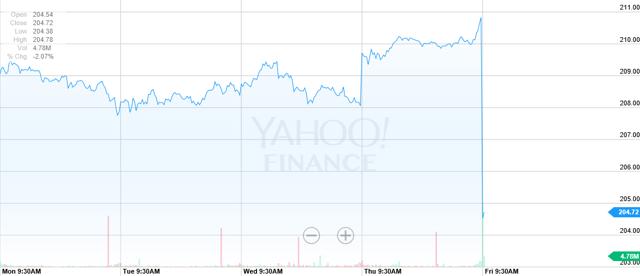 5-Day SPY Chart at Yahoo
S&P 500 Index futures were down to important technical support in the premarket but gained some of that ground back by the open. The early morning trade for stocks will be testy. In fact, I would turn off my trading robots this morning if I were a Wall Street firm, and turn them back on later. Let the other players fall to their algorithmic flaws, and buy up all the meat they leave on the table. Robots can't smell blood.
That leads me to the most important reason why there is a floor to downside risk - greed. As equities get cheaper, they get more attractive to most of us looking for a great opening to buy the likes of Facebook (NASDAQ: FB), Apple (NASDAQ: AAPL), Amazon.com (NASDAQ: AMZN) and every other security we may believe in long-term that is on sale now. The long-term opportunity for most of these firms is not going to be impacted significantly by Brexit.
Another important reason why U.S. equities should see just short-term penalty from this critical decision for the people of the United Kingdom and for Europe is because it's an "over there" issue. Yes, there will be ripples that will come across the sea and reach our shores, but some of those will also be positive. After all, fragmented competition makes for a better competitive environment. For instance, U.S. firms with offices in London may get all sorts of tax incentive and perks to stay put now, especially if they feign interest in leaving the most important marketplace beyond New York (as of yesterday).
Need more? Another reason why panic should be somewhat mitigated is because every attempt will be made by Britain and the EU to soften the immediate blow. Immediate support will be provided by the European Central Bank (ECB) and the Bank of England [BOE]. Most importantly, this is a cause for introspection for the European Union (EU). Given the risk of losing other members, especially those which have previously been fearful of uncertainty, the EU will have to reexamine its divisive issues (read immigration) and possibly put some controls or measures in place to reassure member nations. Actions like that might have a positive long-term impact on valuations in the EU even despite the economic importance of immigration (see a future focused report on this from me).
Even so, the EU will not want the U.K. to come out of this clean, as that would give confidence to others who have similar questions about their association with the union but are fearful of leaving it. That is why Germany is pushing for a faster breakup than Britain favors. On the British side, there is discussion about the process of divorce, and how to manage it to minimize the portion of economic disruption that could result from uncertainty and volatility. It is in everybody's interest to work out a clear and controlled process, and to communicate that plan and effort clearly in order to promote financial market stability today. The EU must choose to act responsibly over its urge today to proceed with an ugly divorce.
| | |
| --- | --- |
| Security Sector | 06-24-16 AM Indication |
| Vanguard FTSE Europe (NYSE: VGK) | -9.8% |
| iShares Europe (NYSE: IEV) | -9.6% |
| iShares MSCI United Kingdom (NYSE: EWU) | -10.4% |
| iShares MSCI Germany (NYSE: EWG) | -9.2% |
| CurrencyShares Euro (NYSE: FXE) | -3.0% |
| CurrencyShares British Pound (NYSE: FXB) | -7.8% |
| SPDR S&P 500 (NYSE: SPY) | -3.1% |
| SPDR Dow Jones (NYSE: DIA) | -2.9% |
| PowerShares QQQ (NASDAQ: QQQ) | -3.4% |
| iShares Russell 2000 (NYSE: IWM) | -3.8% |
| Vanguard Total Stock Market (NYSE: VTI) | -3.1% |
| Financial Select Sector SPDR (NYSE: XLF) | -4.9% |
| Technology Select Sector SPDR (NASDAQ: XLK) | -3.1% |
| Energy Select Sector SPDR (NYSE: XLE) | -3.3% |
| Health Care Select Sector SPDR (NYSE: XLV) | -2.4% |
| Consumer Discretionary Select Sector SPDR (NYSE: XLY) | -3.0% |
| Consumer Staples Select Sector SPDR (NYSE: XLP) | -1.8% |
| Utilities Select Sector SPDR (NYSE: XLU) | -0.3% |
| Materials Select Sector SPDR (NYSE: XLB) | -3.0% |
| Industrial Select Sector SPDR (NYSE: XLI) | -3.0% |
| iPath S&P 500 VIX ST Futures (NYSE: VXX) | +15% |
| SPDR Gold Trust (NYSE: GLD) | +4.9% |
| United States Oil (NYSE: USO) | -4.6% |
| PowerShares DB US Dollar Bullish (NYSE: UUP) | +2.7% |
Finally, any negative impact the U.S. might encounter, and that would be of concern to U.S. investors, would not be realized for some time. There is also significant uncertainty about just what the impact might be for us. Thus, despite today's reaction, relative risk will be attributed a low factor weighting by the market in the medium term, especially as time passes without negative indication in U.S. economic data. Tomorrow has its own problems to worry about. I analyze and report on market factors regularly and invite all interested to follow my business column.
Disclosure: I am/we are long BAC.
I wrote this article myself, and it expresses my own opinions. I am not receiving compensation for it (other than from Seeking Alpha). I have no business relationship with any company whose stock is mentioned in this article.