Alibaba (NYSE:BABA) won a dismissal of a lawsuit filed against the firm by shareholders, pushing shares into the green. The suit claimed that BABA, in failing to mention a warning issued by regulators concerning the firm's ability to prevent counterfeit sales on its websites, misled investors. After details emerged early in the year about a meeting with regulators that took place in June 2014, the stock plummeted and investors subsequently sued. Counterfeiting has long been a problem in China, particularly in e-commerce, and while we remain bullish on the long-term outlook for BABA, the circumstances that led to the lawsuit smell of transparency issues that make us more wary of the company's poor corporate governance.
Counterfeiting is a big problem in e-commerce, particularly in China and Alibaba has long been accused of tolerating sales of fake goods on its websites. According to Xinhua, a news agency, 40% of the goods sold online in China in 2015 were counterfeit. The UN claims that from 2008 to 2010 almost 70% of worldwide counterfeit goods came from China. The acceleration in e-commerce has brought about a proliferation in counterfeiting. Customers purchasing goods online cannot see the products in person before buying them, and are forced to trust the vendor's word that the products being offered are authentic. Low labor and materials costs in China have made the practice of counterfeiting more profitable. BABA is not the only firm to be associated with counterfeiting. Jumei (NYSE:JMEI), China's largest online seller of cosmetics, was recently forced to restructure its business to ensure greater control of the goods sold through its websites. Because it is so commonplace, firms have made it a priority win the trust of customers. The perception that BABA attempted to squash rumors points to transparency issues that are indicative of larger corporate governance problems.
Figure 1: Composition of Counterfeits Coming Into America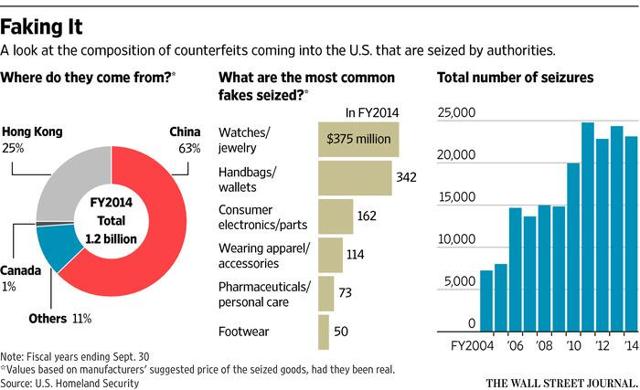 Source: Wall Street Journal
Our main gripe with Alibaba is weak corporate governance. The existing partnership structure gives insiders a disproportionate amount of influence at the expensive of shareholders. The biggest issue is a lack of board independence. According to Morningstar, the partnership consists of 30 partners, 24 of which are Alibaba directors. The rest are executives of affiliated companies, and CEO Jack Ma is the chairman. The partnership has the exclusive right to nominate a majority of the board members, as well as the power to appoint new candidates whenever shareholders do not elect one of their choosing. Alibaba's weak corporate governance manifests itself in the excessive compensation packages paid to executives. According to Fortune, the partnership structure essentially allows management to "pay themselves whatever they want". The outlandish stock options and grants being issued by management are a potential red flag. Due to the asymmetric risk/reward profile, options encourage greater risk taking at the expense of shareholders, who are left to shoulder the losses whenever risky projects do not pan out. We believe the compensation structure has been a driving force behind BABA's strategy of investing in a number of peripheral businesses that are diverting the firm's focus from its core strengths.
Despite these problems, we remain bullish on the long-term story for Alibaba. Rising incomes and increased e-commerce penetration are secular headwinds, and the firm appears to have a sustainable competitive advantage thanks to scale and powerful network effects. Were it not for a culture that benefits managers at the expense of owners, Alibaba would be a clear buy.
Disclosure: I/we have no positions in any stocks mentioned, and no plans to initiate any positions within the next 72 hours.
I wrote this article myself, and it expresses my own opinions. I am not receiving compensation for it (other than from Seeking Alpha). I have no business relationship with any company whose stock is mentioned in this article.