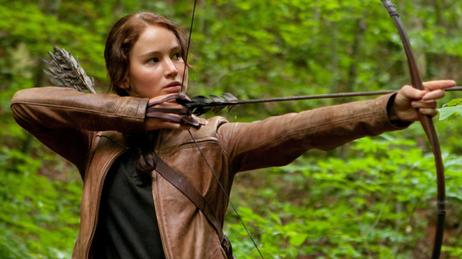 image: Katniss from Lionsgate Mockingjay franchise
Shares of both Lionsgate (LGF) and Starz (NASDAQ:STRZA) (NASDAQ:STRZB) popped on the news that the companies are once again discussing a merger. That seems strange as the market usually responds by bidding up M&A targets and selling off the buyer. In this case it's more likely Lionsgate would buy Starz, as it is a little bit larger by market cap and enterprise value and its headquarters are in Canada. There are a few reasons why I believe the deal makes sense.
Tax reasons
It is probably not the primary rationale for the deal but LGF tax rate in Canada is in the mid teens range while Starz is taxed at 2x that. Starz' predictable cash flow from subscribers could benefit immensely from a much lower tax rate. Since the Pfizer (NYSE:PFE) Allergan (NYSE:AGN) deal broke we know for sure the U.S. government frowns upon these tax inversion. In this case the inversion isn't the primary rationale. The companies involved are small potatoes, and the new inversion rules used to thwart the Allergan-Pfizer deal do not appear to be able to block this deal (the rules specifically targeted serial acquirers like Allergan).
Advantages of scale of the combination
Starz is in need of some additional content, especially movies, as its deal with Disney just ended (NYSE:DIS). It has ramped up production of originals but the Lionsgate feature movie productions and hit shows like Orange is the New Black, Mad Man and Nashville would be nice additions to its content offerings.
Starz could not immediately get access to Lionsgate film releases as these currently go to competitor Epix. Interestingly enough, Lionsgate owns Epix through a JV with Paramount, part of Viacom (NYSE:VIA) (NASDAQ:VIAB), and MGM Holdings (OTC:MGMB). It's not out of the realm of possibilities Malone is already thinking three steps ahead.
As we have seen with DreamWorks (NASDAQ:DWA) it is very tough to win as a standalone movie company. The blockbuster business is extremely unpredictable and DreamWork's Katzenberg had been on the lookout for a larger company to take it under its wing for a long time before Comcast (NASDAQ:CMCSA) finally bit. A larger company that releases more than just a few movies per year, or with additional stable income streams like Starz, can cushion a dry spell at the box office. A dry spell is part of the business but if it lasts a long time and financial pressures mount, this starts affecting the creatives within the company. Try putting together a genuine great movie that is edgy and takes risks while you know failure will mean the end of the company.
Why you shouldn't count on a windfall
Mark Rachesky is Lionsgate chairman and long time shareholder of a ~30% stake. He's a savvy investor heading MHR Fund Management and not the prototype media mogul who's living it up. It's unlikely he's going to overpay for Starz which could be the reason the deal failed to materialize earlier this year. In the unlikely event Starz would buy Lionsgate, Malone isn't likely to overpay either. As I wrote in my recent article, Why I'm Buying Starz: "Malone is an excellent capital allocator and prolific deal maker who works very hard to minimize taxes paid on investments. Cable Cowboy is a great read with lots of details on his modus operandi."
Endgame
Malone, who holds the voting stake in Starz, could be interested in a transaction on fair terms if he's confident in the prospect of the two companies working together to build up Lionsgate 2.0 further. By making smart acquisitions they can leverage the Lionsgate tax platform. By combining content libraries into a media company that could potentially deliver on a compelling stand-alone OTT concept they could win really big. The ultimate move, as it would further both strategies, would be to buy a huge U.S. media company which would accept a low bid because the transaction would unlock a lower tax rate on its entire cash flow (the Pfizer-Allergan model).
Another possibility is for the companies to combine with MGM Holding and sell the combined package to Viacom. Alternatively they could buy out Paramount from Viacom. That would open up possibilities to generate synergies between Starz and Epix. A potentially interested buyer for that package could be Softbank's (SFBTY) CEO Masayoshi Son. Son is definitely interested in acquiring content companies and previously engaged in talks with DreamWorks before its ultimate Comcast buyout.
What does this all mean if you're a Lionsgate or Starz shareholder?
In the short term it doesn't mean all that much, I'm afraid. Perhaps we'll see a bit of a jump because of all the attention the merger talks generate but I'm not counting on collecting a massive premium for my Starz shares. In the medium to long term the companies are very interesting. The controlling shareholders of both companies are savvy capital allocators, and they are tuned in to the media landscape and industry. Both will likely exit if any party is willing to pay a significant premium, but build up the companies in a disciplined way if not. I wouldn't buy either company because of the merger chatter, but do like them for the medium to long term just the same.
Disclosure: I am/we are long LGF, STRZB.
I wrote this article myself, and it expresses my own opinions. I am not receiving compensation for it (other than from Seeking Alpha). I have no business relationship with any company whose stock is mentioned in this article.