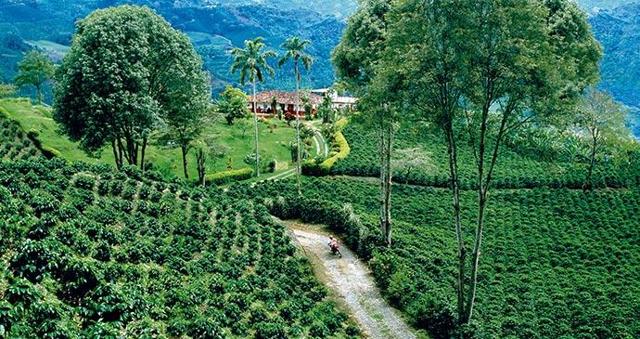 As some readers will be aware, we have jumped in and out of the iPath Dow Jones-UBS Coffee ETN (NYSEARCA:JO) this year as the price of coffee fluctuates. Well the price of coffee has come back onto the table recently following the release this week of the US Department of Agriculture's coffee forecast which shows that world stock levels are likely to fall for the second year running. The USDA estimates a drop of 3.9 million bags to finish the 2016-17 season with just 31.5 million bags.
If this is the case, and it is a big if let's not forget as it is just a forecast, it would mean that inventory levels would be at their lowest since the 2011-12 season at a time when demand is heightening. During the 2011-12 season the New York Arabica coffee price surged to just a touch over $3.00 per pound, taking the JO ETN along with it, as demonstrated below.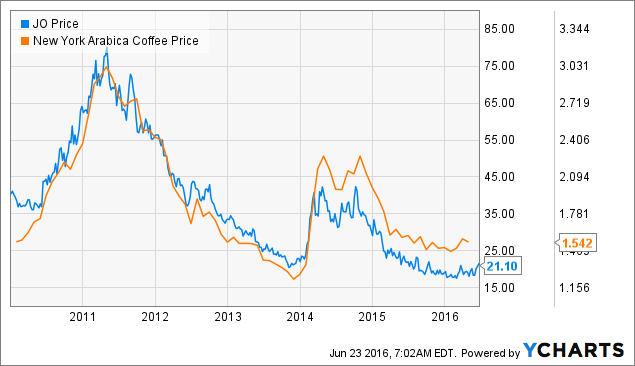 The difference between then and now is consumption. Coffee consumption has been growing at a rapid clip. Last year the International Coffee Organization estimated that consumption would grow by 25% from 2015 through to 2020, according to the Wall Street Journal. This would bring total consumption to 175.8 million bags from the 141.6 million bags last year.
But that's still a lot of bags of coffee?
Ending the season with 31.5 million bags might seem like a lot, but if you look at the stocks-to-use ratio it becomes apparent just how low supply will get. The stocks-to-use ratio is a simple measure used to the judge the availability of inventories. When this number drops it can indicate that prices are going to go up as it implies that supply is shrinking. If the USDA forecast is correct then it would mean an estimated stocks-to-use ratio of approximately 20.9 percent, which would be the second lowest level it has been since records began.
The USDA is anticipating global consumption to rise to a record 150.8 million bags by the end of the season, with strong demand from Europe and the United States being the catalyst for growth.
If the USDA is on the money here, then we expect the coffee price to trend much higher of the next 12 months. Whilst it is just a forecast and things can and will change, this isn't just a simple forecast done from an office in New York. The USDA has 93 offices across 72 countries, monitoring and reporting on agricultural trade matters. So when they paint a picture of the world's coffee industry, we have a tendency to believe it to be quite representative of the fact. But how high will it go? Well, as we showed at the beginning, if levels do get as low as they did in the 2011-12 season, then the New York Arabica coffee price could jump up 100 percent to ~$3.00 a pound.
Once again, as the chart shows, the JO ETN tends to track the New York Arabica coffee price very closely. There has been a slight divergence in the last 18 months, but we feel it is reasonable to place a target on JO of $55.00, implying substantial upside for traders. We have taken a long position in coffee as a result of this and expect to see strong long-term gains.
It's not good news for everybody.
Whilst this forecast will be great for coffee producers, it won't be for buyers such as Starbucks (NASDAQ:SBUX), Dunkin Brands (NASDAQ:DNKN), Caribou Coffee, and Costa Coffee which is owned by Whitbread Plc (OTC:WTBCF). Although these companies will of course hedge for this very reason, when the price soars like this it can still hurt your margins.
In fiscal 2012, Starbucks noted this about how the sky high coffee prices were negatively impacting its performance in its 10K:
"This helped mitigate the impact of higher commodity costs, mostly coffee, which negatively impacted operating income by approximately $214 million for the year, equivalent to approximately 160 basis points of impact on operating margin."
So clearly this would not be good for Starbucks' or its competitor's margins, which could be some cause for concern for its shareholders further down the line. It is of course just a forecast at this point, but we feel it is worth keeping a close eye on.
So for now, we believe that going long with coffee through the JO ETN, with a long-term view, is a good investment today. As always we will keep you informed as best we can with our moves and any changes to our positions.
Until then, best of luck with your trades!
Disclosure: I am/we are long JO.
I wrote this article myself, and it expresses my own opinions. I am not receiving compensation for it (other than from Seeking Alpha). I have no business relationship with any company whose stock is mentioned in this article.
Editor's Note: This article discusses one or more securities that do not trade on a major U.S. exchange. Please be aware of the risks associated with these stocks.